Tonight at the Spodek in Katowice, Poland, Finland's Juha-Pekka Vainikainen lost to Piotr Hallmann. The MMA Attack 3 bout went to a decision after three rounds, where Poland's Hallmann improved on his record to an impressive 13 wins and 1 loss in the lightweight battle.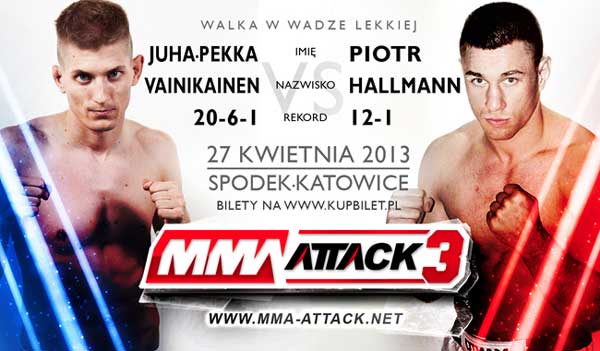 The tall Finn was looking to rebound from a loss over Shamil Zavurov in December of last year, after going unbeaten in 10 bouts. Vainikainen now drops to 20 wins, 7 losses, and 1 draw.
Hallmann was the more powerful and dominant fighter over the three rounds, taking the Finn to the matt and using effective ground and pound to earn him another win. It was a unanimous decision for the Polish fighter that looks unstoppable now that the former welterweight has dropped to lightweight.
Scores were reported by Wojslaw Rysiewski of Sherdog and www.mmarocks.pl who was live at the event.
judges scorecards as follows Piotr Michalak 30-26, Marcin Dudek 30-26, Rafal Burdzik 30-27.

— Wojslaw Rysiewski (@mmarocks_pl) April 27, 2013
Hallman has now won 9 fights in a row, and hasn't lost since a bout in 2011 versus Christian Eckerlin.