Lappeenranta Fight Night 8 event went down tonight in the city of Lappeenranta that lies on the eastern part of Finland. Our content partner FightSport.fi had their hard working people on the spot and thanks to them, we got these quick results straight from the arena.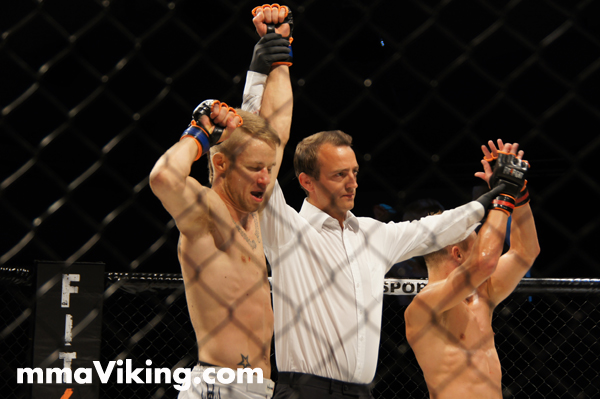 In the main event bantamweight prospect Toni Tauru locked horns with Czech grappler Filip Macek. The first round was an action filled back-n-forth battle where both fighters had their moment. Tauru managed to get mount on Macek but the experienced Czech escaped and threatened Tauru with guillotine attempts. In the second round Tauru got Macek's back and the Finn took advantage of the opportunity by locking up a rear naked choked that forced Macek to tap out. The win was sixth consecutive win for the talented Finn who is now 6-1 overall.
In the co-main Vaasa's own Glenn Sparv, who has been training at Team Quest gym in Thailand, put his improved skills to work against tough Russian Vjatseslav Andrejev. Sparv opened up with a sloppy takedown attempt that left him on the bottom of the heap with the Russian laying down heavy leather. Sparv kept his calm, got back on his feet and took over the control with strong grappling and strikes from the top. In the second round Sparv turned up the heat with relentless grappling and constant pressure. Eventually Sparv took Andrejev back and pounded him with heavy strikes that made the ref wave off the fight.
Results:
Women 57 kg: Tina Lähdemäki vs. Linn Wennergren: Lähdemäki by decision
LW: Aleksi Mäntykivi vs Vladimir Nikitin: Mäntykivi RNC R2
BW: Miika Kauppinen vs Freddy Debessel: Kauppinen by armbar R1
LW: Kari Päivinen vs Rustam Hastanov: Hastanov by TKO R1
LW: Elias Kunnas vs Martin Hills: Kunnas by anaconda R1
LW: Jani Ridasmaa vs Mihail Khirziev: Ridasmaa by triangle choke R2
LW: Lauri Väätäinen vs Jonathan Ramon: Ramon by Ko R1
FW: Jaakko Väyrynen vs Jerry Kvarnström: Väyrynen by heel hook R1
MW: Glenn Sparv vs Vjatseslav Andrejev: Sparv by TKO R2
BW: Toni Tauru vs Filip Macek: Tauru by RNC R2