Swede Karl Albrektsson (6-2) lost to Czech Jiri Prochazka (20-3-1) at RIZIN Fighting World Grand Prix 2017: 2nd in Saitama, Japan. It was however a fight dominated by "King Karl" until Jiri flurried late in the first round, in what many saw as an early stoppage.
Albrektsson got a takedown early the 10 minute first round to control much of the action. When the bout went back to the feet, it was a nice body lock take-down Prochazka with 3 minutes left in the round to get the fight back to the ground. Karl landed a solid elbow to bloody Jiri on his way to a big first round with complete control and a series of huge punches from top.
In the last minute of the round Jiri was able to reverse the position and get the the feet. Both fighters go into full beast mode and start swinging with all their might.
https://www.instagram.com/p/BdSDCsLnBKq/
But it is the Swede that is up against the ropes, and with good head movement is dodging most of the punches, that got the worst of the action. A good combination lands from Jiri and the referee jumps in to stop the bout.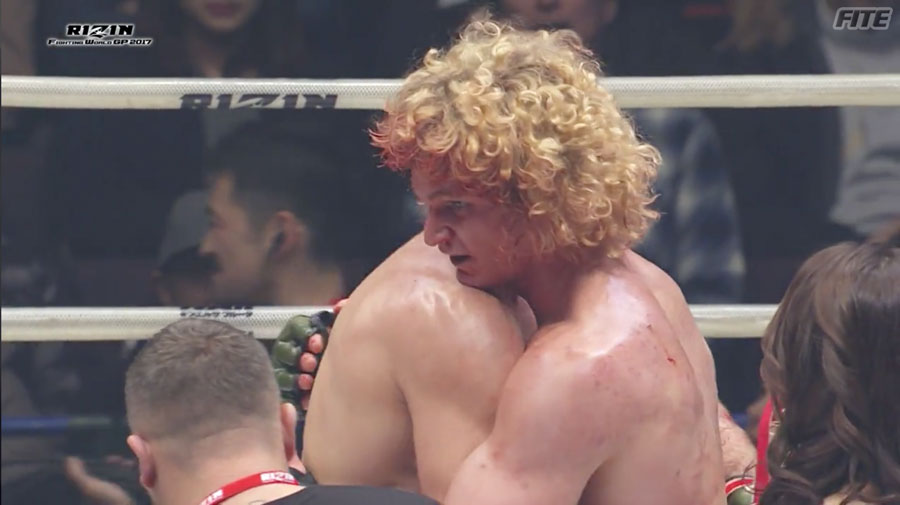 Perhaps the huge golden hair curls of Karl is making the impact of the punches look like more than it is, even the ones that missed. Either way, the bout is over, and a loss for the Pancrase fighter.