Right now me, Alex (Gustafsson), Papy (Abedi) and Andreas (Michael) is waiting for the first training for today. We arrived here late this Sunday and we're staying here for 3 weeks. Alex and Papy is in camp for their fights at UFC On Fuel TV2 in Stockholm.
I'm getting an early start on my camp or my next fight to, which is probably gonna be in about 8 weeks.
First training today is gonna be at Wanderlei Silva's Gym with some of the guys from Alliance.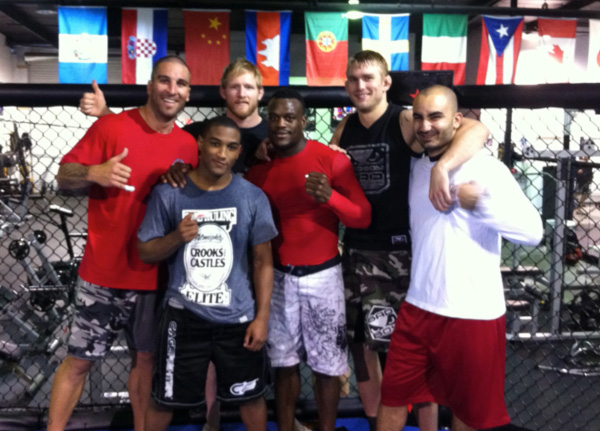 Back from training.
The gym was impressive with a full size cage, a open mat section with bags, a strength and conditioning section and even a high altitude room
The training was wrestling class held by Shanon (grey shirt). I've never seen such a accomplished wrestler live before. He's technique and understanding is brilliant and he was a really great instructor to us. The techniques' he showed was pretty basic but with a masters touch I'd say.
Right now we're making a move to get some food when trying not get blown away in the Vegas-winds.. I was expecting it to be nice and shiny outside everyday here in the desert but I guess they've got some weathers here to.
First i want to take the opportunity to give some extra cred to my friend and training partner Nico Musoke for his fight this weekend. He won in a impressive manner. Congrats bro!!
I'll soon get back to you with more details, footage etc. so stay tuned! /Lex
About Kristian Lexell:
Kristian Lexell will be blogging for MMA Viking during his trip to Las Vegas. He is a veteran of fight sports, with MMA bouts going back to 2001, plus boxing and Muay thai experience. The Swede returned to the cage in 2011 after a four year absence, and has since collected two wins with one loss. Known as "Lex", the powerful middleweight trains at Stockholm's Nexus Fight Center. The Gothenburg native won MMA Viking's KO of the Year in 2011 with his KO of Allan Love at Battle of Botnia 4. Lex most recently won a Muay Thai match at Söderslaget in December at Nexus Fightcenter, and will be announcing his next MMA bout soon.
For more information visit Sherdog's FightFinder and www.kristianlexell.net.  Lex is sponsored by OMPU (www.ompu.com) and Sthlm Shoot (www.nexusfightcenter.se).