Some of you witnessed the VFC Fight Night this Saturday in Karlstad. Many of you already read about it here. I hope you enjoyed the show! Now I'm going to give you my experience as one of the fighters on the card.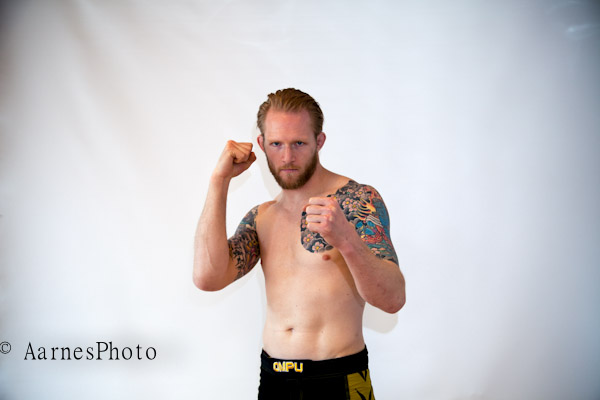 Weeks before my fight I knew whom I was supposed to fight. Monday before the fight I received the news that my opponent unfortunately couldn't make it, but I was still confident that they would find someone for me. On Thursday evening I finally got the call that they'd found one for me and that he was on his way to the airport. Anyway this is how it affected me.
Monday – No Opponent
When on Monday I found out there were no opponent for me I was crushed. In the back of my mind I knew there's always a chance but damn how depressed I got. That evening I ate a LOT after training. All that I worked for and sacrificed felt pointless so I developed a micro eating disorder for an hour or so.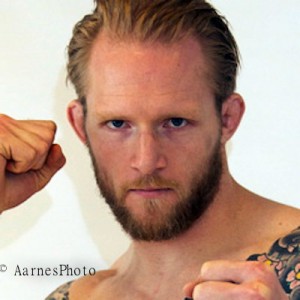 Tuesday – No Inspiration
Tuesday I heard that it didn't look good. This is what happens sometimes in this sport and most fighters with routine have experienced stuff like that. Training that day wasn't what I would call inspiring, because of my disappointment.
Wednesday – Feeling Better
On Wednesday it felt better again and, still keeping my fingers crossed, I started to look at it like that if I wouldn't get a fight I was (still am) still in great shape and that something else probably would come up soon.
At this time I more ore less trained like an ordinary week to stay in shape and keep the momentum if I would have to wait some weeks more.
Thursday – Taco Dinner & New Opponent
Thursday was first a long day at work, where I ran my intervals and after that I went to practice at STHLM Shoot, my team. When I went home from training I decided, right ore wrong, to look at it like my fight wasn't going to happen and I granted my self an extra large taco-dinner. With a full plate and a mind lit up by the short time satisfaction by carbs etc my phone called. It was the VFC and they told they had managed to set me up with an opponent.
After throwing out what was left of my feast I started to pack my stuff and arranged everything for Fridays trip to Karlstad to make weight.
Friday – Weigh-ins
So after an early morning, to loose a kilo or two me and Måns (one of my coaches) was on our way to Karlstad. Weight was perfect when we got there and I met up with my teammate Jonatan Westin. After this week I was just happy to have I a fight and to have some time in the hotel to relax before my fight. We also looked into what I could expect from my opponent and made some plans for the fight.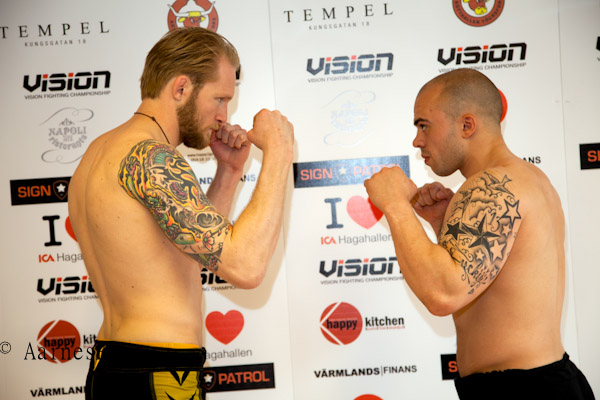 Saturday – Fight Day
This was just getting better and better I thought and when it was time to fight I kept back a smile when fighting in the cage. I pretty much was able to stick with my gameplan and I'm happy with my performance. We suspected my opponent to be strong and that he, after a while at least, would try to take me down. Respect to Sam Boo for taking the fight in such short notice.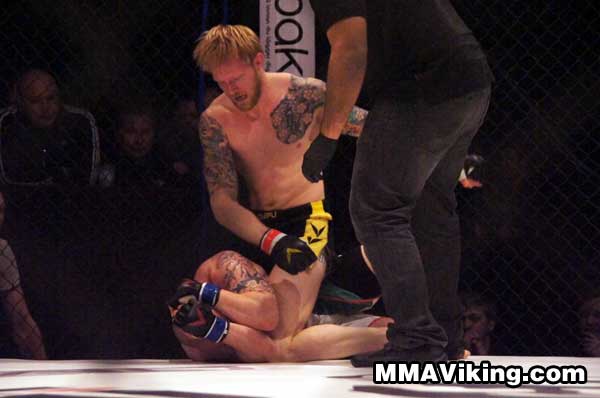 Thank you VFC crew for not giving up and for a great event, which I was happy to be a part of.
Now I'm just looking forward to another fight and if I could tell you anything more I would. What I can tell you is that is that I am hungry, ready and confident and that I hope you enjoyed the show.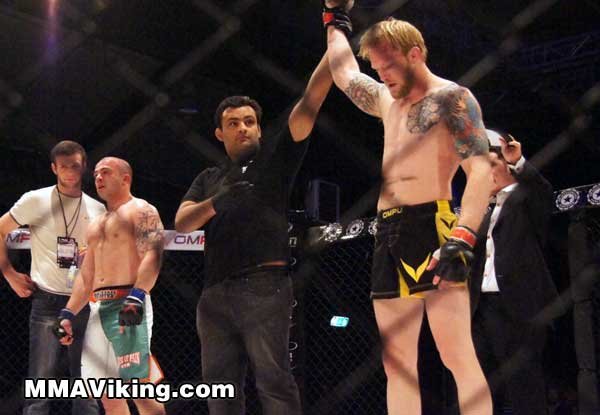 Till the next time –over and out /Lex
About Kristian Lexell:
Kristian Lexell is a frequent blogger on www.MMAViking.com, and recently wrote about his his training camp in Las Vegas. He is a veteran of fight sports, with MMA bouts going back to 2001, plus boxing and Muay thai experience. The Swede returned to the cage in 2011 after a four year absence, and has since collected three wins with one loss. Known as "Lex", the powerful middleweight trains at Stockholm's Nexus Fight Center. The Gothenburg native won MMA Viking's KO of the Year in 2011 with his KO of Allan Love at Battle of Botnia 4. Lex won a Muay Thai match at Söderslaget in December at Nexus Fightcenter, was victorious at Vision Fight Night 1 by KO, and will be announcing his next MMA bout soon.
For more information visit Sherdog's FightFinder and www.kristianlexell.net.  Lex is sponsored by OMPU (www.ompu.com) and Sthlm Shoot (www.nexusfightcenter.se).