MMAViking.com is live in Stockholm for the mixed boxing and MMA event. Golden Ring is having their event at a cozy Radisson Blue Waterfront, hosting their first combat sports event. The venue will host about 2,000 people, and will be starting at approximately 19:30 local time in Sweden. The event is co-headlined by former training partners Diego Gonzalez and David Bielkheden on the card with three MMA bouts and boxing bouts.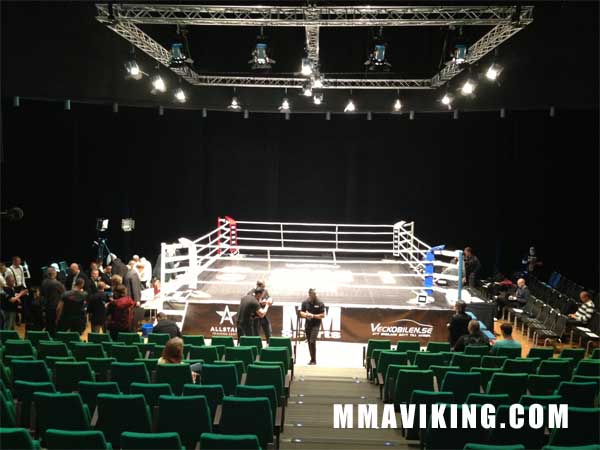 Event Results
MMA -Catch weight: Fernando Gonzalez (72.8 kg) vs. Kristoffer Källgren (72.8 kg) – Gonzalez by submission 45 seconds.
Boxing – Catch Weight: Benjamin Kalinovic (69.7 kg) vs. Michael Obin (69.9 kg) – Kalinovic wins decision.
Welterweight: Nico Musoke (77.1 kg) vs. Ronny Alexander (76.3 kg) – Musoke wins by unanimous decision.
Title Match WBC Silver -66.7 kg: Patrick Bogere (66.1 kg) vs. Patrick Allotey (66.3 kg) – Allotey win by KO in round 6.
Title Match WBC -59 kg: Frida Wallberg (58.4 kg) vs. Diana Prazak (57.8 kg) – Prazak TKO in round 8.  Wallberg was taken out in a stretcher after she went unconscious minutes after the stoppage.
Welterweight: David Bielkheden (76.7 kg) vs. Diego Gonzalez (77.1 kg) – Bielkheden wins by unanimous decision.
MMA Play-by-Play
Fernando Gonzalez vs. Kristoffer Källgren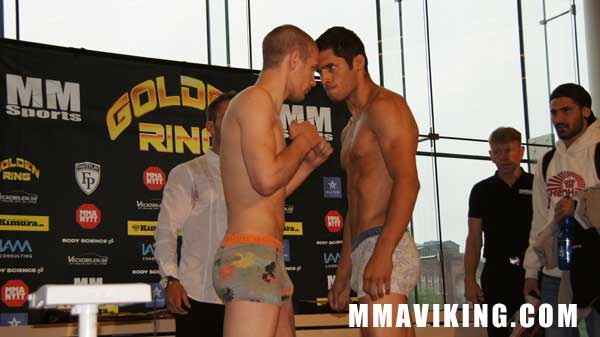 Fernando Gonzalez is the first to enter the ring.  In his corner is his Allstars Training Center Crew, including Coach Andreas Michael and title contender Alexander Gustafsson.
Round 1 – The two stand with no punches until Gonzalez misses a combination, then shoots in to take the fight to the ground.   But  Källgren tries to get up but Gonzalez is quick to lock in a guillotine… he gets the tap in 45 seconds. It's over. Winner by guillotine, Fernando Gonzalez.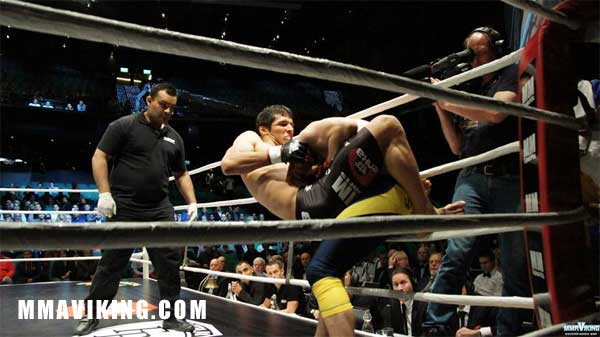 Nico Musoke vs. Ronny Alexander Landaeta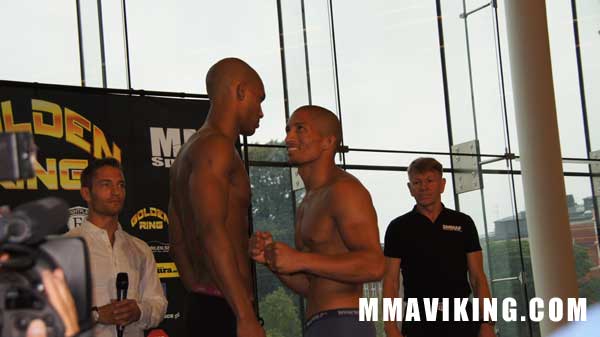 Round 1 – Musoke tries a takedown early but Alexander defends, and keeps the fight on the feet.  Musoke is one of the biggest welterweights and looks to have 20 lbs. on his opponent.  The Venezualan fighter is looking for punches as he swings wildly, but Musoke lands a nice kick followed-up by a double-leg take-down.  Muskoke moves to full mount, and his opponent goes to his belly as the Swede punches to the side of the face over and over and over.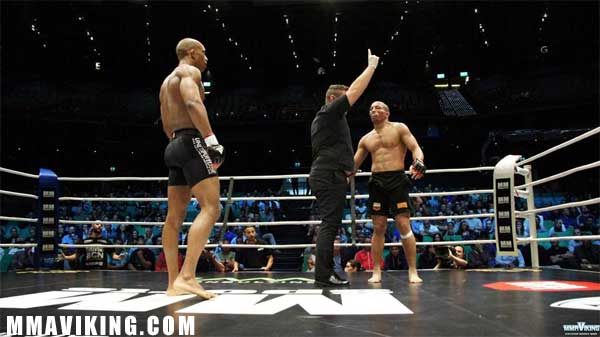 Musoke gets too high and loses position, and the two get to their feet.  Landaeta lands a good right, and seems to wobble Musoke.  The two tie-up again.  "One minute left" yells Bruno Carvalho in his corner.  One point is deducted for holding the ropes as the visiting fighter avoids a take-down.  A big punch from Landaeta and the Swede is in trouble, but the round ends.
10-8 for Musoke.
Round 2 – The two exchange punches, with Musoke mixing in kicks.  Again, the Swede goes for a take-down, but tough to get the take-down as Landaeta has his back to the ropes. Musoke is in trouble again, as Landaeta lands a few big punches and a round-house right kick.  The Spain based fighter punches to the body, and seems to be in control as he looks for another big right hand.  The bring over Musoke to the doctor to look at the eye, which looks to have gotten an eye poke.  The two furry with two minutes left in the round.  Musoke's left eye is red and swollen, and the local gets a high amplitude takedown as he lifts Laendeta in the air for a slam.
10-9 for Laendeta.
Round 3 – The fight is Musoke's to lose with a likely 10-8 first round.  Musoke's left eye looks bad, but he steps forward.  The late-replacement might not have the energy to take advantage of the injury, and now Musoke puts his opponent on his back 1 minute into the round.  A very quite next minute as the Swede lays on top, and the crowd is quiet.
Musoke is listening to his corner, and takes back and looks for a submission as time runs out.
10-9 for Musoke.
Official Decision – Musoke by unanimous decision.
Diego Gonzalez vs. David Bielkheden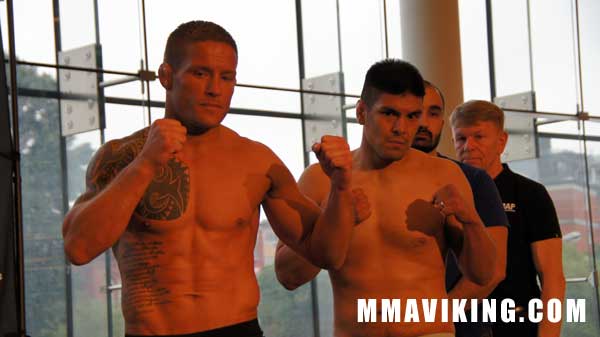 Unified MMA rules for this one.  Diego Gonzalez is the first to come out, representing Jabb.se as usual.  The Silencer runs down the stars for this one, and he is ready to fight.  The whole Allstars Training Center crew welcomes him down to the ring, and a small group starts their "Diego" chanting.  David Bielkheden looks relaxed as he claps to the music walking down the steps.
These two are ready to fight, and taunt each other before touch gloves to start the bout.
Round 1 – Big left hand for Bielkheden to start and a take-down.  Gonzalez is up, but eats a knee.  Left kicks from Buster as it's on the feet.  Bielkheden is switching stances frequently, and looks for a left kick to the body in a southpaw stance.  A pro Diego Gonzalez crowd.  Two minutes in and it is clear that Bielkheden wants to use kicks.
It's Gonzalez with control of the ring, but Bielkheden seems to be the quicker early.  Gonzalez stalking Buster and goes for a takedown that is stopped when Bielkheden grabs the rope.  Bielkheden loses a point for the grab, and the fight is restarted.  Bielkheden goes for a double-leg take-down and gets it, but it's Gonzalez that now escapes, but Buster is back for another shot.  Bielkheden has Gonzalez, who has his head through the ropes, and Bielkheden is landing knees.  Exciting first round here in Stockholm.
9-9 Round
Round 2 – The fight stays standing early, and Bielkheden again with a left kick.  Both fighters have some blood on their face from the exchanges, and it is Bielkheden landing.  Half way through the round, and it is up for grabs as both fighters look to land shots.  Punch kick combinations from Bielkheden who finishes with a take-down.  On top the Brazilian Swede's lands an elbow.  Now it's Gonzalez who grabs a single leg, and tries to finish against the ropes.  The fight is back on the feet, and Bielkheden lands a stiff jab.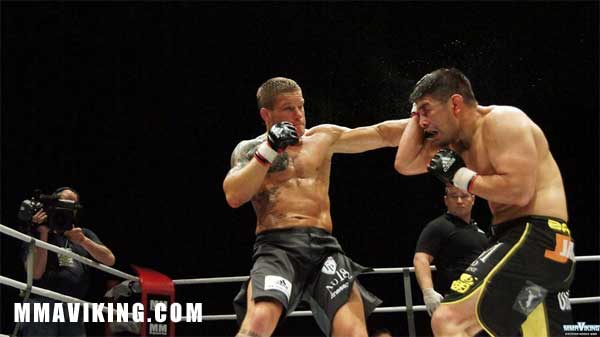 10-9 Bielkheden
Round 3 -Bielkheden is landing in the first minute with punches and kicks, and Gonzalez doesn't seem to have his timing down.  A take-down attempt from Bielkheden but he can't get it.  Again it's the kicks from Bielkheden that are making the difference.  Three minutes left in the fight, and Gonzalez seems to be getting desperate as he hunts down the former UFC fighter.  Two minutes, and Bielkheden is landing with combinations.  Gonzalez left eye has taken damage.
Bielkheden with a double-leg for a finish, and he has back.  Gonzalez reversed the situation and is on top.  The crowd is going crazy as Gonzalez is on top, and the two smile at each other as they punch each other in the face.  Gonzalez ends up on top, and the two celebrate a great faght.
10-9 Bielkheden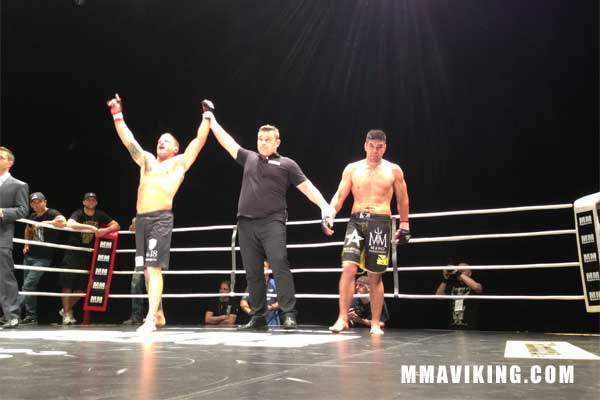 Bielkheden wins unanimous decision.  The beef is squashed and the two are very happy with the fight and congratulate each other, and they hug it out.
Come back for exclusive video interviews with the winning fighters and Alexander Gustafsson.