Finns Katja Kankaanpää (8 wins, 1 loss, #1 Nordic Woman) and Jani Ridasmaa (4-2-0), Team East Front, will be the main draws in Lappeenranta Finland tonight.  MMAViking.com will be reporting live as Killer Bunny takes on Ukraine´s grappling specialist Alyona Rassohyna and Ridasmaa faces UK's Andrew Elliot (4-1), Silverbacks MMA, at Lappeenranta Fight Night 10.  Follow results live below.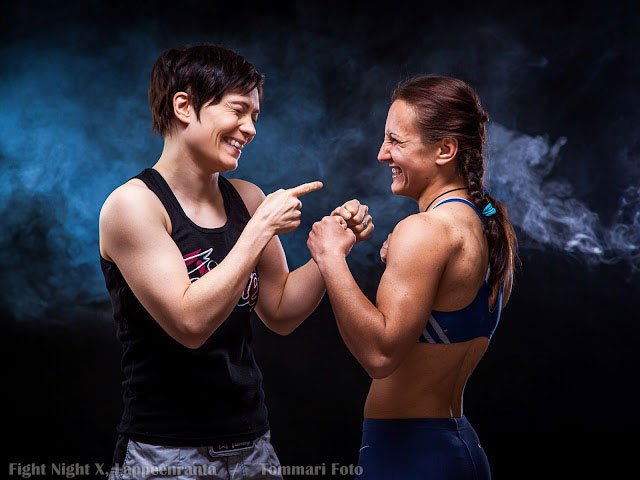 Play-by-Play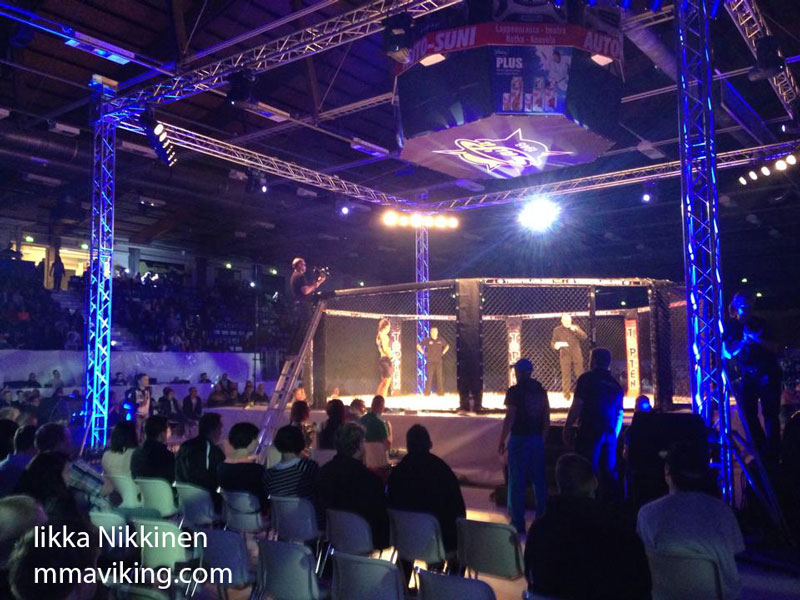 Suvi Salmimies (0-0-0), Team East Front vs.Clemence Schreiber (0-3), Crossfight, France
Clemence Schrieder enters shrouded in smoke and hidden by flame for our first bout here in Lappeenranta at Fight Night X. Her Finnish opponent follows her to a Crazy Frog beat, the crowd clapping along in rhythm for the debuting fighter. The action starts with a touch of gloves and a flurry which ends in a right hand on Schrieber's chin. Schrieber returns fire and floors her opponent. Salimimies regains her feet and is pushed to the cage where Schrieber lays into her with knees. One is deemed illegal and a pause is called to the action. After the fight resumes Salmimies takes the center of the cage. A solid kick lands for Schrieber, followed by a left and a right hand for the Finn. Schrieber utilizes head movement and takes the center briefly before yielding ground to the FInn. Schrieber clinches but eats some right hands for her trouble. Schrieber then pushes Salmimies to the cage and uncorks with solid knees and a mean elbow. Salmimies takes the center. Misses on a kick. Left right for Schrieber. Schrieber floors the Finn after a period of inactivity and begins destroying her thighs with vicious kicks. The Finn regains her feet then pressures Schrieber to the fence, but Schrieber cuts the corner and ends up on the outside, once again punishing Salmimies with her superior clinchwork.
Round 2: Another touch of gloves and the crowd roars for Salmimies. A stiff looping left lands for Salmimies, then a teep falls short. Schrieber pumps the jab, but Samimies fires back and smells blood (figuratively speaking) and rushes forward with solid strikes. Schrieber covers up, and Salimies is unable to put her away, but manages to push her into defensive mode against the cage. Schrieber is out and the circling in the center resumes. Schrieber eats a stiff right hand and briefly catches one of the Finns kicks, but fails to make use of the exposed leg. Once more Schrieber catches a kick, and once more fails to capitalize or make her opponent pay. A left hook lands for Salmimies and with 30 seconds left in the round, the crowd begins to clap and chant for their native Sister.
Round 3: The final round begins and both fighters touch gloves. The French fighter catches a kick and attempts to take down the Finn but fails. Samimies works an inside leg kick andSchrieber seems content to work the outside with jabs. Another inside leg kick for the Finn. A flirry falls short for the Finn and a left hook lands for the French competitor. Leg kick lands on the thigh of Schrieber. The lead leg of Schrieber is showing considerable damage and she appears to be favoring it. A leg kick lands for Schrieber, then a hard right up-top. Once more the crowd claps in rhythm and a flurry lands a right hand on the chin of Schrieber. A left and a right further the cause of the Finn, but Schriber returns fire, to lesser effect. Schrieber punishes the leg and Samimies throws a flurry as the bell rings.
Result: Winner by Unanimous Decision is Suvi Salmimies.
Lauri Tonteri (3-3-0), Team East Front vs. Paul McGinty, SilverBacks MMA, UK
Paul McGinty sails into the cage to AWOL Nation's song of the same title. His face is a mask of calm as he mounts the steps to the platform on which his battle will commence shortly. Tontori emerges, taking his time and making a dramatic entrance to an instrumental which is reminiscent of a Superhero film. Let it be noted that in Finland, ring girls do not appear to smile. The two fighters touch gloves and the feeling out is ended by Tonteri's shin landing on the thigh of McGinty. Tonteri tries for a second kick but is taken down. McGinty attempts a guillotine but fails. McGinty swings wide with a huge right but misses. Tonteri is keeping his hands low, and from the motion of McGinty it is obvious he is seeing Tonteri's punches before they are thrown. The one he doesn't see catches him in the breadbasket and repeated shots to the liver floor the UK-based fighter. It is over, and McGinty is doubled over in agony as his opponent mounts the cage with a victorious roar, looking every inch a Barbarian.
Winner by TKO in the very first round: Lauri Tonteri.
Vuokko Katainen (2-1-0), Team East Front vs.Kate Jackson (4-2-0) Koncept Gym, UK
The round begins and Jackson is the fighter with forward pressure. The two enter the clinch and Jackson puts Katainen's back to the fence. A knee to the stomach from Jackson. Crowd calls out for action, seemingly unaware of the damage Jackson just did with a right elbow. Jackson is landing knees to the thigh of the Finn, and manages to circle out from against the cage. Jackson is taken down and Katainen now resides within the open guard of Jackson. Jackson lands a hard elbow from the bottom, but cannot seem to shake up the position. Jackson rocks her way to the wall and is able to wall walk to a standing position. Jackson reverses her and ends up as the aggressor of a savage takedown, then the bell tolls.
(Viking Score Card: 10-9, Katainen)
Round 2: Jackson rapidly pushes Katainen to the fence and pins her there while searching for underhooks, but Katainen stays active with a few knees. Jackson fires back with knees to the meat of the thigh, but her primary focus is the takedown. Savage knees to the thigh of the Finn, and the UK Fighter means business. A failed takedown from Jackson puts Katainen in the top position, but not for long, as Jackson escapes and enters her opponent's guard. Katainen secures an arm from the bottom and begins working towards an armbar which is never actualized. For her trouble she surrenders position to Jackson as Jackson takes half guard for a few moments before she is locked up in a rubber guard and once more surrenders her arm. Jackson escapes the armbar but is bowled over by the Finn. The two end the round in a troubled heap.
(Viking Score Card: 10-9, Jackson)
Round 3: A double leg is successful for Katainen early and she takes the top in half guard. Katainen takes a guillotine then loses it as Jackson rises and pressures her to the fence. Jackson delivers knees to the thigh of Katainen once more but Jackson's knees are an angry red and the damage is not visible on Katainen's thighs. The fight is restarted in the center for stalling and Katainen rushes forward with a double leg attempt, which is stuffed by the British fighter at the cage. Katainen will not be denied, however and finally manages to take her opponent down. Katainen wants Jackson's back, and she takes it, working toward a rear naked choke. A solid shot from Jackson goes over the shoulder and catches the face of the Finn. The two fight for wrist control and then the bell sounds the end of this contest.
(Viking Score Card: 10-9, Katainen.)
Result: The fight is declared a split draw.
Jamba Elonen-Kulmala (9-4-0), Espoon Kehähait vs. Vitaly Branchuk (11-3-0), Ukraine
Jamba looks calm as the fight commences and a flurry that falls short for Branchuk punctuates the first minute. An overhand punch lands for Branchuk but Jamba keeps his cool and goes for a takedown which he secures. Jamba throws leather and the placement is perfectly on the left side of Branchuk's face. Jamba steps up, then powers down with a left hand. Repeated left hands landing for Jamba, but Branchuk is working to keep position, against a vicious onslaught of heavy hands from the Finn. Jamba to the feet once more, then powers down with a dropping Superman punch. Jamba tries the same tactic again but it doesn't pan out. Jamba leaps in with a jaw-shattering right hand and the Ukrainian goes silent and still for a moment. Jamba leaps but the Ukrainian has regained his composure. A scramble ensues and Branchuk ends the round on top.
(Viking Score Card: 10-8, Jamba)
Round 2: In the opening seconds of round 2 Branchuk puts a left hand covered in leather against Jamba's face, but Jamba makes him pay with a swift takedown. Jamba takes the back, places his hooks in, and goes to work. Branchuk does an excellent job of tying up the hands of the Finn, and Jamba is making no progress. The ref calls for action. Jamba has secured a body triangle and is tightening down, but still lacks the use of his hands. The ref stands the fighters up. Jamba takes a hard shot and Branchuk takes him down, landing in mount. Branchuk is mounted high and Jamba is defending but Branchuk takes his arm. The sweat makes this a short lived submission attempt and Jamba ends the round on top.
(Viking Score Card: 10-9, Jamba)
Round 3: Jamba takes the center, but Branchuk appears the fresher fighter and finds his mark with a solid jab. A jarring right hand lands for Branchuk and that seems to make Jamba more wary. Jamba shoots but his attempt is easily stuffed. The second time around it is stuffed again and Jamba is slow to regain his feet, so he eats a right hook from his knees. Jamba pressures towards the cage and finally secures his sought-after takedown. Jamba is throwing leather from the mount, but a strike from Branchuk stalls him and he falls back. Branchuk capitalizes and follows with another hard shot. Jamba is bloodied and rocked by another shot as he attempts to regain his feet. He is on his back against the fence, eating hard elbows. The grinding pressure is poured on by Branchuk and Jamba is in trouble, though he does well in keeping the Ukrainian fighter locked up until the bell.
(Viking Score Card: 10-9, Branchuk)
Result: Janne 'Jamba' Elonen-Kulmala is the winner by Unanimous Decision.
Aleksi Mäntykivi (4-3-0), Team East Front vs. Paul Attwood (1-0-0), Silverbacks MMA, UK
Paul Attwood enters to a funky tune, 'Very Superstitious' brings the UK-based fighter to the cage. Mäntykivi displays both bad intent and style and moves resolutely to the cage with the sounds of Star Wars' Imperial March reverberating through the stadium. Inside leg kicks thrown early from the UK-based fighter, but as sometimes happens with these techniques, one catches Mäntykivi low and the ref gives him time to recover. A hard left from Attwood followed by a kick . Mäntykivi attempts to take the fight to the mat but is reversed and Attwood lands atop him, in half guard. Hard dropping right hand from Attwood who puts himself in side control to the dismay of his Finnish opponent. Mäntykivi scrambles to his feet and puts Attwood briefly to the cage but his thigh takes a vicious kick. The two clinch and Attwood obtaains underhoooks, powering through to place Mäntykivi on his back. Attwood transitions to mount and begins to rain hell on the skull of Mäntykivi. Mäntykivi is helpless and quailing beneath the impressive power of Attwood, although he takes most punches on the gloves. Mäntykivi gives up his back to escape the punishment, but it is obvious Attwood is not done with him yet. Attwood pursues a rear naked choke, but loses it and the two scramble to their feet. The round ends with Attwood's back against the cage.
(Viking Score Card: 10-9, in favor of Attwood)
Round 2: A spinning back kick from Mäntykivi opens the round, and lands flush on the sternum of Attwood. Attwood decides he would like this fight to take place on the ground and so it does as he takes Mäntykivi off his feet. Mäntykivi is a wily one, however and escapes, pressing Attwood to the fence, securing control of his opponents hips, lifting him high and dumping him hard. Mäntykivi sees an opportunity to return the punishment he endured in the first round and wastes no time, dropping hard right hands to the skull of Attwood, then a vicious elbow which cuts the UK-based Attwood. To fervent in his thirst for blood is Mäntykivi, however and Attwood throws himself out of the way of a shot, regaining his feet as he shrimps away. The clinch game is won by Mäntykivi again, however, and he takes Attwood to the mat. Attwood absorbs some damage but explodes out and ends up atop the Finn, albeit soaked in his own blood. At the close of the round Mäntykivi is grinning, but Attwood is clutching the cage in exhaustion, looking bedraggled and defeated.
(Viking Score Card: 10-9, Mäntykivi)
This fight is called to an end at the request of a combatant. Attwood has submitted between rounds. Mäntykivi comments that he is unsure of what the future holds, as he is set to commence military service in July.
Antti Virtanen (7-5-1), MMA Imatra vs. Anton Telepnev (7-3-0), Venäjä/Russia
Both fighters walked to the cage wearing military issue berets. This is an intriguing allusion here in Eastern Finland where the Winter War was fought. A heavy overhand right lands for Virtanen and he ducks under for a double-leg which he secures. A hard kick to the thigh of his grounded opponent who is mounting heavy kick-based offensive from the ground. The crowd is roaring in support of Virtanen and he drops down atop Telepnev to unleash a little damage. Telepnev is up and strings together a combination punctuated by pressing Virtanen to the fence and uncorking a solid headkick. Again Telepnev lands a head kick. The two circle and it appears that Virtanen has had enough of the standup game, as he double-legs the Russian to the mat once more. The two scramble back and forth but Virtanen remains atop the Russian. Telepnev throws an upkick, but his opponent is considered downed and the action is stopped. Virtanen takes time to recover, holding an icepack on his nose, and the referee deems the action intentional and deducts a point from Telepnev, which is an arguable call. The doctor is called in to examine Virtanen, who appears fine. Virtanen decides he can fight and the action is resumed. A kick lands for Telepnev, to the body, followed by another to the leg, but Virtanen takes him down. After a brief stint on top, he is made to regret the decision as he is sweeped and Telepnev lands in mount. Virtanen escapes and Telepnev briefly takes the back before being shaken off and entering a clinch battle. Virtanen sinks to a crouched stance and Telepnev unleashes a knee. It is unclear whether Virtanen was crouched or grounded, but again the action is stopped and Telepnev is docked another point. The round concludes in what one can assume is a 10-7 score for Virtanen.
Round 2: Virtanen goes high with a kick to the body, but the Russian responds with a headkick which rocks the Finn. The two trade body kicks then  as Telepnev moves forward, smelling blood, Virtanen lands a beautiful double leg. The Russian is kicking up at his opponent from his back, and attacking the legs, but Virtanen smashes down atop him and ends his offense. Telepnev escapes to his feet and pushes Virtanen to the fence, but it is short lived as Virtanen takes him down with a sweeping single-leg. Virtanen lands in half-guard and begins to smash at the skull of the Russian with his elbow. The Russian has lost his mouthpiece and the ref intervenes to replace it.  A vicious neck cranking guillotine results from a scramble, but nothing comes of it. Virtanen takes the top position, and Telepnev again loses his mouth piece, making his fouls seem intentional. A scramble ensues and the two are briefly on their feet with Virtanen working knees from the clinch before Telepnev attempts a kimura and pulls guard. Virtanen escapes and the two end the round in the clinch against the cage.
(Viking Score Card:10-9, Virtanen)
Round 3: Telepnev needs a finish, and it looks as if he senses it. Telepnev pressures forward and punishes the body of the Finn with a kick. Virtanen goes low for a takedown which seems desperate until he pushes the Russian to the fence and completes it with vigor. A right straight to the body, followed by a solid, resounding, kick lands for Telepnev, but the takedown defense of the Russian is non-existant and he is one more on his back. Telepnev wall walks, and achieves a standing position but Virtanen locks his grip and takes him for a ride before pounding him into the canvas.  A scramble ensues and the two are up, with Telepnev driving forward, on the offense. Virtanen turns the corner and pushes Telepnev to the cage. Virtanen takes him down once more, but he scrambles and punctuates the effort with solid strikes to the head and body. Telepnev puts Virtanen to the cage this time around and lands a solid knee to the chest. Virtanen turns the corner and takes him down, but they scramble and end up again in striking range before Virtanen solidifies the round with a solid takedown. A late armbar attempt from Telepnev is unfruitful and the round closes with both fighters in a state of utter exhaustion.
(Viking Score Card: 10-9, Virtanen)
Result: Unanimous Decision Victory for Antti Virtanen.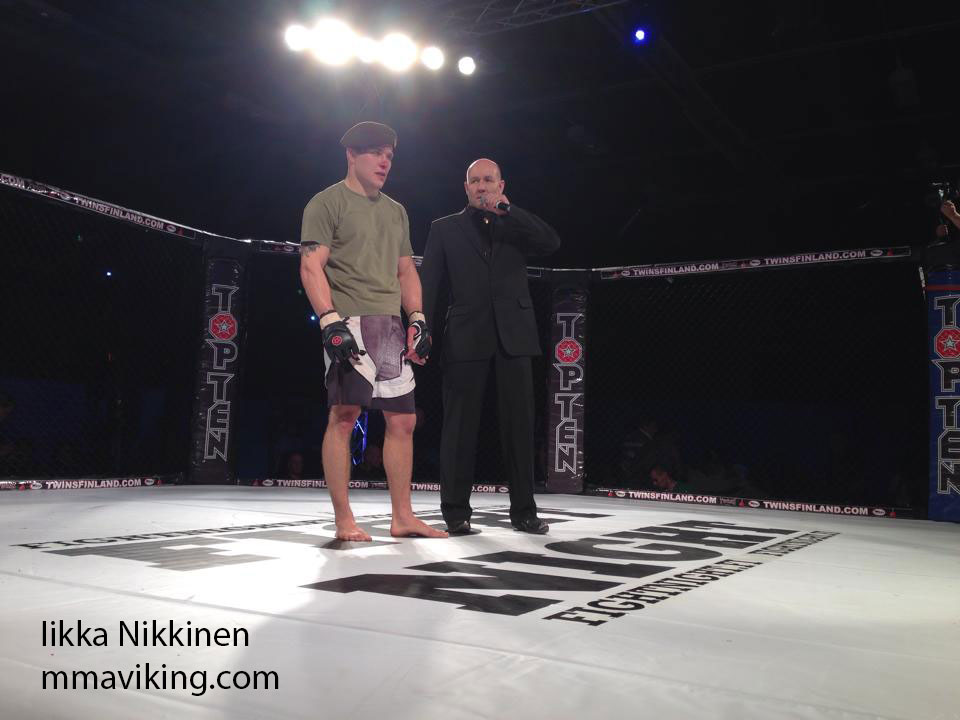 Katja Kankaanpää (8-1-1), Team Botnia Punishment vs. Alyona Rassohyna (8-2-0), Ukraine (Co-main event)
The Killer Bunny comes out with a leg kick, and Rassohyna lets her hands go. Rassohyna fires a kick to the body and the inside of the leg, then finds a place for her jab. Another inside leg kick for Kankaanpaa. The two clinch and Kankanpaa finds a takedown from the body lock. Kankanpaa is atop her foe, but Rassohyna keeps things close and has the Killer Bunny looking like the Contained Bunny. Kankanpaa creates space, stands and delivers… A solid right hand to the face of the Ukrainian. After a scramble the two end in a modified north-south guard, and Rassohyna defends until she can put Kankanpaa in a more manageable position. Rassohyna attempts a guillotine choke, but Kankanpaa escapes and the round ends with the Killer Bunny atop her foe.
(Viking Score Card: 10-9, Kankanpaa.)
Round 2: Rassohyna opens up with an inside leg kick, and attempts another but sees it checked. A flurry of hands, followed by a body kick attempt from Rassohyna, but the Killer Bunny pounces and secures a takedown. Kankanpaa has transitioned into side control. Kankanpaa achieves a mounted crucifix and uncorks several shots from the top before settling for a high side control. Kankanpaa sees an opportunity and pounces, seeking an arm triangle. When the opportunity passes she pounces again and rains heavy shots to the skull of her foe before snatching an arm and taking it home with her. The fight is over by way of submission due to armbar.
Result: Katja 'Killer Bunny' Kankanpaa is winner by way of Submission (armbar) in the second round.
Jani Ridasmaa (4-2-0), Team East Front vs. Andrew Elliot (4-1), Silverbacks MMA, UK (Main Event)
Ridasmaa takes the center early, but Elliot blasts forward with a flurry. Ridasmaa throws a hard left but Elliot catches it on the elbow. Elliot with a leg kick and a left hook. Ridasmaa fires back with a left hook and soon after an incredible right hook. Push kick from the Finn lands on the body of Elliot. Overhand right lands for Ridasmaa. Again.  Headkick from Elliot, caught on the gloves. Hard kick to the body of Elliot from Ridasmaa. A hard shot leaves him phased, but when Ridasmaa attempts to unleash hell, Elliot ties him up. Another shot to the body leaves Elliot covering up, but Ridasmaa takes a knee up the center. Another body shot and Elliot cringes hard as he falls to his knees on the mat. Ridasmaa pursues and rips several hard following shots, spelling an end to the bout.
Result: Jani Ridasmaa is the victor by way of TKO in the first round.
Exclusive pictures coming soon.  Please check back!