Anton Kuivanen will headline and Mikael Silander will co-headline today's CAGE 38 event against Japanese opposition in Helsinki. The general tickets are sold out, but MMAViking.com is live cageside and will update results live here!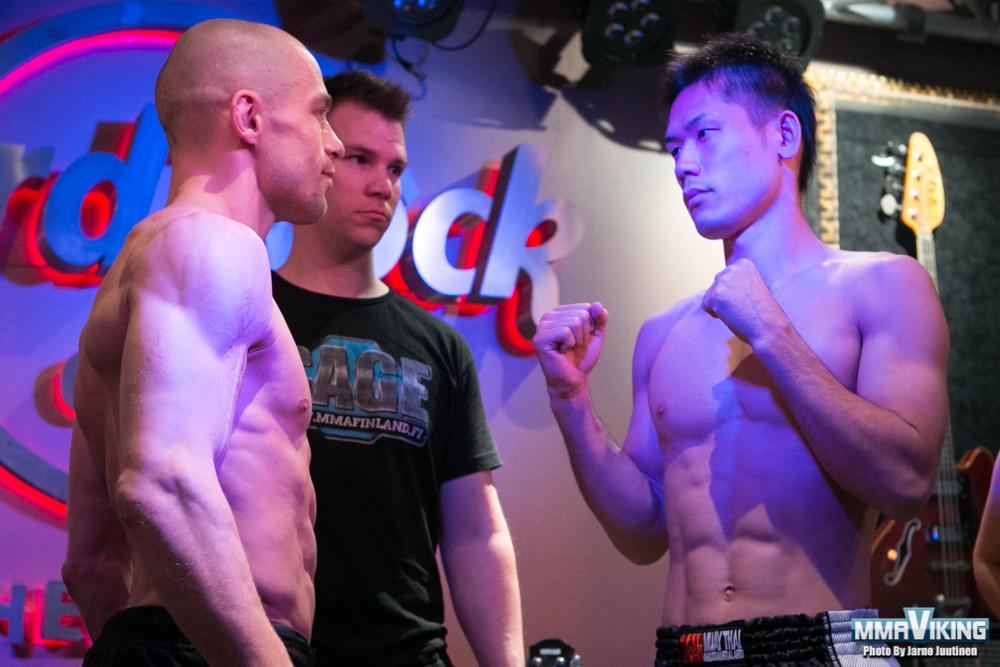 Saku Heikkola (7-6-1) Versus Andrey Seledtsov (5-3-0)
Saku Heikkola, representing Valkeakosken Heracles, steps into the cage to the sound of Dropkick Murphys much to the joy of the sold out Kulttuuritalo. In this 1st fight of the night Heikkola faces 7cm shorter (183cm) opponent from Russia, Andrey Seledtsov.  Heikkola's wins have been as follows: 3xTKO, 1xsubmission and 3 decisions.
Seledtsov is a member of the Russian army special forces and is specialized in Russian hand-to-hand combat. Two of his wins have come by the way of decision and three by submitting his opponent.
Round 1
Time to get the party started, here we go! 1st round – ding ding! Seledtsov starts off with good pressure and a couple of good straights. Seledtsov initiates the clinch, and Heikkola's knee hits him in the groin.Heikkola either slips or gets punched to the canvas, Seledtsov takes the position in Heikkola's half guard. Soon both fighters are standing again and Heikkola gets a couple of good low kicks in.
Heikkola attempts a takedown, but Seledtsov stuffs it. Now it is Seledtsov again who is delivering pain from the top position. 15 seconds left in the 1st round and Heikkola gets the takedown and a rain of elbows suddenly appears. Crowd goes wild, but it is a bit too late for Heikkola's sake as the ref interrupts the ground and pound.
Round 2
Seledtsov seems out of breath. Heikkola goes for the low kick, but seems it hits Seledtsov's groin again.  A lot of exchanging of punches in the middle, but Seledtsov is able to force Heikkola's back against the cage. Soon Heikkola's punch removes Seledtsov's mouth guard, ref picks it up and the stand n' bang continues!
Heikkola goes for a high kick, but slips. It's now Seledtsov in the guard, but manages to dio nothing much. Heikkola has a cut probably in his right eye brow region. Round 2 ends, mmaviking scores this 20-18 so far to Seledtsov.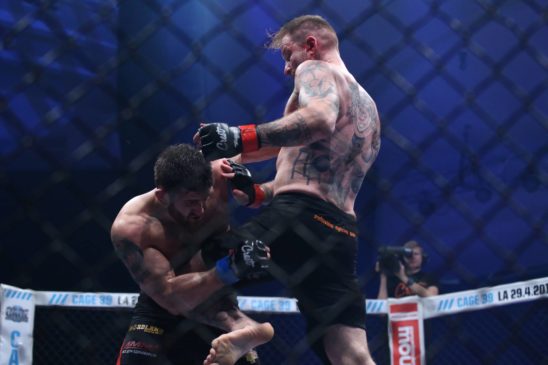 Round 3
Both fighters completely exhausted. Long breaths through the mouth. Seledtsov seems to be more aggressive of the fighters and landing some more shots to the battered face of Heikkola. Seledtsov finishes the 3rd round with a takedown. There can be only one winner in this fight.
Winner: Seledtsov via decision 27-30, 26-30, 27-30
Abdul Hussein (1-0-0) Versus Stefan Serghei (2-3-0)
French Serghei is facing the Finnish Phenom Abdul 'ABBA' Hussein. Abba debuted as a pro in Cage37 with a convincing win and is looking to get another win to his record.
Abba has yet again brought a huge crowd of fans with him. Kulttuuritalo goes nuts as Abba enters the cage while in the back ground you can hear "Unstoppable" playing.
Round 1
The round starts off with Hussein mostly evading Serghei's punches. Both fighters in the middle and landing low kicks. Abba lands a high kick to the left side of Serghei's head, but no big damage is caused by the looks of it. Abba's constant pressure seems to work and he gets another heavy kick to the body of Serghei.
Abba gets a take down just after Serghei had landed a couple of jabs. Soon Abba enters the mount, but only for a second. Abba stands up and Serghei remains in the ground. Abba takes side control, advances to back and yes… it's RNC city, baby!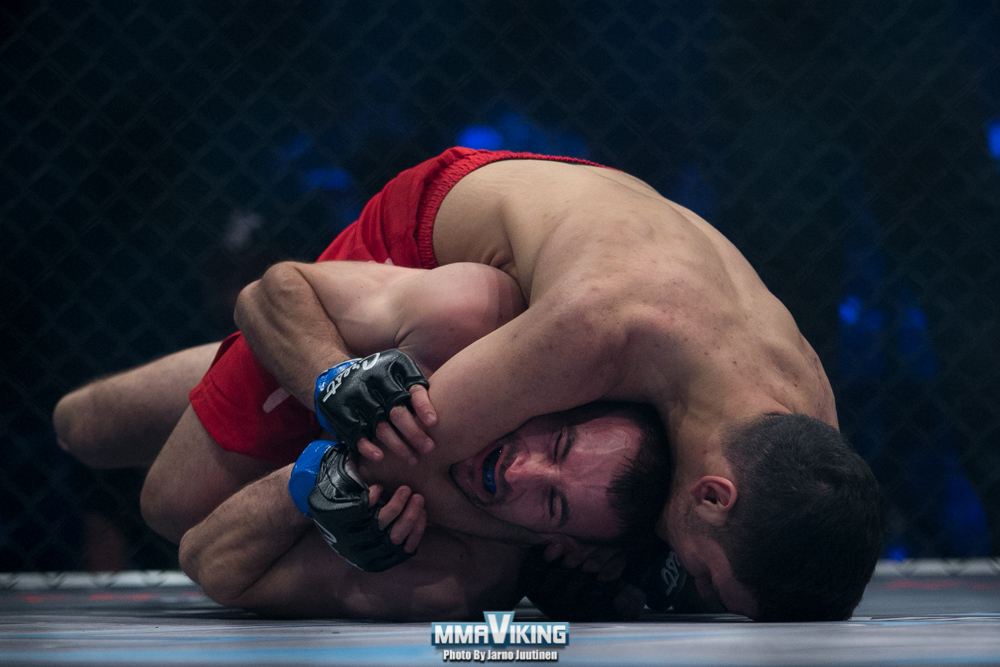 Abba's performance is once again way ahead of his experience as a pro. Mature, yet super effective. This time it took 4:40 for young Hussein to get the inevitable finish off his opponent.
Winner: Abdul Hussein via rear naked choke (4:40).
Aleksi Savolainen (6-2-0) Versus Patrik Kapanen (3-2-0)
It is not that often that fans get to see two local fighters these days. By local we mean of course, two Finnish fighters.
Savolainen excels in 10th Planet Jiu-jitsu, but can also pack a punch. He is escorted to the cage by the former Cage matchmaker Timo Lampen. Kapanen's all wins have come via TKO. This is a catch weight bout at 70,3kg. The scene is set, let's see what happens when the cage door is closed. It should be fireworks right from the start from what we know!
Round 1
Savolainen is off to a good start and lands a heavy knee to Kapanen's head. Kapanen is rocked. Savolainen initiates the clinch, and more shots land to Kapanen's head.
Kapanen gets a couple of good punches to Savolainen's face. Straight right delivers pain and Savolainen tries to tie Kapanen up for a breather. Neither of the fighters seem to be too interested in defending. Kapanen lands huge hits, heavy jab, then straight right hand, Savolainen drops and gets swarmed by Kapanen. Kapanen takes the mount, moves to the back and it's all over. RNC in first round – Kapanen is victorious after a difficult start to the match.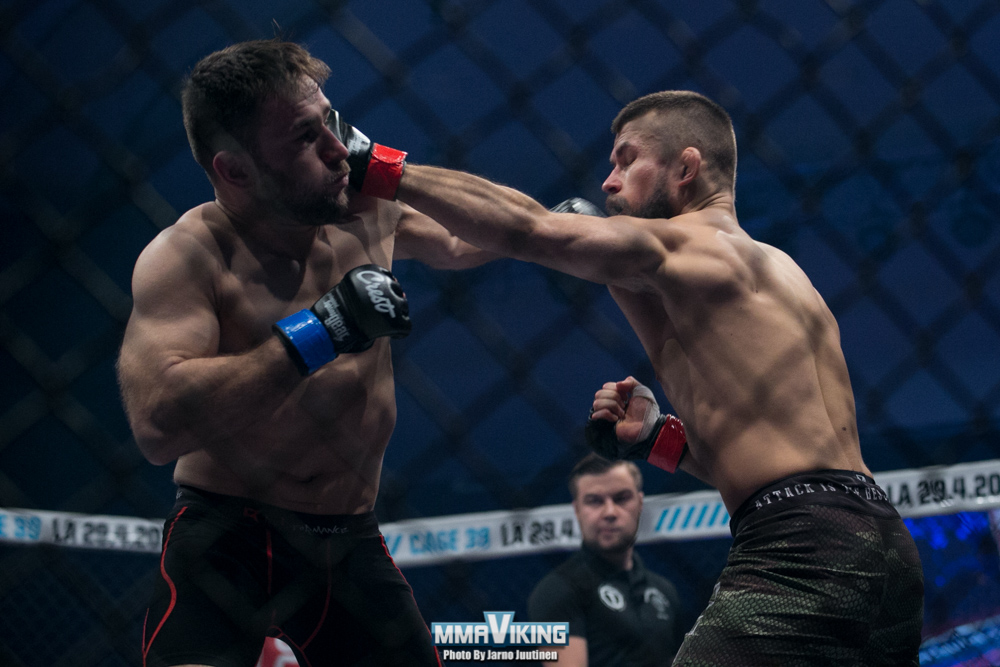 We promised fireworks, and it's fireworks they delivered. In the interview Kapanen seems surprised he "somehow found himself on the back of Savolainen".
Winner: Patrik Kapanen by RNC – round 1
Jussi Halonen (7-5-0) Versus Oleg Dadonov (5-1-0)
Heavy handed wrestling machine Jussi 'Tuhmis' Halonen faces Oleg Dadonov in this 4th match of the night. Halonen ended the difficult year 2016 with a win at Cage37. Halonen will be cornered by Jaakko Dahlbacka, the head coach of Hardknocks Helsinki and BJJ wizard professor Antti Mannila. Here. We. Go!
Round 1
Fighters shake hands. It's about to get real now.   Halonen starts off with very calm, measuring the range. Dadonov trying to get some jabs in with no success. Both fighters in the middle of the cage. Dadonov gets a takedown by tripping Halonen, but Halonen gets up in seconds. Halonen lands a low inside leg kick. Halonen goes for a superman punch, but it does not land. Dadonov knees Halonen's groin. Halonen spends less than 40 seconds recovering from that. Very even round, but Dadonov got the takedown. We'll see how the judges score this.
Round 2
Second round begins with both fighters in the middle as Halonen's kick lands Dadonov's groin. A lot of those happening tonight! Halonen pressing forward, still no significant strikes landed from either of the fighters. Dadonov using his range well, keeping Halonen off the preferred range. Very hard shot drops Halonen and he is against the cage in the canvas. Amazingly Halonen is able to recover from RNC attempt after some G'n'P. Dadonov seems more exhausted now as suddenly Halonen reverses, takes the back, goes for the choke but eventually ends up under Dadonov. A lot of action in this round!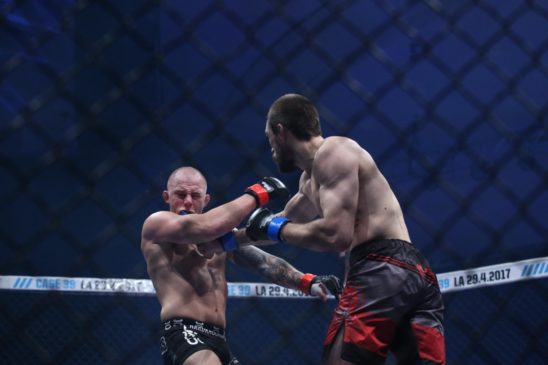 Round 3
Entering the last round now. Halonen starts with a low kick, straight left does not land. Halonen wrestles Dadonov against the cage. Halonen more active now as fighters head back to the middle of the cage. Halonen gets an impressive double-leg takedown, but ends up in Dadonov's guard. Dadonov manages to dig Halonen's hand out while Halonen is punishing him from the closed guard. Unfortunately for the hometown hero Dadonov submits Halonen with a kimura from a closed guard. Halonen cannot believe what just happened. Much respect shown between the fighters.
Winner: Dadonov via kimura
Mikael Silander (14-5-0) Versus Shimizu Shunizi (30-17-11 & 1 NC) – Co-Main Event
It's time for the co-main event of the night. Two experienced fighters are about to battle it out. Who's got the skills to pay the bills? Wait no longer, we got you covered!
Both fighters being very respectful towards each other before the fight starts.
Round 1
Silander takes the centre of the cage, Shunichi attempts a take down but Silander ends up in top position. Soon both fighters are standing again and low kicks are being exchanged. Silander's right leg kicks remind us of a scythe. He is working on that front leg of Shunichi. Shunichi gets attacks Silander's front leg and is able to back-mount him after the single-leg TD attempt. Soon Silander gets the top position, although he is in Shunichis guard. Silander continues punishing Shunichi with short elbow strikes from the closed guard. Fighters stand up, Shunichi gets the clinch and pushes Silander against the cage. Shunichi is able to take Silander's back, yet Silander manages to turn it around and takes the Japanese fighter to the ground again.
Round 2
Silander starts the round with a powerful outside leg kick and somehow Shunichi is able to take the back of the Finn again. Shunichi's ground game seems very versatile as he is working the back and the neck. Silander reverses and gets the top position. Ground and pound with elbows from the closed guard, Silander cuts Shunichi's face with the powerful elbow strikes. The crowd goes absolutely mental as Silander is raining down elbows. Shunichi is yet again able to threaten Silander from the ground, and both fighters get to stand up. Silander lands a couple of hard punches just before the round ends.
Round 3
Both fighters showing very good conditioning in the beginning of the last round. The fighters are trading punches, nothing too significant has landed as of yet. Silander working the mid section of Shunichi. Shunichi clearly prefers to fight on his back, but Silander is having none of it.
Silander lands a massive punch on the ground! Shunichi ends up butt-scooting and the full Kulttuuritalo crowd is not pleased. Silander dominating the cage now, lands a massive strike and Shunichi is rocked. Silander jumps in for Anaconda choke, but the bell rings. It's up to the judges now…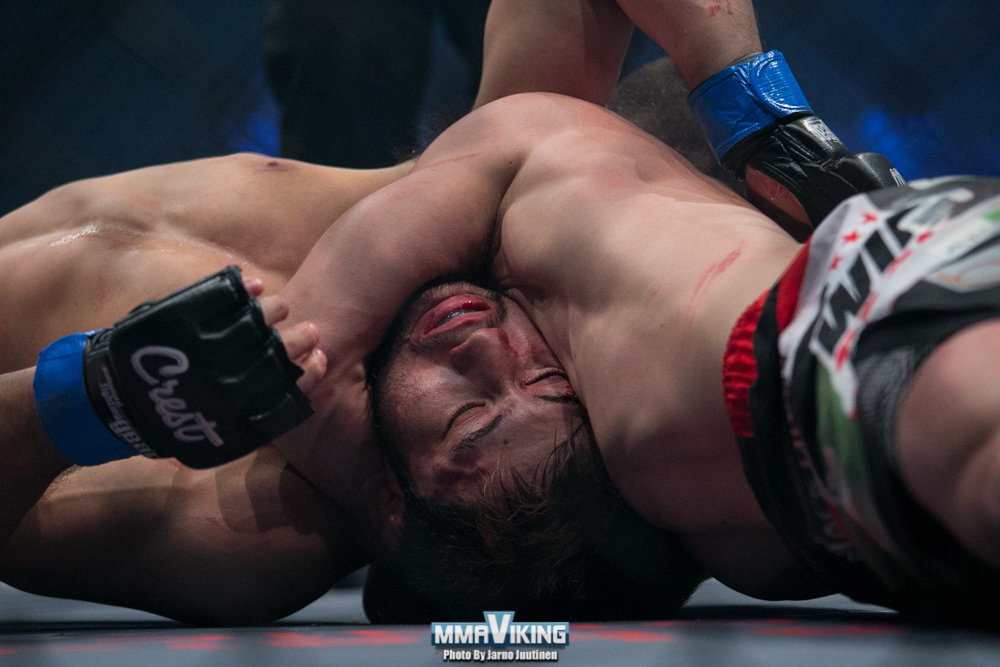 Winner: Silander by unanimous decision
Anton Kuivanen (23-10-0) Versus Tetsuya Yamada (17-4-2) – Main Event
Coming back from two TKO losses Primus Fight Team's Anton Kuivanen (UFC veteran and former Cage title holder) headlines tonight's main event. In Yamada, Anton is facing an opponent who is representing Tiger Muay Thai team. Yamada is the 2nd Japanese fighter starring in tonight's card.
Round 1
Both fighters moving very sharply in the beginning of the round. Kuivanen forces Yamada against the cage and eventually gets the takedown. Kuivanen doesn't allow Yamada to stand up, but instead keeps on kicking Yamada's leg while the Japanese fighter is on his back. Finally Kuivanen allows Yamada to stand up as we have 50 seconds left in the clock. Yamada manages to catch Kuivanen's kick and takes him down. Half-guard position and the round ends. Strong round for Kuivanen with approximately 3 minutes of top position time.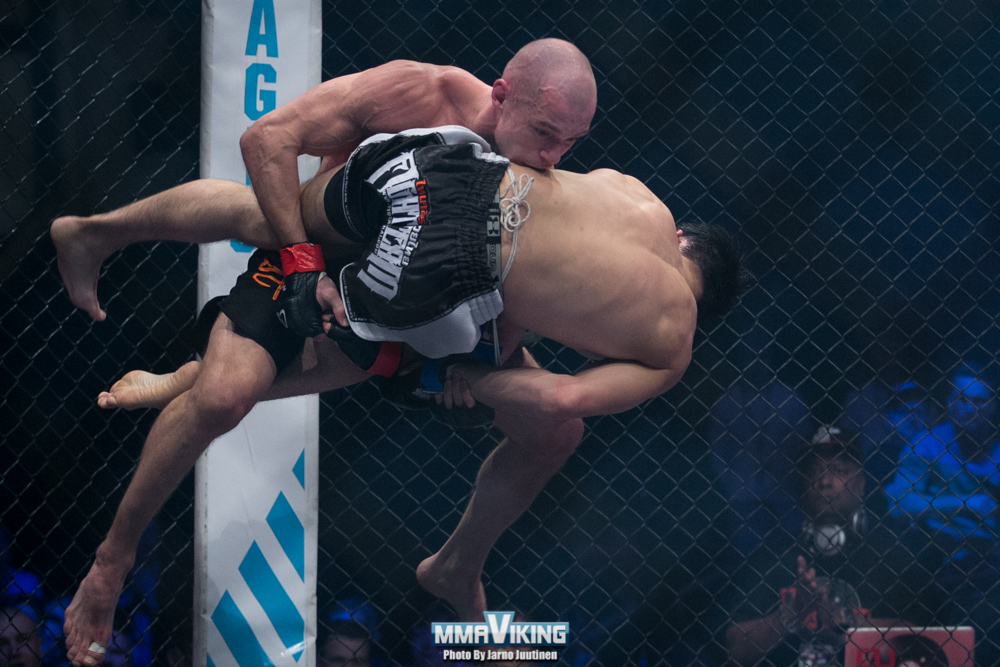 Round 2
Both fighters kicking with no obvious result, Kuivanen pressing forward and controlling the middle. After 2 minutes have passed Kuivanen takes the Japanese fighter down and against the cage. Kuivanen now in Yamada's open guard. Kuivanen attacking the grounded opponent with strikes while standing up. Kuivanen controlling Yamada's legs with his right hand and punishing Yamada with his left. As the round comes to an end we believe it is 20-18 for Kuivanen.
Round 3
Yamada seems to be looking for a knockout blow right in the beginning of the round. He ends on top of Kuivanen, with Kuivanen now his back against the cage. After 30 seconds of ground game Kuivanen stands up, grabs his opponents both legs and tosses Yamada in the air and to the ground. Yamada attacks Kuivanen's arm, but Kuivanen defends it well. Kuivanen advances to half-guard but is soon forced back to guard. Yamada attacks the neck, but Kuivanen stands up and starts kicking Yamada's legs again while the Japanese fighter is lying on his back. Strong finish for the Finn.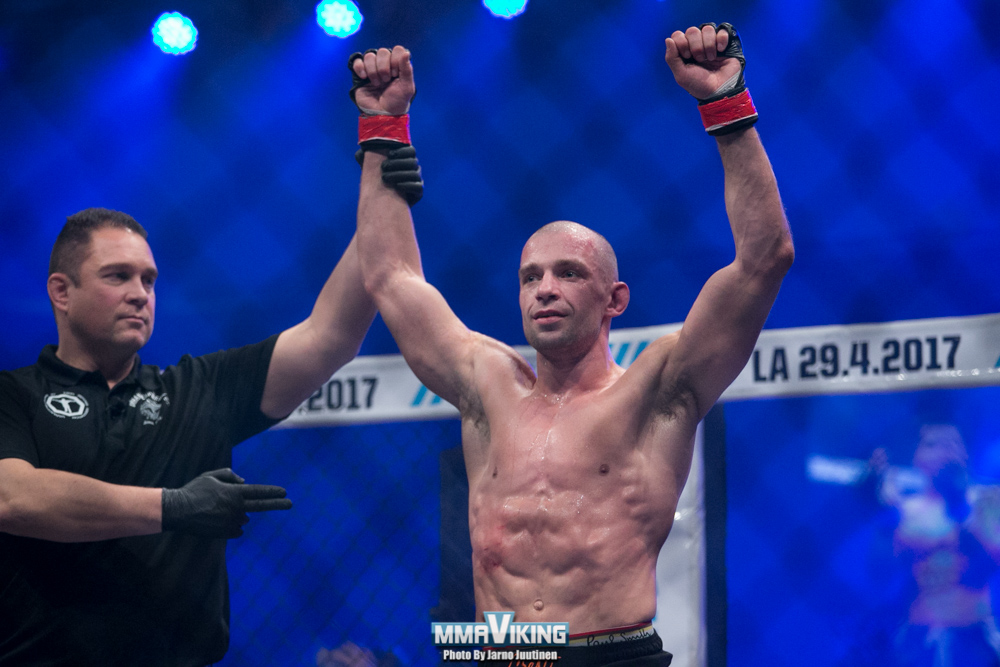 Kuivanen wins the fight and is clearly very happy. He's happy to be back and glad it was a tough fight as well.
And that's all folks, it's a wrap!
Winner: Kuivanen via unanimous decision 30-27, 30-27, 30-27