MMA Viking is live in Helsinki for Cage 47. Get your live results of the 8 fight card, co-headlined by Finns Aleksi Mäntykivi and Olli Santalahti who both take on foreign opposition in the last two fights of the main event.
RESULTS & PICTURES
Joel Arolainen vs. Alar Hutrov
A unanimous decision win for the debuting Finn Arolainen, who outpointed Estonian Hutrov with multiple take-downs and control on the mat.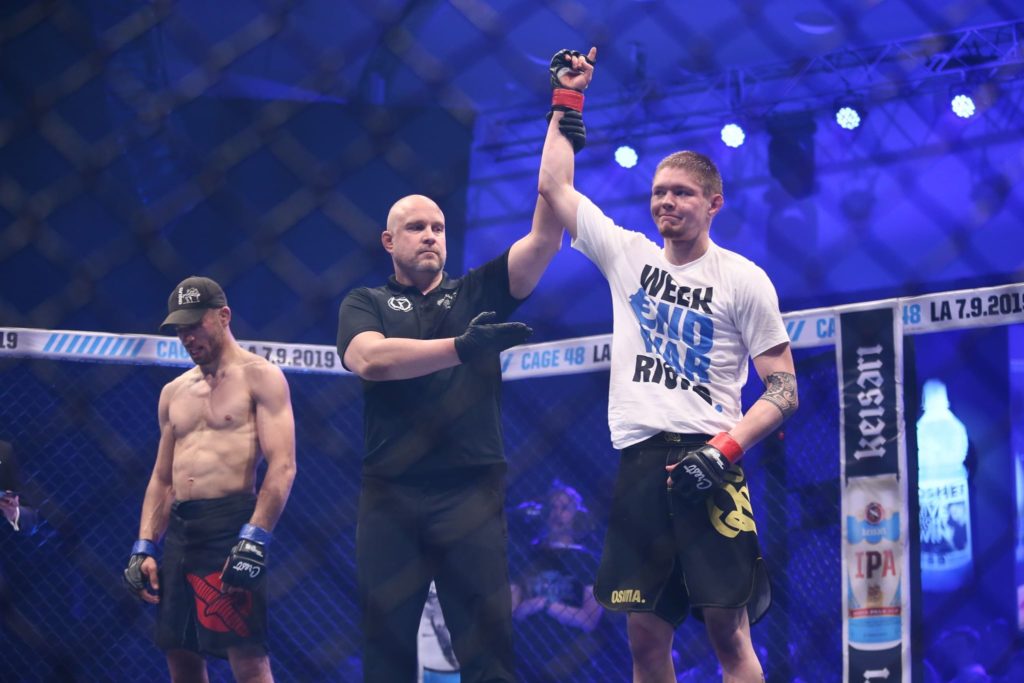 Tuomas Gronvall vs. Ivan Rats
Gronvall got the teake-down after grabbing a kick, and dominated with ground and pound to win by TKO, referee stoppage in the second round.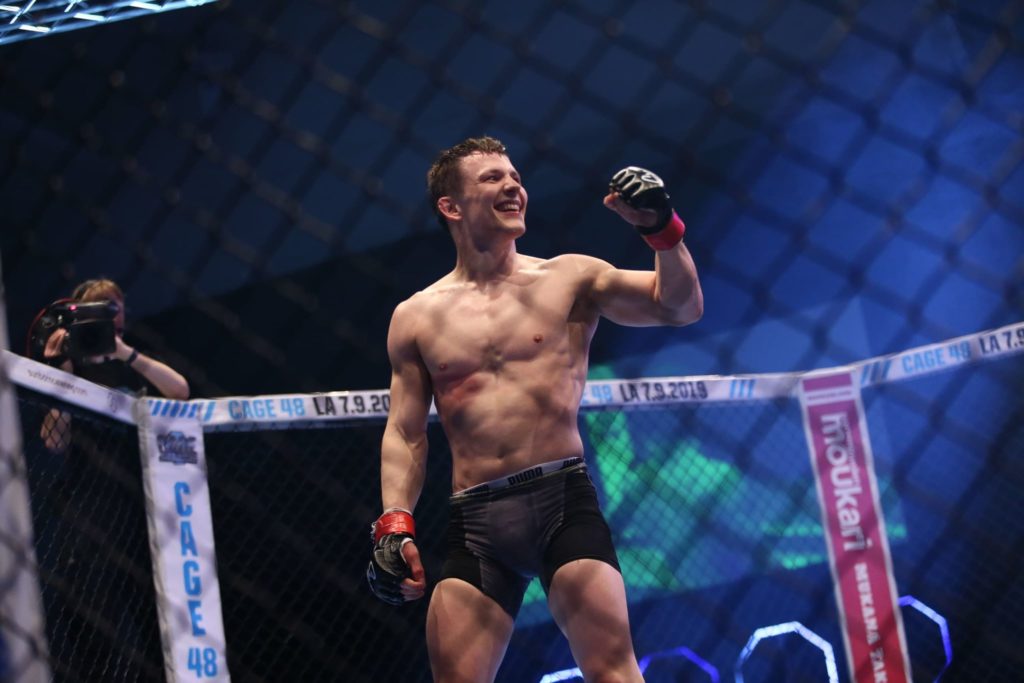 Patrik Kapanen vs. Leonardo Casotti
Kapanen was looking good early and even threw the foreigner over his head for a slam to the mat. But Casotti started landing huge punches that rocked the Finn. Eventually it was the Brazilian that forced a stoppage in the first.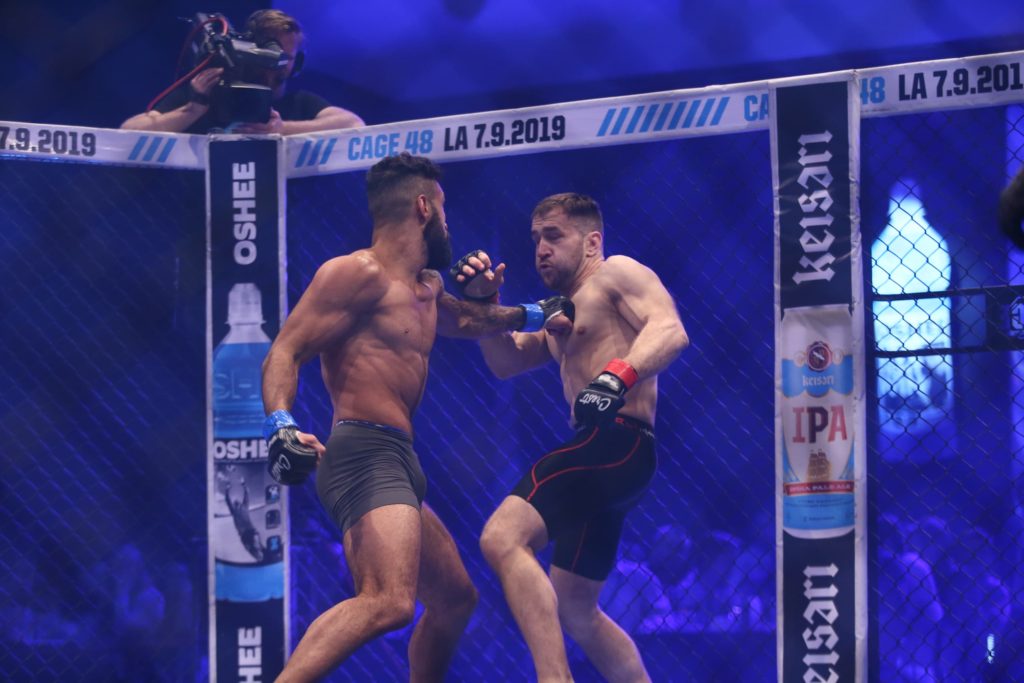 Markus Rytohonka vs Sten Saaremae
Round 1
Markus coming out aggressive looking to land a big punch and even lands a good flying knee, and then working to get a take-down. Both come out swinging when on its feet, and looks like Ryytohonka got rocked.. Both fighters with some real crisp striking. Sten on top and looking for a rear-naked choke toward the end of the round. What a fight!

Round 2
Solid left hands from the Finn, but Sten jumps forward to get the fight to the ground as Markus shoots for a take-down. The Estonian immediately postures up and looks for damage. Sten looking again for a rear-naked choke as he takes back. Oh, the Finn reverses and takes back quickly in a scramble, and now Saaremae gets it back to the mat.
Round 3
Rytohonko on top and controlling to start the third round, trying to land elbows from the top. The Finn stays on top for the whole round.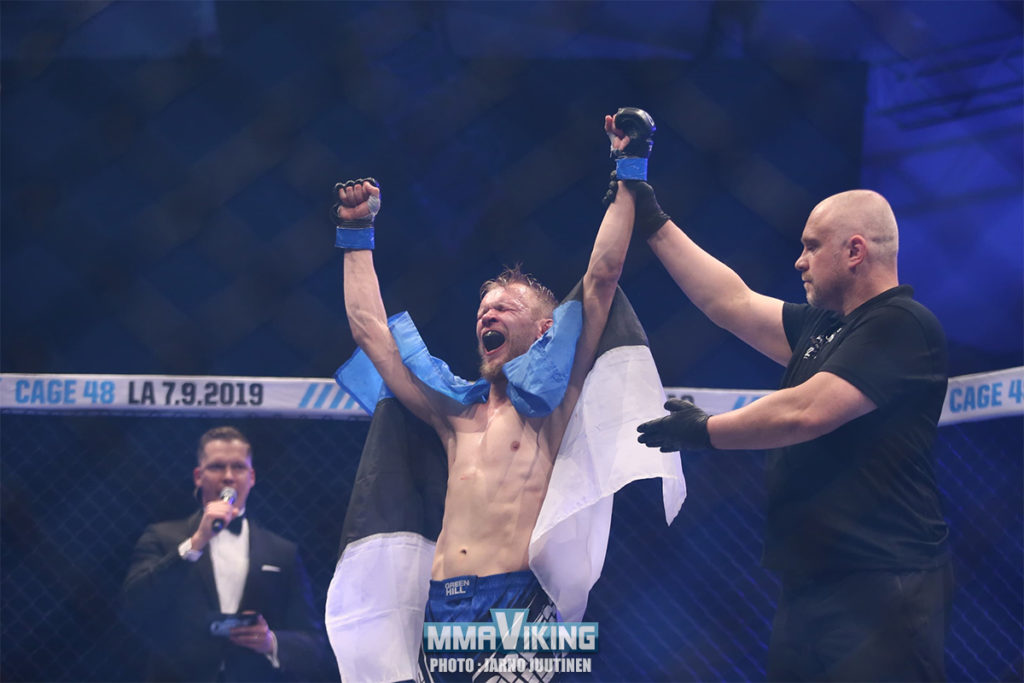 Majority decision victory for Sten Saaremae.
Jesse Urholin vs. Husniddin Ganiev
The ADCC champion wasted no time getting the fight to the ground, where he showed his impressive ground and pound skills. The Russian could not escape the "Avenger" and was getting punched in the face as he turned his back to look for a way out.
One on top, Jesse locked in tight arm triangle, putting to sleep Ganievat that was unconscious on the mat. A first round submission for Urholin, who moves to 4 wins and 0 losses, all by stoppages.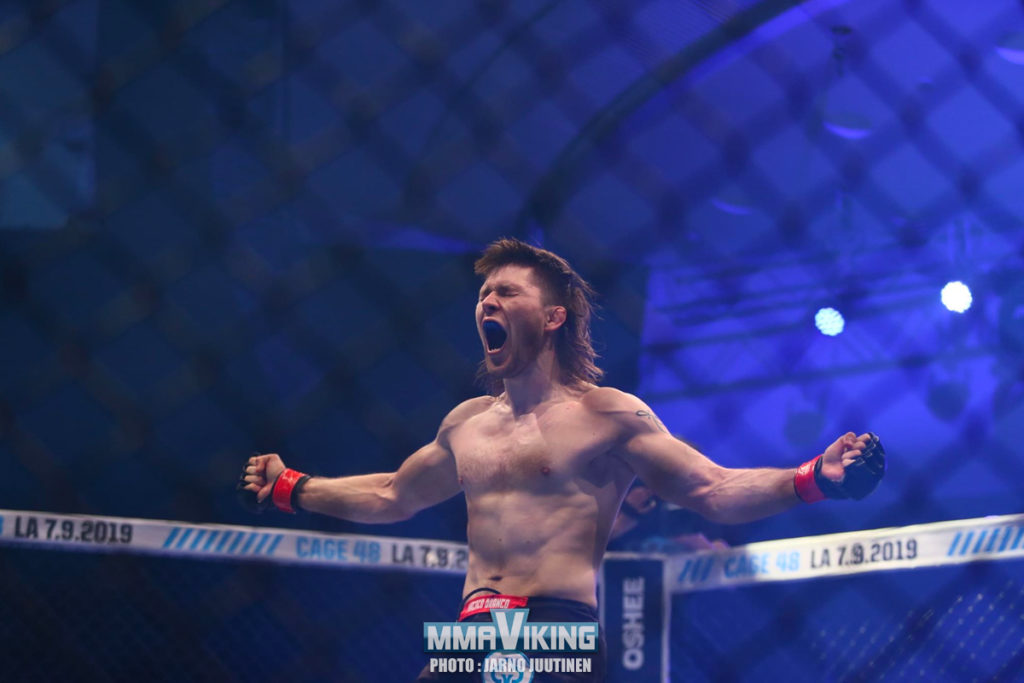 Tuukka Repo vs. Orlando D'Ambrosio
Repo in control early with his big right hand, but D'Ambrosio has impressive take-downs and keeping the Finn more defensive than he wants. Not afraid to grapple, Tuuko goes for take-downs and able to show his growth as a fighter.

Unanimous decision for Repo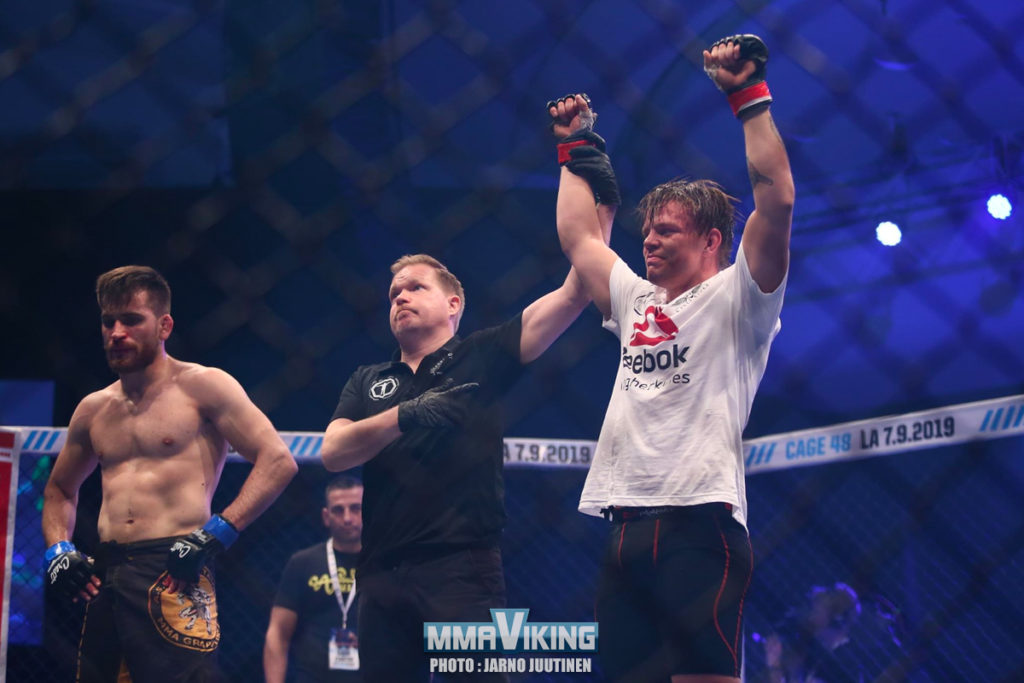 Aleksi Mäntykivi vs. Kaynan Kruschewsky
A huge right hand punch crushes Kruschewsky for a KO at 2:51 in the first round.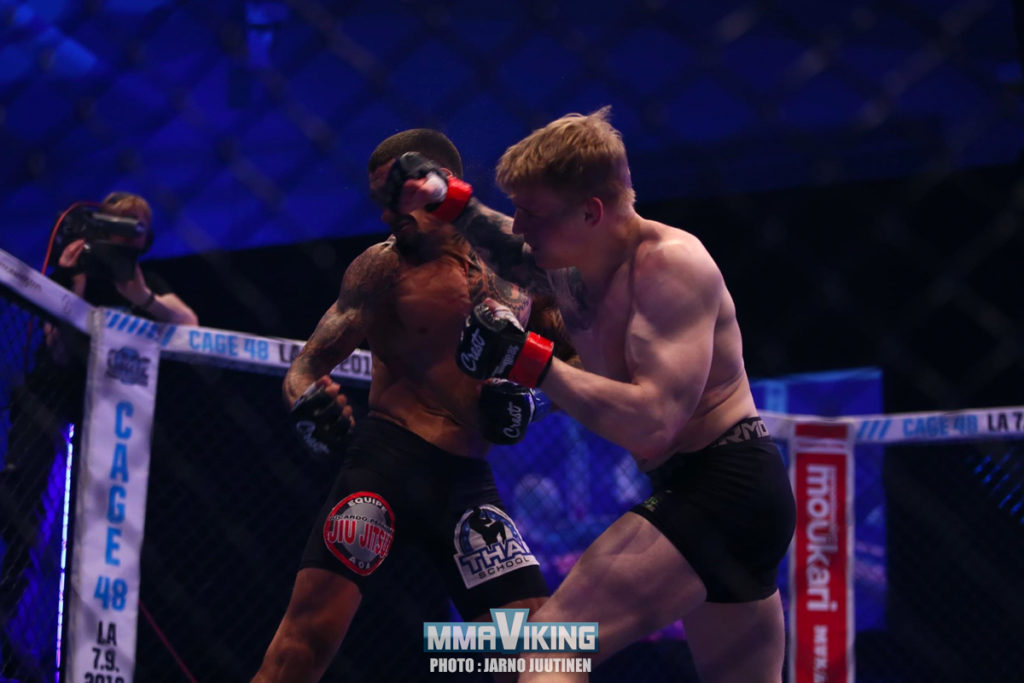 Olli Santalahti vs. Konstantin Linnik
Linnik with a big uppercut in the clinch that drops Olli. He is in trouble and the foreign fighter tries to mount to finish, but "The Amazing" keeps scrambling and is not on top! What a recovery! Oh, Olli is cut over his left eye.

Now it is the Finn posturing up landing good ground and pound and elbows, and more punches… just a barrage, and it is all over! Santalahti battles back to win in the final night of the bout by TKO!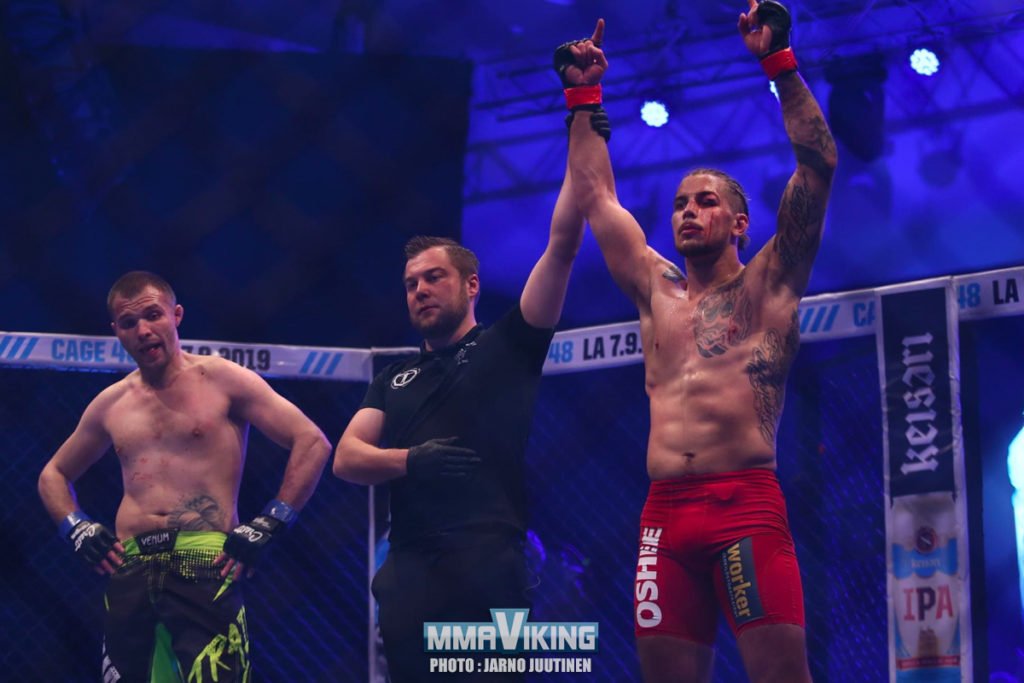 Note : Jarno Juutinen and Mirva Vee will be posting fight photo galleries, so come back to see them.