Cage Warriors Fighting Championship (CWFC) Middleweight Champion Jack Hermansson (11-2) and challenger Alan Carlos (12-8) will face off tonight. The "Joker" and the "Brazilian Viking" are the only Nordic fighters in this return event for Cage Warriors.  MMAViking.com will report the results of the main event below as it happens.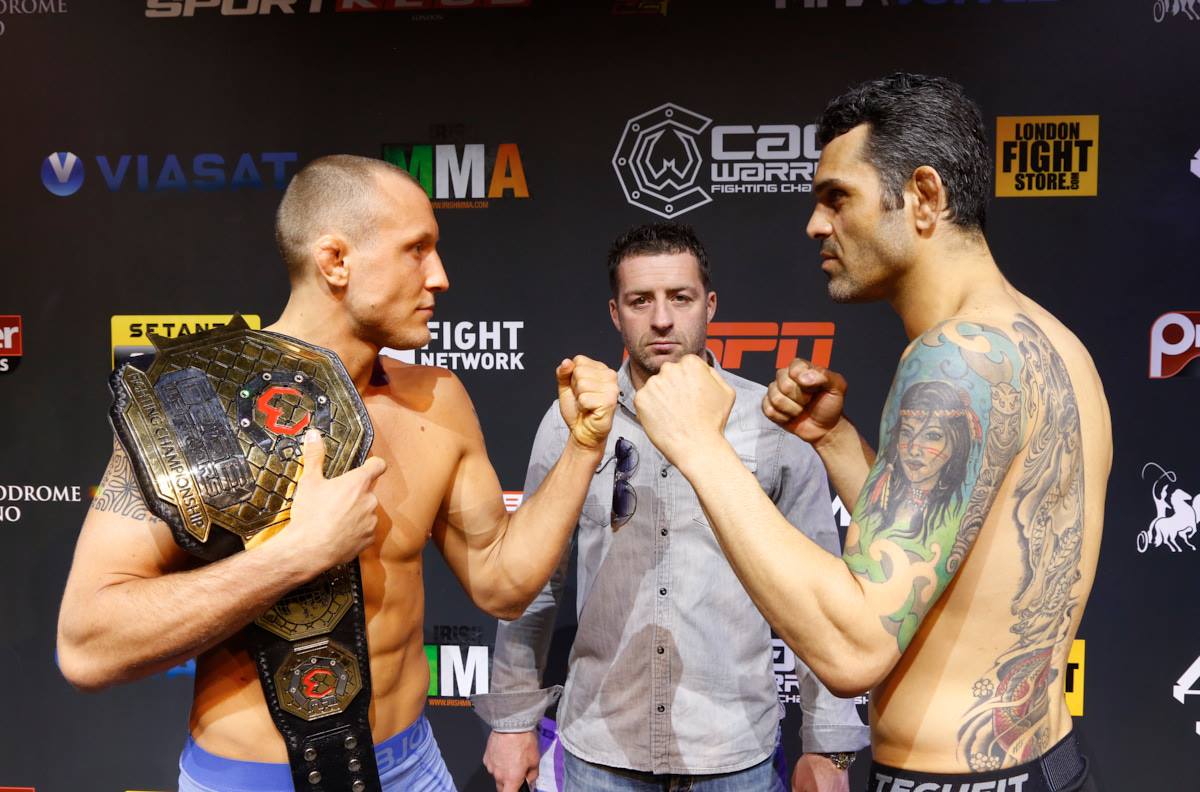 Results
Round 1
Carlos is the first to come to the cage, and he is with coach and friend Bruno "BC" Carvalho who together established Halmstad MMA. Jack walks into the cage, very calm… no sweat, and hands the belt over to Graham Boylan. Small venue, but packed.
Nice right hand from Alan first, as the two change levels and switch stances. Jack is circling, but Alan seems very comfortable on his feet in this 5 round fight. The Brazilian is sitting on a right hand, waiting to let it go. The Joker lunges in for a tie-up against the cage.
Half way through the round now, and the two are still tied up, but the Swede lands a nice elbow. Jack with two nice jabs, and tries to end it with a crushing right, but doesn't land. Uppercut, but misses. The two touch gloves in respect to end the first five minutes.
Close round. Perhaps the nod to Hermansson.
Round 2
Jack closes the distance early, and as he wings punches… Alan's chin is up. Carlos still fires a right hand. Low right kick once, and again for the Norway resident. The right kicks are effecting the Brazilian. Left job again and again from Jack, and the momentum seems to be shifting. The lead left leg of the Brazilian is taking damage.
Alan's back is against the cage, and not Alan moves into the middle of the cage. A big right hand, and Alan has hurt Jack! Carlos follows up and lands a left, and a knee, and now takes back! Mount and moves to side mount for Carlos that has a side choke locked in. Hermansson is out of trouble with one minute left.
Hermansson now looking for a heel hook, and now a knee bar and Hermansson is going for it! Carlos is so relaxed, showing no emotion.
Carlos get this round with the overhand right leading to a left hand.
Round 3
Both fighters look to be in good shape, but the pace has been quick so far. Hermansson goes for his first take-down with a double-leg attempt, but it is defended well. A good elbow from Jack, which he seems to be able to land as he gets out of the breaks. This is turning into a more grinding affair, with Alan's back against the cage. Another right elbow to the head of Carlos, and then a nice uppercut.
The left jab is working real nice for Jack, and Carlos seems to be tiring a bit. Jack seems to still be respecting the big right from Alan, but the movement is less and less here. BIG RIGHT from Jack and again and again… and it is all over! Alan drops and the ref is there to protect him.
Hermansson wins by KO in the third round. AND STILL, Jack keeps the Cage Warriors belt. Jack yells both Sweden and Norway in Swedish to the cameras, and that he loves his girlfriend.