Dane Mads Burnell (11-3) will fight for the Cage Warriors Featherweight bout. The new matchup with champ Dean Trueman (10-4) was announced today, after yesterday's revealing that Soren Bak will no longer be competing in the lower weight class. Check out the press release by the promotion below.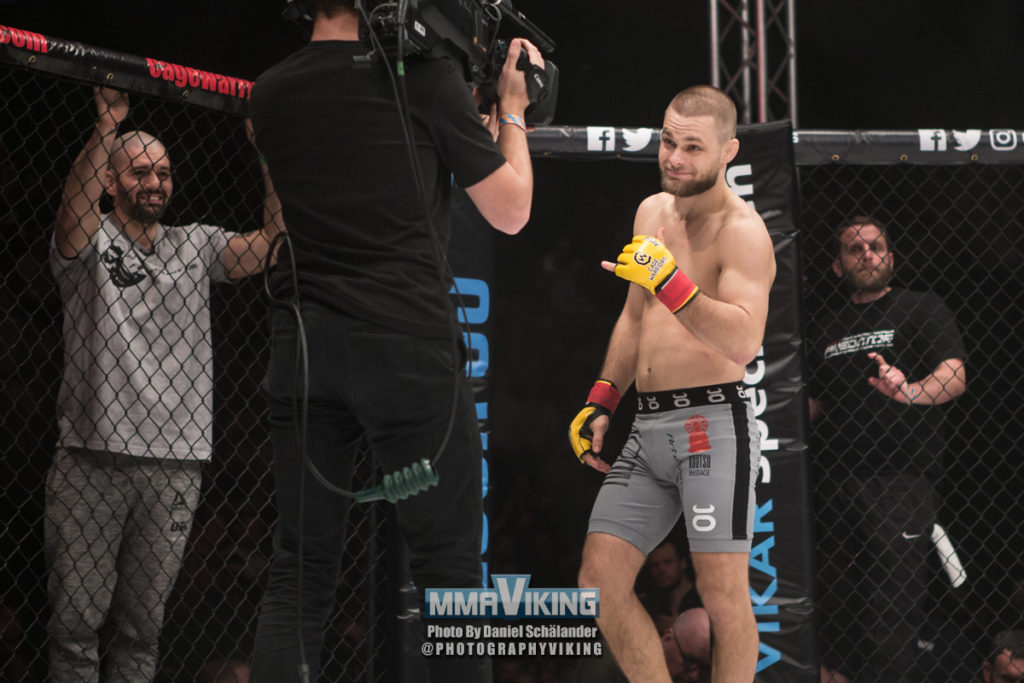 In a breaking announcement, Cage Warriors confirm that Danish UFC veteran Mads Burnell has replaced Søren Bak as Dean Trueman's opponent for CW106: Night of Champions.
Earlier this week, Cage Warriors announced that interim featherweight champion Søren Bak was no longer willing to cut the weight necessary to make the 145lbs featherweight limit, and were seeking a new replacement for Dean Trueman for their biggest card of all time on June 29th in London.
Mads Burnell stepped up just days later, eager for a shot at featherweight gold – something he has promised his fans since leaving the UFC and joining the Cage Warriors roster last year.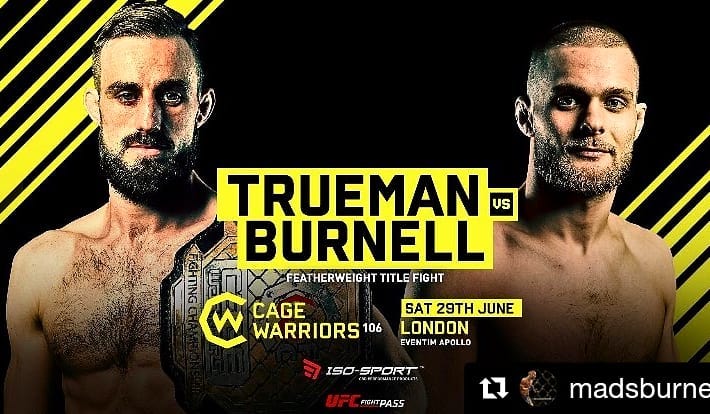 Trueman's road to the belt began with a hard fought win over Corrin Eaton at CW92, then going on to beat Lewis Monarch and Aiden Lee in the featherweight title tournament. Burnell boasts quick submission wins over Rajewski and Ahmed Vila in the last 6 months.
Trueman vs Burnell is the fifth of six world title fights set for CW106: Night of Champions, alongside Jack Grant vs Jai Herbert, Nicolas Dalby vs Ross Houston, James Webb vs Nathias Frederick and Marthin Hamlet vs Modestas Bukauskas.
Confirmed fights
Ross Houston vs Nicolas Dalby – Welterweight Title Fight
Jack Grant vs Jai Herbert – Lightweight Title Fight
Dean Trueman vs Mads Burnell – Featherweight Title Fight
James Webb vs Nathias Frederick – Middleweight Title Fight
Marthin Hamlet vs Modestas Bukauskas – Light Heavyweight Title Fight
Darren O'Gorman vs Adam Aramasinghe – Flyweight
Jason Radcliffe vs Håkon Foss – Middleweight
James Hendin vs Kingsley Crawford – Featherweight