Swede Martin Svensson (11 wins and 3 losses) is looking to start another long winning streak, and he will have his chance to add another win this Saturday at Trophy MMA II 'Cities Collide'.  "Everything is great" says excited Svensson to MMA Viking just a few days before his headlining bout in a Malmö.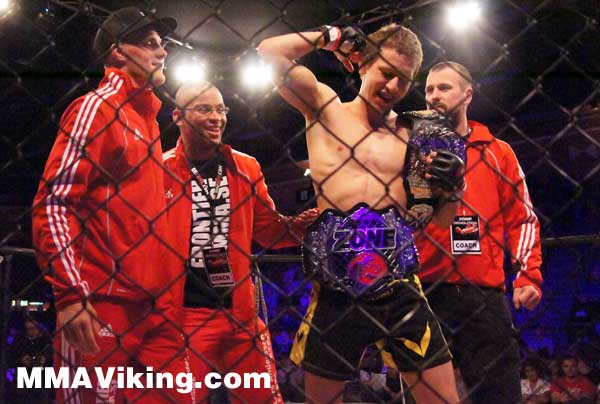 The Frontier MMA fighter is the #5 ranked lightweight in the Nordics by MMAViking.com, and will take on France's Miquel Haro (7 wins and 2 losses).
Svensson went on an impressive run starting in September of 2010, winning five straight bouts before losing a contested quick stoppage at Vision FC 4 and then not being able to make featherweight for a showdown with Niklas Backstrom at the end of last yer.
The 28 year old is now seeking wins at lightweight. "I dont know which weight-class I will be fighting in the future. For now 155 feels good." says the 6′ 1″ (185 CM) Swede.
His opponent Haro is from the Boxing Squad camp in France (the same camp as Svensson's last opponent Saief Toumy, whom he dispatched in the first round), and started his career with 5 straight wins. "I dont know why it became a guy from the same camp."
Since the French fighter broke his winning streak, he has alternated wins, most recently winning by KO head kick at April's Pancrase Fighting Championships. The fighter has shown a variety of skills in the cage, with impressive KO's and submissions in his short 2-year MMA career and this could be a good battle with the Swede.
"I dont want a submission I want to get a KO! or a TKO. I have been training on a secret super technique which I hope to be able to show this saturday." says the Swede who is mostly known for his stifling ground game.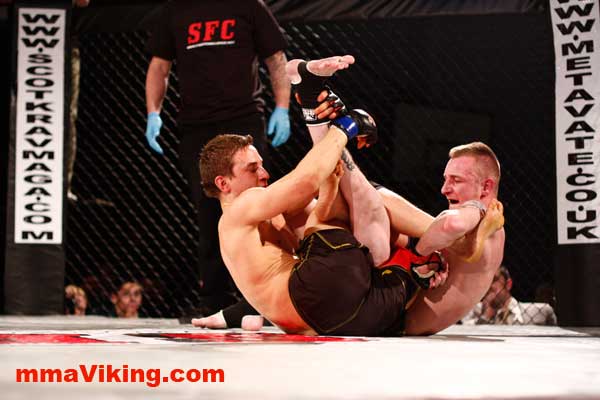 While some of the larger camps in Stockholm or Gothenburg get much of the attention in Sweden, Svensson is helping to put Malmö's Frontier MMA on the map with his impressive performances.
"Yes I hope so." says Svensson about the growing reputation of of Frontier MMA. "We have Bobby which is the best coach in the world. He has done so much for us at the club and he has a really big knowledge and experience in MMA. People dont reallly understand how much he knows and can. He needs to be recognized!"
Svensson is the current The Zone FC featherweight champion, and could be tapped for the Zone FC card this October. "My plans for this autumn isn't decided yet, but I would love to be able to defend my title."
"I would like to thank Bobby, Fredrik and Frontier MMA. My training partners which also is going to fight at Trophy MMA Erik and Linus. Then I would thank Emil for training to and everybody else at Frontier. My sponsors Ompu, Kakelmiljö AB in Skåne, and Scandinavian Watch & Jewellery AB." says the always gracious Svensson. "Lastly, I want to thank Trophy MMA which gives me this fight and that they are having a great event."
Stay tuned to MMA Viking for results from this Saturday's event.