MMA Viking's Official Nordic MMA rankings have been updated once again. In the second ranking update of the 2013, we have taken into consideration events from February to April including UFC, Bellator, Cage, Invicta, Heroes, IRFA, European MMA, Cage Warriors, MMA Attack shows among others.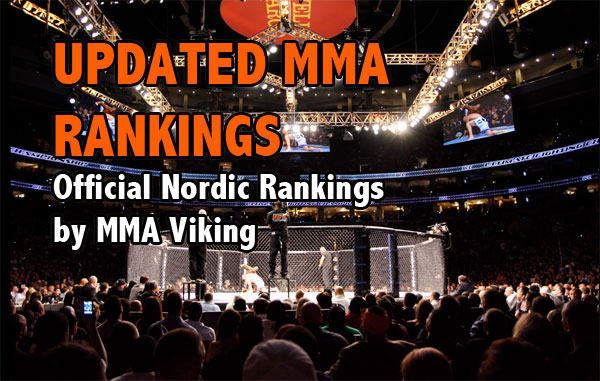 Updated Nordic Rankings
Heavyweight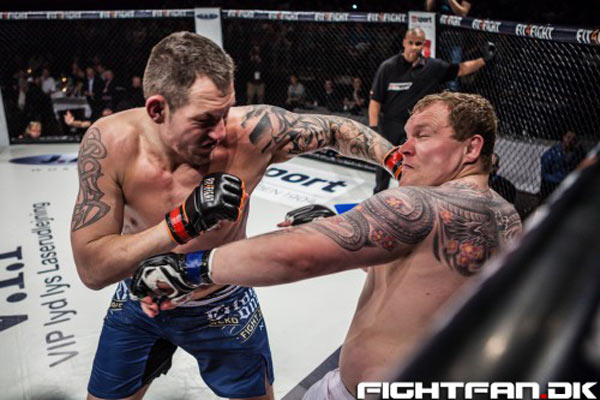 Summary: Nordic heavyweight division is still surprisingly thin (pun intended) with very few active competitors in the weight class.
Denmark's Christian Colombo has been fighting a lot lately, going  5-1 during last twelve months. In his last fight at the European MMA 5 the Dane beat German Björn Schmiedeberg (9-3) by decision.
At the Zone 11 in November Swedish wrestling powerhouse Eddy Bengtsson was knocked out in the first round by Ukranian Dmitry Poberezhets.
Athletic Swede Yosef Ali Mohammed was awarded a split decision win over Viktor Pesta at Heroes Fighting Championship but the decision was later overturned by SMMAF.
Finnish meat truck Marko Patteri won his international debut in Thailand at the DARE promotion's underground fight show. After that DARE has allegedly ran into problems and the Finn has been without a fight since September of 2012.
Toni Valtonen, who fights both at heavy and light heavyweight,  has fought most of his recent fights at heavyweight and scored two wins in fall of 2012. Valtonen however broke his shin bone in his last fight against Poland's Michal Kita and will be sidelined for months.
Light Heavyweight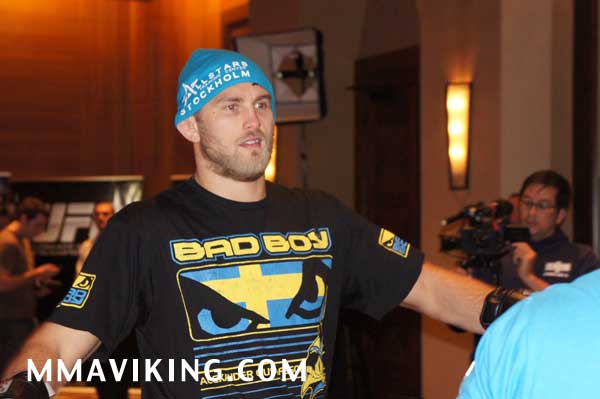 Contenders: Joachim Christensen (Den), Matti Mäkelä (Swe), Antti Kästämä (Fin)
Summary: Sweden's superstar Alex "the Mauler" Gustafsson is still on a league of his own at the Nordic light heavyweight division.
Gustafsson's bout with Mousasi at UFC Sweden II was cancelled due to a very unfortunate cut the Swede suffered in training just days before the show. Gustafsson's camp announced that the Swede would like to face Lyoto Machida next or fill in for any top fighter in case of a injury, but with some luck even a shot against the champ could be awarded.
Gustafsson's training partner Ilir Latifi stepped in for Gustafsson and fought Gegard Mousasi at the UFC on Fuel TV 9. Latifi did a great job on short notice, fought with a big heart for three rounds and even managed to land few heavy strikes on the Dutchman. Latifi's next fight will be in the UFC according to UFC boss Dana White. It will be interesting to see how the Malmö wrestler performs with a proper training camp and a planned weight cut.
Third spot holder Juha Saarinen is still recovering from a knee surgery. The Finn isn't returning to competition before fall.
London based Swede Max Nunes' record is now perfect 10-0 with five knockouts and five submission. His last fight showed that he still has some areas to work on before jumping to the Big Show but we're sure that the rapidly developing Swede is ready when the opportunity calls.
Marcus "Caveman" Vänttinen's returned to action at WKN's eight man heavyweight tournament didn't go as planned as the Finn lost his opening bout. There was controversy about the stoppage by the referee and the fight took place outside of light heavyweight so Vänttinen maintains a top 5 ranking. The Finn is looking to bounce back to win column at the Cage 22 on 11th of May.
Middleweight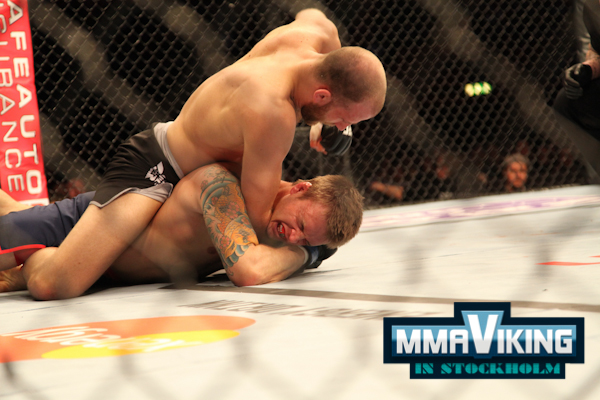 Contenders: Mikkel Guldbaek (Den), Lucio Linhares (Fin), Jack Hermansson (Nor), Alan Carlos (Swe), Marcus Andersson (Swe), Jani Ridasmaa (Fin)
Summary: Swedish power duo Troeng and Nilsson, who fought each other in 2012, still lead the Nordic middleweight division.
Troeng had a nice run in the Ultimate Fighter that got him a spot on the UFC Sweden II card. Umeå based brawler didn't miss his opportunity in his UFC debut in Globen as he finished Adam Cella with a rear naked choke in the first round.
Mats Nilsson has taken same time off from fighting and used that time to focus on his family but also to improve his striking at the Rumble Sports in Denmark. Nilsson returned to action at Cage Warriors 53 in Scotland where he outgrappled tough Englishman Chris Scott to a decision win.
Las Vegas based Andreas "Sweet Swede" Spång has lost his last two Bellator fights to tough opponents in Miquel Falcao and Doug Marshall but with guys ranked below him losing also Spång keeps his third spot.
Danish Mikkel Parlo suffered his first career loss at Bellator 89 where he dropped a decision to Dagestanian Sultan Aliev.
Victor Cheng picked up a notable win at November's The Zone FC by outpointing Ion Pascu with his impressive grappling and went 3-0 in 2012.
Welterweight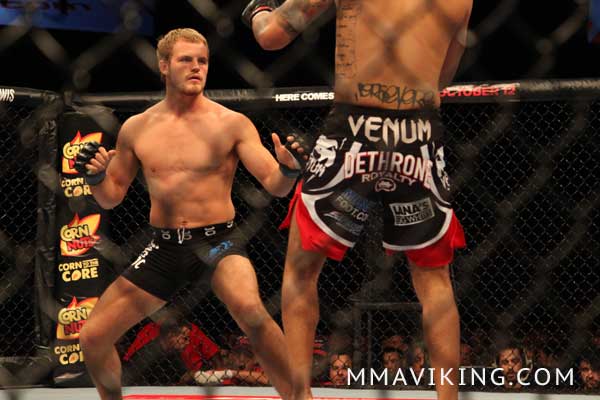 Contenders: Morten Djursaa (Den), Bruno Carvalho (Swe), Nicolas Dalby (Den), Nicolas Musoke (Swe), Arni Isaksson (Ice), Chris Spång (Swe), Mohsen Bahari (Nor),  Besam Yousef (Swe), Kai Puolakka (Fin), David Bielkheden (Swe)
Summary: Nordic welterweight division has both quality and quantity.
Martin Kampmann got quickly sent to Wonderland by Johny Hendricks' vicious haymaker at the UFC 154 in November. Kampmann has been rallying for a bout with the Stockton bad boy Nick Diaz but the UFC hasn't announced anything yet.
Icelandic fighting phenom Gunnar Nelson continued to impress UFC fans with his clear cut decision win over dangerous veteran Jorge Santiago at UFC on Fuel TV 7 in London, England. Unfortunately Nelson got injured in training for a planned bout against Mike Pyle and had to have knee surgery that will keep him out of the Octagon for months.
Assan Njie has been racking up wins since dropping down to welterweight but has been inactive of late. In his last at the Zone 10 in May 2012 Njie, who is riding a six fight win streak and hasn't loss since 2008, decisioned Danish contender Morten Djursaa.  N'jie and Dane Dalby may be on a collision course for a bout later in the year.
Papy Abedi got his first UFC win at UFC on Fuel TV 9 in Stockholm where he was able to squeeze a decision win over fellow Swede Besam Yousef in a close bout.
Umeå's highly regarded prospect Andreas "Real Steel" Ståhl, who was sidelined for a long time due to a knee injury, returned in impressive fashion with a submission win over previously undefeated Abusupiyan Magomedov at the Heroes FC. The win pushed Ståhl's record to 8-0 overall.
Lightweight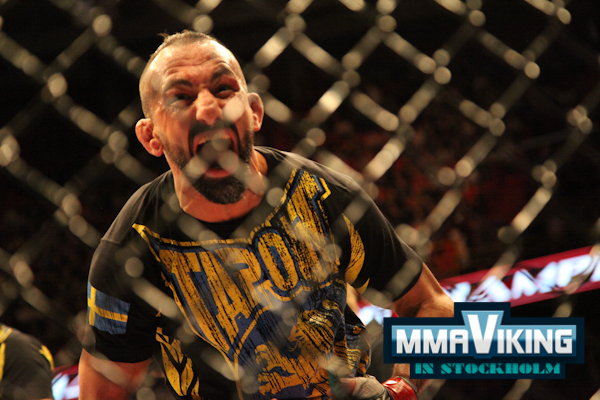 Contenders: Fernando Gonzalez (Swe), Diego Gonzalez (Swe), Ayub Tashkilot (Den), Kennet Mattson (Fin)
Summary: UFC lightweight Reza Madadi leads the pack in the lightweight division. After tough first two rounds against Michael Johnson at the UFC Sweden II, Madadi made a huge comeback in the third round and submitted the American with a brabo choke.
Anton Kuivanen fought a good first round with TUF winner Michael Chiesa at UFC 157 but got submitted by the American grappler in the second round. The Finn was cut from the promotion after the loss. Kuivanen will fight TUF veteran Jason Pierce at Cage 22 on 11th of May.
Finnish veteran Niko Puhakka took a short notice fight against tough Russian Musa Khamanaev at M-1 Challenge 37. The Finn was outgrappled and outstruck for majority of the five round fight and lost by decision.
J-P Vainikainen faced European Top Tenner Shamil Zavurov in December at the New FC in Russia. This time Zavurov's excellent wrestling and control was too much for the Finn who suffered a decision loss after three hard fought rounds.  Vainikainen was again on the losing end of a battle with big Polish lightweight Piotr Hallmann at MMA Attack 3.
After struggling with weigh cuts to featherweight limit Sweden's Martin Svensson debuted at lightweight at the Frontier Open Battle 6 where he submitted Saief Toumy with a triangle choke in the first round.
Featherweight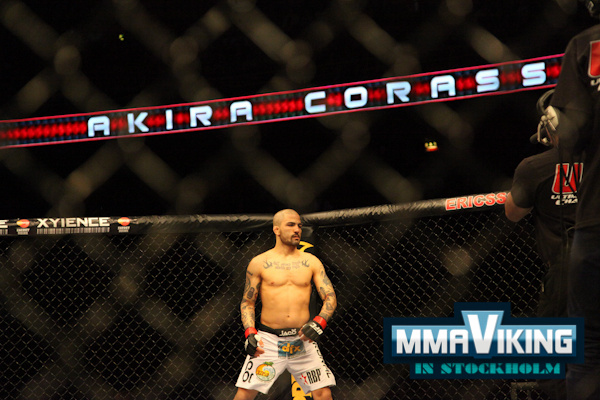 Contenders:  Makwan Amirkhani (Fin), Matteus Lähdesmäki (Fin),  Greger Forsell (Fin), Tommi Marttinen (Fin), Franz Slioa (Swe)
Summary: Nordic featherweight division is very competitive at the moment with an army of hungry young fighters working their way up the ladders.
Long time top dog Tom "Stoneface" Niinimäki has to give up the number one rank this to Akira Corassani. Much improved Corassani scored a huge win at the UFC Sweden II where the Swede fought a tough decision victory over heavyhanded brawler Robbie Peralta.
Tom Niinimäki will finally get a worthy opponent at Cage 22 where the Finn will lock horns with former WEC champ Chase Beebe. Win over Beebe should be enough for Niinimäki to finally land a deal with the UFC. Let's hope for the best.
Nordic MMA icon Joachim "Hellboy" Hansen made a long awaited return to MMA at the Korean Road FC 11 event where he faced Doo Woo Seo. After a heated battle the Norwegian managed sweep Seo from the bottom, gained mount and finished the job with a arm triangle choke.
Sweden's Nicklas Bäckström put on strong performances in 2012 with wins over Sergej Grecicho and Thomas Hytten, who Bäckström TKO'ed in May at the Vision Fight Night in Karlstad, Sweden. Backström was supposed to face Martin Svensson at the Vision show in December but Svensson couldn't come anywhere near the weight limit and the fight was cancelled.
Finland's Joni Salovaara had a huge fight at Cage Warriors 53 where the Finn fought American top prospect Jim Alers for the CW featherweight belt. After a rough start the Finn begun to build momentum of his own in the third and fourth round. Unfortunately it was Alers' slick submission game that prevailed in the end as Salovaara was forced to tap out to a triangle armbar combination in the fourth round. Still a gutsy performance from the Finn!
Bantamweight and Below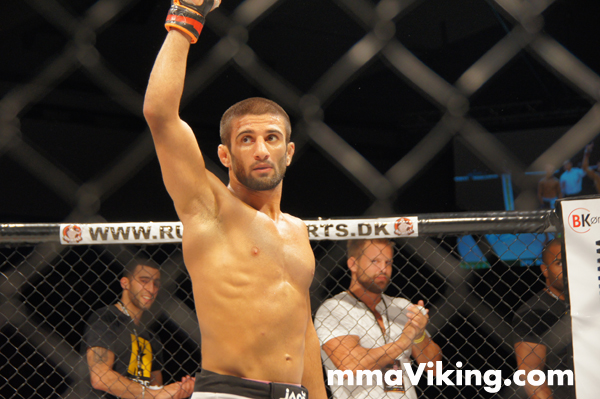 Contenders: Emil "Megahertz" Hartsner (Swe),  Janne Elonen-Kulmala (Fin)
Summary: Sirwan Kakai extended his winning streak to nine consecutive wins when he finished Spaniard Jose Luis Zapater with knee strikes at the IRFA 4 event in March. It will be surprising if Kakai, who nowdays trains mostly at the American Top Team's main gym in Florida, doesn't get picked up by the UFC soon.
Another Swede in David Haggström holds the second spot on the ranking. Haggström scored a solid win in December at the Vision FC 5 where he finished top ranked Artemij Sitenkov of Lithuania with strikes in the third round.
Finnish flyweight prospect Mikael "Hulk" Silander improved his pro record to 8-1 with a win over American veteran Wade Choate at Fight Festival 32. Silander will fight for the Cage Warriors flyweight belt against Ireland's Neil Seery at CW 55 in June.
Three time ADCC Euro champ Tipi Hirvikangas got back to his old ways at Cage 21 where he submitted Ukrainian Evgeniy Odnorog (9-0 at the time) with a knee bar early in the first round. Hirvikangas is currently rehabbing a  knee injury and will not fight until after the summer.
Constantly improving Toni Tauru of Finland put on another great performance at the Cage 20 where he submitted Estonian Lauri Ulenurm in the first round. Tauru won again in impressive fashion over Czech Filip Macek at the Lappeenranta Fight Night 8 on 27th of April.
WOMEN (All Weight Classes)
Contenders: Maria Hougaard-Djursaa (Den), Elina Nilsson (Swe), Lina Akhtar Länsberg (Swe), Tina Lähdemäki (Fin)
Summary: Finland's grappling powerhouse Katja "Killer Bunny" Kankaanpää is few steps ahead of everyone else in the women's ranking. The Finn continued her string of impressive wins at Invicta 5 in Kansas City, USA where she outgrappled Brazilian Juliana Carneiro Lima to a decision win. Kankaanpää is still undefeated after nine pro fights.
Norwegian Margaret Aase shot straight to #2 with a impressive TKO win over Lina Eklund at the Rumble of the Kings in November of 2012. Aase hasn't fought since.
Lina "Lynx" Eklund got back on the win column in March at IRFA 4 where she won an impressive decision over Poland's Sylwia Juskiewicz.
Pannie Kianzad, who is 3-0 overall, scored two wins in December and holds the fourth spot.
Finland's Eeva Siiskonen got her second pro win in November at the Cage 20 where she beat Estonian Helin Paara by decision.
Maria Hougaard-Djursaa had a nice comeback fight after having a child to eventually stop Holland's Jorina Baars at the end of two rounds with some viscous elbows and ground and pound.  Look for a bout between Djursaa and Länsberg, who recently won at Heroes FC 1.
More information regarding MMA Viking's ranking criteria and previous rankings.