European MMA is live tonight in Copenhagen, Denmark. Starting at 20.00 Copenhagen/Stockholm time you can watch the event for free at www.Kanalsport.dk.  A preview of the 7 fight MMA card can be found here.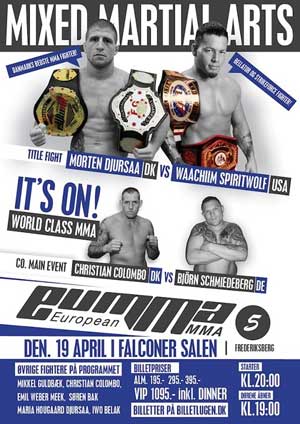 Live Results
1. Søren Bak Denmark Vs. Jamie Reynolds England
Bak by submission RNC in round 1.
2. Rune Petersen Denmark. Vs. Gino Singh Sweden
Petersen by 2nd round TKO.
3.Emil Weber Meek Norway Vs. Raymond Jarman Holland
Meek and Jarman waste no time as the stand and strike in the middle of the cage.  Meek makes the most of it, and puts his late replacement on skates with a barrage of punches.  Meek is thowing powerful left and right combinations, and drops his opponent and keeps punching until the bout is stopped.  An uppercut seemed to be the shot that brought down his opponent from Holland, that looks like he has a nose from Rich Franklin after fighting Anderson Silva.  "A big hand for Raymond" says Meek, to his opponent who took the fight on 12 hours notice.
Meek by 1st round TKO.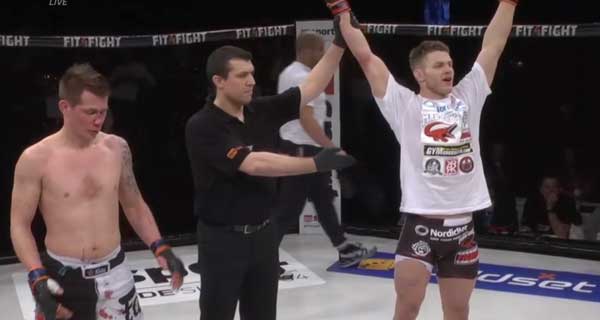 Maria Hougaard Djursaa Denmark. Vs. Jorina Baars Holland
Round 1 – Baars appears to have a good advantage on the feet, as she keeps her distance and peppers Djursaa with strikes and kicks from the outside.  A nice lowkick from the visiter after a nice one two, and now Djursaa clinches in an attempt to get the fight to the ground.  The Dane has a full body lock, but the Holland striker defends well, but finally the bout gets to the ground.  Punches and now elbows to the face to end the round for Djursaa.
Round 2 – Again, good strikes from Baars to start the round, and it looks like Djursaa is ready to pick her spot to shoot in for a take-down.  Baars is on top, but the two flip flop, with Djursaa on top, and now Baars.  An arm bar opening for Djursaa looks to be there… but it's not tight enough, and the two grapple.  Djursaa on top and making her opponent pay with big elbows again and agin, and now strikes with rights and lefts… and more elbows as the round ends.
Winner is Djursaa, as the cut on Baars is too bad to continue.  Djursaa by TKO
Simon Carlsen Denmark Vs. Harry Mcleman England
Round 1 – Carlsen tries a flying knee to get things started, but it doesn't quite connect.  Mcleman presses the Dane against the cage.  A big elbow from the Dane and he looks for big strikes, and now knees as the UK fighter tries to get the fight to the ground.  Lots of damage from Carlesen, and this fight looks like it could come to an end soon.  The local signals to standup as his opponent flops to his back.  But after a standup, McLeman pulls guard.  Now back on the feet, a a HUGE right from Carlsen… but Mcleman absorbs it.
Round 2 – Big knees from Carlesen again, s his opponent swings wildly and dives info for take-downs.  Carleson is able to bring the fight to the ground, but the fight is stood up after the pace slows.  The fight is on the feet, and it's Carlsen that times a right knee perfectly as he slams the English fighter in the face to bring an end to the bout.  Mclemen still looks out of it, as he stumbles around the ring.
2nd round TKO for Carlsen.
Christian Colombo Denmark Vs. Björn Schmiedeberg Germany
Round 1 – The two come out looking for strikes, but end up clinching against the cage.  Colombo looks to be at least 6 inches taller, and a much fitter fighter.  The Dane is starting to land some good straight hands, and his opponent looks to be a bit out of shape… gasping for air.  Knees from Colombo are landing, but it's the German fighter bouncing on his feet landing bombs.  Schmiedeberg brings the fight to the ground, but Colombo is quick to stand up.  Colombo is now on top, raining down punches against his tiring opponent as the round ends.
Round 2 – The two exchange big punches that miss, and now it's the smaller man that is waving on Colombo.  Schmiedeberg is able to sneak in nice uppercuts as he stands as a southpaw, and even tries a spinning backfist.  Now a kick from the German and a nice combination.  Big knee from Colombo forcing Schmiedeberg to shoot in for a leg.  The dane is on top landing hammer fists and now elbows from behind his opponent that is trying to catch his breath on all fours.  Colombo is landing more an more punches from top.  Big round for Colombo.
Round 3 – Schmiedeberg is playful on the feet, as he takes punches from his opponent.  Schmiedeberg scores a takedown early in the round, but Colombo gets on top and is able to drive knees to the body of his downed foe.  Ground and pound from Colombo, and he passes… but Schmiedeberg fights to grab single legs.  The Dane continues to pund away with kicks and punches as he dominates the round.
Unanimous decision for Colombo.
Morten Hougaard Djursaa Denmark Vs. Waachiim Spiritwolf USA
Round 1 – Good right from Djursaa early in the bout, and strong right kick low and left kick and knee… and this fight is over!  Destructive attack from the Dane that ends the bout.  Djursaa remains the champion, in another big win. He gets a big hug from his wife, who won just two bouts earlier. Great night for the Hougaard Djursaa family.