The largest Estonian MMA event Raju will be taking place for the eleventh time tomorrow in Saku Suurhall in Tallinn, the largest sports venue in Estonia. SLT Raju will put Estonia's best mixed martial artists against fighters from four countries, including Åke Bergvall (4-6) from Sweden.  There will also be a greco-roman wrestling exhibition held at the event in protest of wrestling being excluded from the Olympics.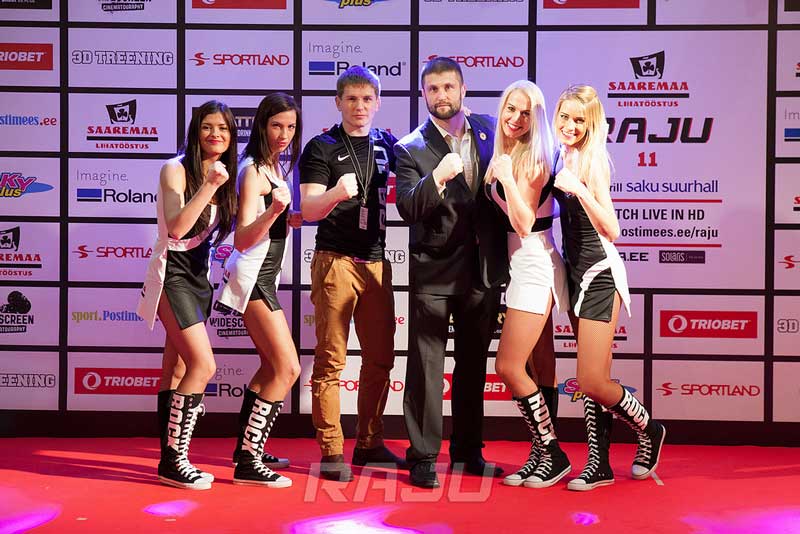 The event starts at 19.00 (GMT+2) and will be streamed as a live PPV for 4,8 euros at http://sport.postimees.ee/raju. At noon a day-time amateur event will be streamed in the same location free of charge.
Founded in 2009, Raju is the only professional mixed martial arts league in Estonia. Matches are held in a cage and the last event in October of 2012 had nearly 2000 attendees. The most successful Estonian mixed martial artist Alik Tseiko (7-1) started his career in Raju and is currently signed to American Top Team.
Fight card preview:
Ilja Drovnjashin (EST, 1-2) vs Åke Bergvall (SWE, 4-6): Held in -77,1kg weightclass. Drovnjashin is an Estonian fighter with a sambo background and his main exprtise lies in stand-up and in the clinch. Swedish Bergvall has a background in submission wrestling and shootfighting an while he has excellent groundwork, Bergvall is also a strong stand-up fighter.
Helin Paara (EST, 1-2) vs Zarah Fairn (FRA, 4-2): Held in -70,3kg weightclass. Raju's only match with female athletes. Paara has a purple belt in brazilian jiu-jitsu and has been practicing MMA for five years. However, the French fighter Fairn is more experienced in the cage with six matches, four of which she has been victorious in.
Lauri Ülenurm (EST, 3-4) vs Walid Seghir (FRA, 3-1): Held in -65,8kg weightclass. Ülenurm is one of the veteran MMA fighters in Estonia, having pioneered the sport in the beginning of the last decade. He was also victorious in the Finnish Open MMA Championships in 2011. Seghir's is a strong wrestler who has practiced both judo and submission wrestling.
Eerik Aps (EST) vs Alo Toom (EST): Greco-roman exhibition match held in support of wrestling due to its recent exclusion from the Olympics. Estonians Aps is a four-time Estonian champion in greco-roman wrestling and reached 3rd place in wrestling at the 2010 Universiade. Toom is a seven-time Estonian champion in greco-roman wrestling and was the best greco-roman wrestler in Estonia in 2009.
Henri Hiiemäe (EST, 3-1) vs Pascal Louissaint (3-1): Held in -65,8 weightclass. Hiiemäe is a strong stand-up fighter who was victorious at the previous Raju with a TKO against his opponent. He was also victorious at the 2013 Finnish Open MMA Championship. French Louissaint is a strong submission wrestler and most of his victories have come via submission.
Aleksandr Fjodorov (EST, 3-1) vs Andre de Jesus (BRA, 3-4-0-1): Held in -77,1kg weightclass. Fjodorov is an experenced sambo-fighter who has won the Estonian sambo championship nine times since 2000. He also holds three bronzes from European sambo championships and both two silvers and bronzes from the World sambo championships. Andre de Jesus is the first Brazilian mixed martial artist competing at Raju.
Dmitri Ivanov (EST, 4-5) vs Leonardo D'Auria (ITA, 7-2): Held in -77,1kg weightclass. Co-main event of the evening. Ivanov is an explosive stand-up fighter who is currently training in the Netherlands. In 2009, he attained third place at the Finnish Open MMA Championship. Raju's record for the fastest knockout at Raju 4 in 7 seconds. Italian D'Auria is an experienced stand-up fighter with a background in kickboxing, where he holds a record of 18-6.
Jorgen Matsi (EST, 5-1) vs Giorgio Belsanti (ITA, 5-2-1): Held in -65,8kg weightclass. Main event of the evening. Matsi is a pioneer of Estonian MMA who is competing again after a two year break. He is a well-rounded fighter with strong stand-up and has a purple belt in Brazilian Jiu-Jitsu. Giorgio Belsanti is an explosive and unpredictable fighter from Italy.