The most anticipated fight of 2015 is finally here as Interim champion Ireland's Conor McGregor will face reigning UFC champion Jose Aldo Saturday night. We asked Nordic vikings to give us their pick and thoughts on the fight, and we have 10 that pick Aldo, 8 that pick McGregor, and 3 that can't decide!  Check them out here!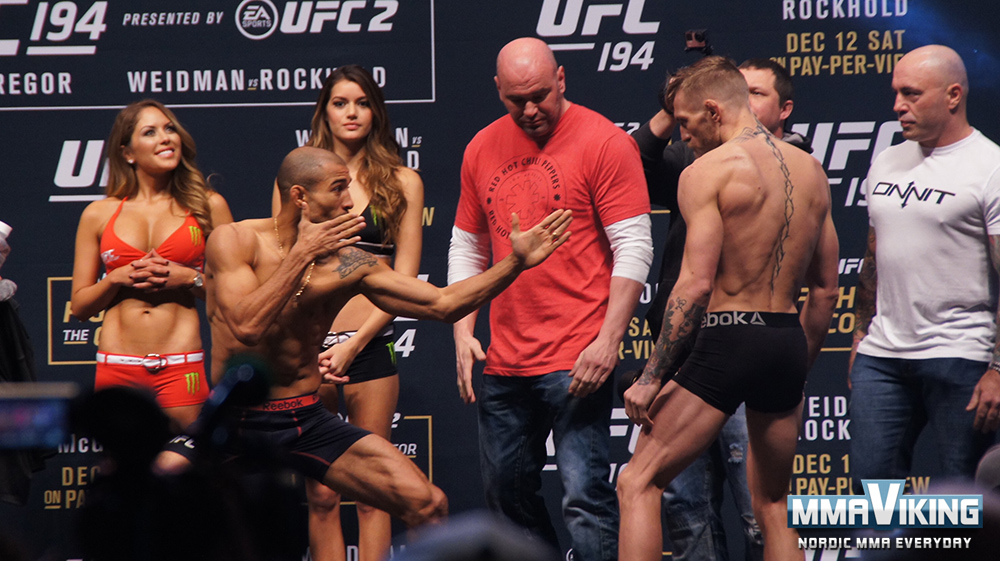 8 Fighters That Pick McGregor
Toni Tauru: Conor will walk away with the win. Love both of champs but after conor vs mendes fight i have started to go more on conors way. There is just too much hype and mind games backing Conor.
Emil Hartsner: I believe in McGregor, he is really good and a little mental haha! He seriously believes that he is immortal which makes him almost unstoppable. McGregor wins by decision, I really want see 5 rounds with these two gentlemen!
Fernando Gonzalez: Mcgregor by KO 2nd round !
Aleksi Nurminen: CONOR ALL DAY BABY !! That is my wish, but something fucking crazy will happen, like silva vs weidman type of crazy shit! #CANTWAIT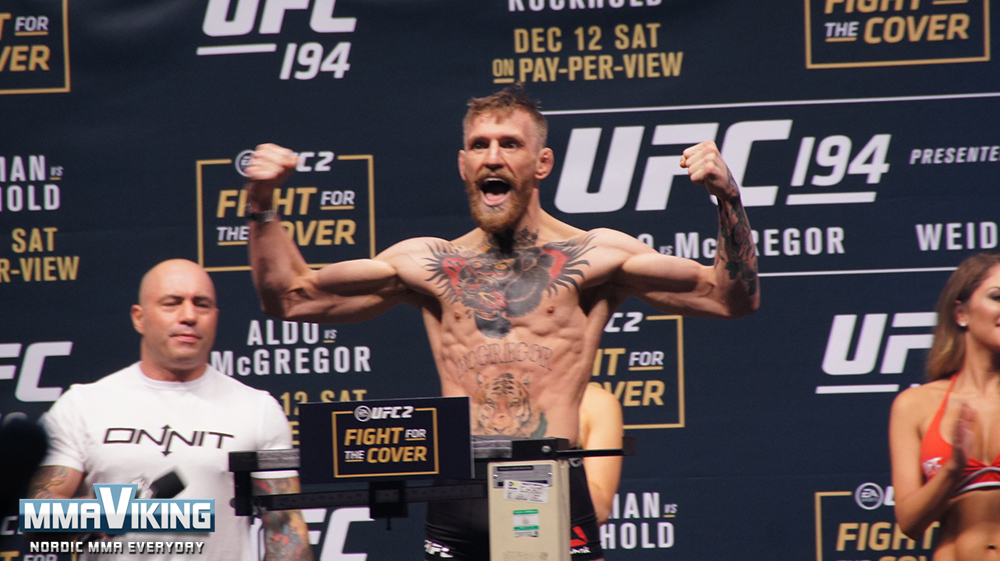 Oliver Enkamp: Both of them are extremely good at what they do and I believe that this will be a stand up fight where Aldo is the more physical/explosive but a little to square and simple for Conor. I think that Conor has sparred with dozens of fighter similar to Aldo and knows how to control the distance better. Thereby I see Conor staying out of Aldo's reach and lowkicks and tagging him with well placed long punches and kicks. I also think that Conor has the upper hand in the mental war. I'm a fan of both fighters and I really want to see the best man win, but I predict Conor by TKO if I have to choose.
Glenn Sparv: my pick is McGregor because his mental status is of the chart and that will be the main factor.
Håkon Foss: : It's hard to go up against Aldo but this time he's facing his best opponent to date. McGregor is an intelligent fighter and he will do what he's done to all his opponents. By picking apart him and then ending it by placing that long left on the chin of Aldo.
Patrik Pietilä: You know something in me want that Aldo win and leave nice legacy as greatest of all time. But you know who doesn't like the show that Conor is putting on and his performances. He is young and hungry for that belt so i think it's going to be war. Is Aldos low kicks getting Conor or will Conor caught Aldo with his left hand!? I dont know man But if i MUST choose then… Conor! grin emoticon
10 Fighters That Pick Aldo
David Bielkheden: I hope from the bottom heart of my that Aldo win. That's what my heart says but Connor is tough and it's mma so anything can happen right? You have more then once asked me what keeps me going and I'll tell you right now that people with that f***rd up attitude that Connor have,that's what keep me going. I would love to shut him up myself!!
Teemu Packalen: My pick is Jose Aldo because i believe that Jose's ground skills are better than Conor.  And I also think that Jose can win in the stand up, but I think this fight ends on ground. No matter what happens, I'm still a big Conor fan.
Thomas Formo: McGregor has been put on his ass a lot of times by people who lowkick him. But nobody has capitalized(?) on it. I think Aldo will. McGregors low stance is seseptable to lowkicks and aldo is the best in the business at that.
Mikael Silander: Hard one, i think Aldo will win, he has more tools to get victory. Conor's takedown defense was far away from good on his last fight against mendes so if aldo wants to go ground im sure of that he can get takedown. Also Aldo's leg kicks can be brutal!
Zebaztian Kadestam: I'm a huge Aldo fan, I think he got some of the best striking in UFC. McGregor is a beast with a style that gives anyone problem standing but I think Aldo's striking is one step ahead and he will het the knockout in the later rounds. But either one can go down early, potential of being fight of the year for sure.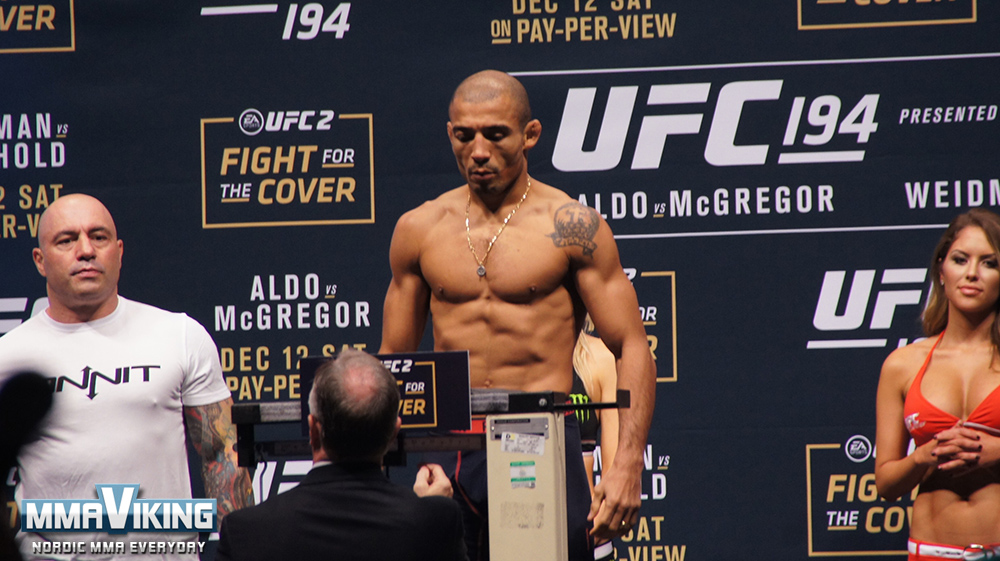 Mathias Lodahl: Aldo via decision. McGregor is a counter striker but he has become more aggressive in his later fights and therefore puts more weight on the front foot. Aldo will look for the inside lowkicks and that will be his key to victory.
Emil Weber Meek : People forgot who Aldo is with all the Mcgregor talk! But I guess my money goes on Aldo and my heart on Mcgregor!
Andreas Spang: : Aldo wins, McGregor has shown that he is good but Aldo has been on top for very long and his experience will win the fight, plus Aldo is pissed off!
Nick Barnø: : I believe that McGregors style is not enough to win against Aldo. Even though McGregor is the fan favourite I think that he's too cocky and that will cost him the victory. Winner: Aldo by TKO in round 3
Mikkel Parlo: Aldo will win: Its hard to say who will break under the massive pressure that these two fighters are under but i believe that aldo will bring it home.
3 Fighters That Can't or Won't Pick
Nicolas Dalby: I have it 50/50. I'd probably have Aldo by as much as 70/30 if he hadn't been out of competition for as long as he has. I think it all comes down to how Aldo will shake off the ring rust and whether or not he lets Connor get inside his head. I can see it ending mostly via (T)KO or decision. Would be surprised to see a submission!
Mads Burnell: : I hope Aldo wins, but I don't know. Kickboxing wise McGregor is stylistically bad for Aldo I think, but if Aldo for once (as far as i can remember) takes his opponent down then it will be light work for him. It is basically up to Aldo himself in my eyes, if he wants to take a risk he boxes, if he wants to make it easy for himself he takes him down and win.
Anna Elmose: Sooorrrryyyyy … I don't know them well enough to say I'm the lousiest fan ever!!!