Valkyrie Flyweight Champion Mei "V.V" Yamaguchi traveled from Japan to compete in Botnia Punishment 11 in Seinäjoki, Finland, and was met with firm resistance to Finland's Katja Kankaanpää. MMA Viking gets a few comments from V.V about her first experience fighting outside of her home country.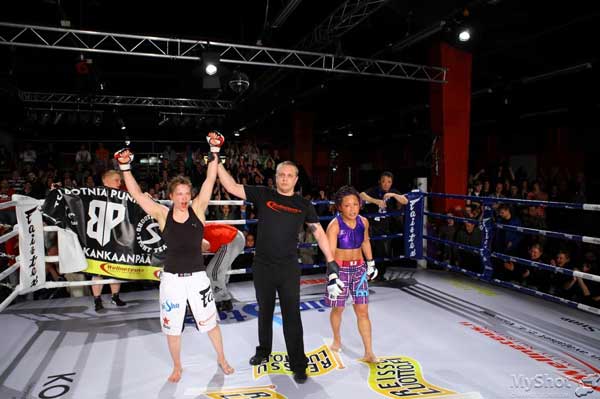 MMA Viking : What was the most surprised or unexpected thing in Finland?
V.V : I was rally surprised that they have the rules that audiences are not allowed to bring alcohol inside the arena. That is very respectful to the fighter.
MMA Viking : What did you think of Finland?
V.V : People in Finland were very nice and I loved the atmosphere of the country.
MMA Viking : How was Katja fighting in the ring?
V.V : She was very powerful and good technique all around.
MMA Viking : What was your game plan?
V.V : To finish with submission.
MMA Viking : What did you learn from the fight?
V.V : I experienced fighting in very different environment. Food, weight control, time rag, technique and so many things were different but if I experienced once, I will be more comfortable in fighting overseas next time.
MMA Viking : What's up now?
V.V : I'm trying to fight more in overseas. I will be ready anytime to fight between 105-114lb so please contact me anytime! Thank you!