The long rumored agreement between Denmark's Mikkel Parlo and Bellator became official last month as MMA Viking's content partner Fightfan.dk went out with the news.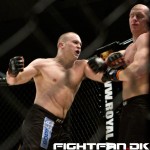 The undefeated fighter has racked up seven impressive wins in his professional career, building on his two amateur victories. The most recent highlight-reel stoppage came out at the much hyped Royal Arena on March 10. MMA Viking catches up with the Fightcraft Gym fighter's manager Tue Kutsikitsoq Trnka to learn more about the future of his fighter with unlimited potential.
MMA Viking : After Parlo's name showed-up on the Bellator website, Fightfan.dk confirmed that Mikkel Parlo was indeed signed to the American based organization. Can you talk about the agreement, and when it became official?
Trnka : Well, we got the contract on December 23rd, so I was able to give Mikkel a pretty good Christmas gift, if I may say so. I can't really talk about the agreement, but yes, it's an exclusive contract, and Mikkel will fight for Bellator from now on. It was just recently, that I got approval to talk openly about it. It feels good!
Parlo Versus Tondryk at Royal Arena
MMA Viking : At the age of 21, Parlo has come out of nowhere to become a name that many people are talking about. Do you think he's ready to take the jump to international competition?
Trnka : Of course I think so. His fights have showed that. He has also sparred with World class fighters and held his own. I'm positive, that he'll do well.
MMA is his life. He's a special kid in the sense that he has sacrificed so much to get here. I don't really know any other youngster, who has dared believe and dared go after his dream as whole-heartedly as Mikkel has. For the past many years, he has worked ambitiously towards his big goal, while most of his friends were out partying and having fun.
From my point of view, he isn't given a lucky break. He deserves this more than anyone I know. He has put in the necessary time and dedication to get to this level. I also believe, that he'll prove, he's capable of handling himself against the best guys out there.
Parlo Versus Edwards at Fightergalla
MMA Viking : When do you expect him to fight in Bellator? Will he be entering a tournament, or look for bouts before then?
Trnka : Of course, that's up to Bellator. Right now, I'm not sure, when he'll make his debut for them.
MMA Viking : Is there a chance that Parlo will be doing training stateside?
Trnka : Sure! For now, I think he'll keep his base here in Copenhagen, but we're looking for gyms abroad, where he can train for the last month or so leading up to his fights. We're here for him, and whatever he feels like is the best solution, we'll go for.