Officials from Superior Challenge today announced that there has been a shake-up of the Superior Challenge 8 card to be held on October 6th in Malmö, Sweden.  The headliner featuring local Ilir Latifi in an battle against veteran Jeff Monson will not happen, and UFC veterans David Bielkheden and Karo Parisyan will not take place. Instead veteran D.J. Linderman and Marcus Davis will step in at late notice to face the Swedes.  Read the press release below sent out today.

Get more pictures like this from SHERDOG.COM
The Irish Hand Grenade Will Fight in Malmö Against Bielkheden
Press Release
Marcus Davis and D.J. Linderman jumps in as replacements at Superior Challenge 8
Two fighters on the October card have been replaced and "Da Protege" and "The Irish Hand grenade" fills the spots.
Babak Aghavali, CEO Superior Group International:
– The first one out of the October card is Jeff Monson. Recently a representative from M-1 contacted us and told us that Jeff Monson, who we've signed for Superior Challenge 8, is under an exclusive contract with them until the end of the year. Jeff himself claims that he has misunderstood the terms of their agreement and believed that the exclusivity only covered Russia, and not internationally. After much discussion back and forth with Jeff, we chose to contact M-1 directly who told us that they already had booked Jeff for their November show and that was the reason why they unfortunately could not release him from the contract. Therefore we had no choice but to start looking for a new opponent for Ilir Latifi.
Jeff has stated that he is sorry about the situation and that he has misunderstood the agreement he has with M-1. I believe him but I wish that we knew about I before we engaged in to an agreement regarding October 6:th, and before we announced the bout. We were lucky though that we found out about it in good time prior to the show so that we were able to find a replacement, instead of it would happen just before the show. The situation has been tough for everyone involved and I believe in Jeff when he says that he misunderstood the clause regarding the exclusivity in the contract. We are currently in discussions with everyone involved to look at the possibilities to postpone the fight between Ilir Latifi and Jeff Monson to next year. More info regarding this matter will be announced shortly.
Most MMA fans and fighting enthusiasts are well aware about drop-offs from fight cards. Many are obviously disappointed and I totally understand it. Therefore, I want to clarify a few things for the fans and everyone interested, in order to eliminate any possible misunderstanding that might occur concerning this matter. Drop-offs from fight cards are the worst thing that can happen to a promoter, and the later it happens, the worse the situation becomes, and consequently harder to solve. If we had been able to prevent these losses, we had done it, but we have no power at all when it comes to these matters. The only thing we can do is to do the best we can in order to fill those empty spots with equivalents opponents. The hard part is to find a fighter that is as interesting from a fans perspective as from the opponent's perspective. Drop-offs is a common and recurrent condition, which unfortunately affects all martial arts events on all levels, ranging from a small local contest in a gymnastics hall to the world's largest international promotion. This is mainly due to the high physical stress, which the athletes are exposed to that may lead to possible damages, and in other cases it depends on private or non-training related aspects. Whatever the reason, the drop-offs put the promoters in a very difficult situation, because they must make sure to keep both the fans and the opponents happy. Before each event, we expect a 30% + – in drop-offs from the original fight Cardet. When it happens, the organization's all engines shifts to full speed in order to overcome the situation and restore the balance. I guarantee that everyone in Superior Challenge always does everything in our power to make the best of these situations when they occur, no matter what conditions we have to deal with during these moments. This time I think we have managed to tackle the situation very positively and accomplished to find just as good, if not more exciting replacements.
As a replacement for Jeff, we have signed the young and hungry American, D.J. Linderman. Ilir's new opponents is a talented heavyweight fighter who has climbed quickly up the career ladder and impressed many by finishing most of his opponents. He is highly ranked in the international rankings and agreed to go drop down a weight class to fight Ilir. Entertainment wise, I can guarantee that this bout is at least on the same high level as the first planned bout, but the difference is that this fight will have a faster pace. I think it will turn to a war with non-stop action with a lot of striking and takedowns from the beginning to the end. This is the organization's first Light Heavyweight Title Bout, and certainly a fight that everyone will be talking about afterwards.
DJ (14-3-0 professional MMA, Amateur MMA 11-1-0) is the English event Cage Warrior's new heavyweight champion, as well as the US event Sport Fight's heavyweight champion. The 28 year old has climbed rapidly up the international MMA rankings and is now ranked in 24th place. He is considered as a talented contender with great potential in the heavyweight division. The Bellator veteran is an all-round fighter who goes for the finish both standing up or on the ground. He has finished nine of his 14 wins and has never been submitted or knocked out. The US resident is dropping down a weight class to take on the hometown favourite Ilir Latifi at Superior Challenge 8 in Malmö.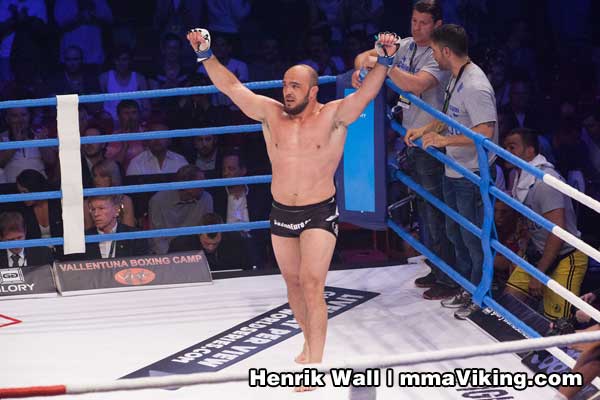 Babak Aghavali, CEO Superior Group International:
– The other drop-off from the card is Karo Parisyan who through his manager announced that he recently had a mental setback, which made his doctor's prohibit him from competing for several months.
Karo Parisyan 
– Everyone knows that it has been a rough road for me over the past couple years. I've tried to just refocus myself and get back to throwing people on their head, but it hasn't been the same. Not to take anything away from my opponent, but my last fight was devastating for me. My manager and I had a long talk and he set me up with a sports psychologist. At this point I need to listen to my Dr and refocus my life on my life. Not fighting. God willing, fighting will be back in my life at some point. But for now I need to only focus on Karo getting back to Karo.
Jason Chambers (Karo's Manager)
– Karo has had a tumultuous relationship with MMA. Very few people can really understand the emotional, financial and ultimately physical distress a fighter goes thru. Karo knows this is a pivotal point in his career. Ultimately I want Karo to do what's best for Karo and will support him 100%.
David Bielkheden has to adjust his training and prepare for a completely different kind of opponent, namely Marcus Davis (20-9-0). The former UFC fighter has fought 15 bouts in the organization against some of the world's top fighters and can flourish with wins over Paul Kelly, Chris Lytle, Jess Liaudin, Paul Taylor, Pete Spratt, Shonie Carter and others. "The Irish Hand Grenade" began training boxing as a young athlete and managed to achieve a professional boxing record of 17-1-2 before he chose to start competing in MMA. After two wins as an amateur in 2003, he went on to compete as pro, and during his debut later that year he managed to win over his opponent via TKO in the first round. He trained grappling alongside his boxing career and eventually opened his own MMA academy where Tim Sylvia was one of his students. Marcus is a complete MMA fighter who always comes to a fight well prepared, who is always in great shape, and who always performs to the best of his ability. His main weapons are his dangerous boxing and good conditioning. The southpaw fighter always maintains a fast pace during his fights and is constantly moving with great footwork. Bielkheden will take on a very experienced and dangerous fighter.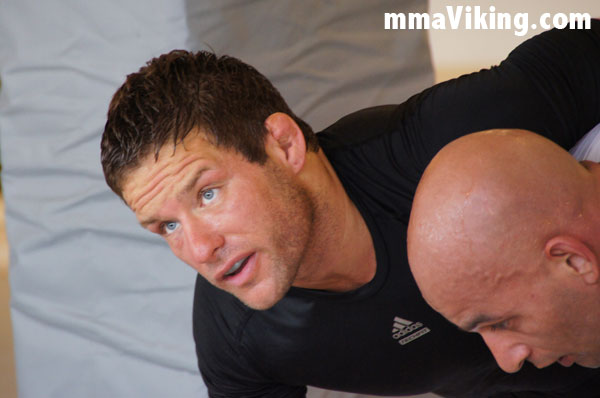 Babak Aghavali, CEO Superior Group International:
– It is very sad that Karo hasn't managed to get rid of his problems, and everyone in Superior Challenge wishes him all the best and hope he recovers soon so that we, in a near future, can watch him fight again.
Marcus Davis is a great fighter and I personally like his fighting style a lot. He has incredibly dangerous combinations and a devastating over hand left.
Both David and Ilir have tackled the situation very well and are starting to adapt both physically and mentally for their new opponents. D.J. Linderman is a young hungry contender who will take on Ilir Latifi in his hometown to fight for Superior Challenge's first light heavyweight title. David takes on the hard-hitting Marcus Davis in his quest to get a new chance to compete for Superior Challenge's welterweight title. I'm really excited about the new bouts, and I'm glad to have the opportunity to experience them Live in close range at Superior Challenge 8, on October 6th in Malmö, Sweden.