Nicolas Dalby has inked a UFC contract. "It feels amazing to say the least. I've been ecstatic since I got the news a couple of days ago. It's been sooooo difficult to not just say it out loud!" says Dalby to MMAViking.com shortly after his name briefly appeared on UFC.com and Intensiti Fighter Management (IFM) subsequently announcing the news.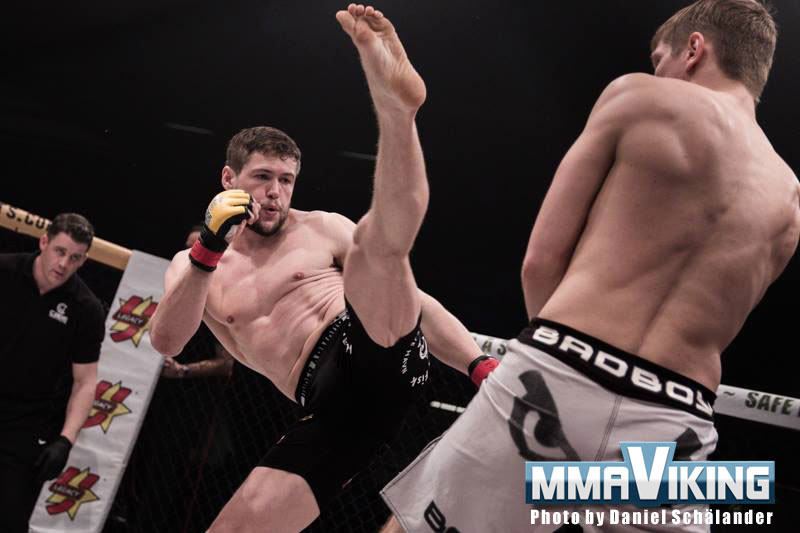 This waiting period hasn't been easy for the Rumble Sports fighter who has been holding onto the biggest secret a fighter ever has to keep during the quite period between singing a contract and waiting before official channels can make the announcement in coordination with the UFC.  "It has made me think about the past. The long journey I've been on and how a lot of people helped me get to where I am now. Tue K. Trnka has especially been a gigantic help. We've trained together since my first amateur fight in 2005 and while a lot of other people has helped me a lot, Tue has without doubt been the biggest deciding factor in regards to finally signing with the UFC. Words cannot describe how thankful I am for his help throughout the years in regards to both my training and my private life. Thank you Tue!" says Dalby.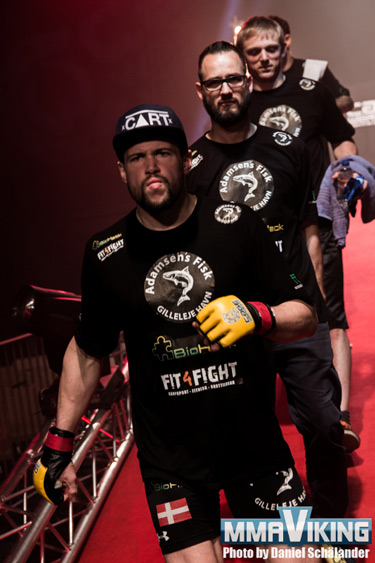 The Cage Warriors welterweight belt holder has long been seen as the top welterweight prospect outside of the Octagon, as he has put together an impressive 13 win and 0 loss record in his pro career.
The long time coach and manager Trnka give some background into why the "Sharpshooter" wasn't in the big show earlier.  "It was always all about the right deal. I have total faith in Graham Boylan, who is my partner at Intensiti Fighter Management. He thought we should wait, let Nicolas' name become more well-known due to his exciting performances, so he would get the right kind of deal. It was a gamble, but of course Nicolas did what he does best, so Graham got him the right kind of deal, and I'm so very happy for Nicolas."
Dalby headlined Cage Warriors 66 card in his home country of Denmark against the Ukrainian Sergei Churilov (15-2) for the vacant belt vacated by Cathal Pendred back in March of 2014 in what could be seen as his breakout fight. The Sharpshooter's brought the Copenhagen crowd to their feet at the Ballerup Super Arena with his spectacular fourth round head kick finish, which put together his signature KO worthy of MMAViking.com's 2014 KO of the Year and thousands of immediate YouTube clicks.
Dalby turned 30 last November, just a day after his last fight where he defended his Cage Warriors title against another tough opponent in Norwegian Mohsen Bahari.  Dalby has kept his winning streak alive, raising his attractiveness to the UFC with another impressive win.  "I've been waiting for this chance for years. So now it's time to prove not only that I belong in the UFC but also that I can become a contender and maybe champ someday."
The Dane also captured the European MMA belt in his pro career that begun back in 2010, with additional the Churilov and Bahari wins has notable victories over Glenn Sparv and Ivica Truscek twice.
"I don't think anyone could argue with Nicolas' level. He has beaten so many really strong fighters, so this is the natural progression for him. I believe, he'll do very well. I'm not much for bragging and making silly predictions, but I'm very confident in his abilities, physique and general level of fighting." comments Trnka.

Dalby's Highlight Reel KO of 2014
"I'm very proud to be just the 2nd Dane ever to fight for the UFC. I hope I can live up to the high bar that Martin Kampmann set for Danes in UFC."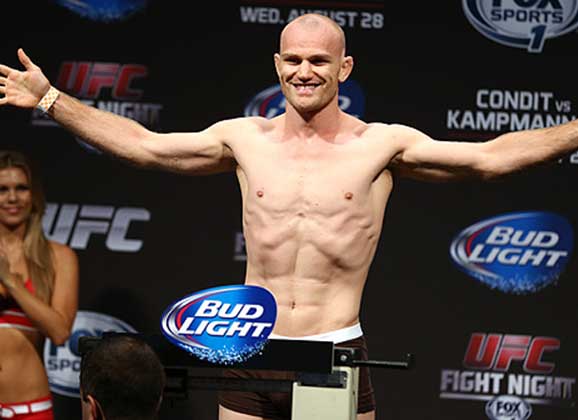 "I must say, that it's very pleasing to have trained Nicolas since he started out with MMA, and now he's going to fight at the very highest level. We've worked together for every single MMA-fight he has ever had – amateur or pro – and now the real fun begins." says the proud trainer that will back his second fighter in the Octagon after Mats Nilsson.
"Lastly I'd really like to thank Tue K. Trnka, Graham Boylan at Infiniti Fighter Management, my father Hasse Dalby, all the guys at Rumble Sports, my sponsors, and all the other people that has helped me get his far. Thank you from the bottom of my heart." says the newest fighter signed to the UFC.