The Nordic rankings have been updated with top-ranked fighters from or living in Denmark, Finland, Norway, Iceland, and Sweden.  Since 2011, MMA Viking has published the official Nordic MMA rankings used by local and international promotions.  The last rankings were published in February, check out the latest update below.
Men Rankings
Flyweight (125 lbs / 56.7 kg)
Finn Mikael Silander is the top ranked flyweight, winning his last 7 of 9 bouts including his most recent submission at Cage 38 over a gritty vet Shimizu Shunizi.  Aleksi Toivonen is climbing the ranks and will fight again at the upcoming Cage 39.  Bilal Musa has been inactive, but will look to rebound from his two losses (including one to Binh Son Le) in his next outing.  Abdul Hussein fought at a catchweight of 58.4 KG / 129 lbs, so look for an official entrance into the rankings here in the near future.  There have been no changes since the March update.
1 – Mikael Silander, Finland, 15-5-0
2 – Aleksi Toivonen, Finland, 4-0
3 – Binh Son Le, Sweden, 5-1-0
4 – Bilal Musa, Sweden, 2-3-0
Contenders : Abdul Hussein (not officially eligible until making weight)
Bantamweight (135 lbs / 61.2 kg)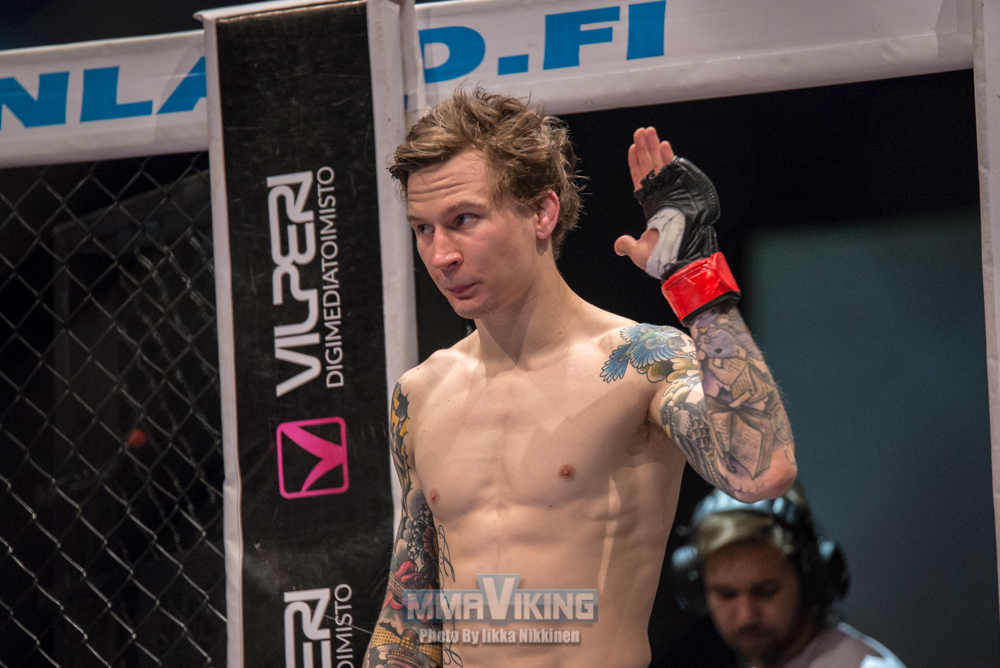 Top-ranked Janne Elonen-Kulmala is on an 11 fight win streak and will look for number 12 at Cage 39.  Sirwan Kakai will look to rebound from three straight losses against top ranked fighters, including Bellator Champ Joe Warren and UFC's Frankie Saenz.  Undefeated Amir Albazi has climbed the ranks with his 8 victories all coming by stoppage, and looking for a high-profile bout to get him into the big leagues.  Toni Tauru got back on track with a dominating win over Geje Eustaquio in December, ending a three fight losing streak. Dynamite will be back at ONE FC this month to look to start a new winning streak.  Martin Akhtar was submitted at Superior Challenge 15 in his attempt at a title shot, and drops one spot.  Timo-Juhani Hirvikangas finally got back into the cage after a two year layoff, but lost a split decision to a tough prospect Khalid Taha in November.  Tipi will be back at the upcoming NFC.
1 – Janne Elonen-Kulmala, Finland, 15-4-0
2 – Sirwan Kakai, Sweden, 12-5-0
3 – Amir Albazi, Sweden, 9-0-0
4 – Toni Tauru, Finland, 11-4-1
5 – Timo-Juhani Hirvikangas, Finland, 10-3-0 (+1)
6 – Martin Akhtar, Sweden, 9-4 (-1)
Contenders : Mika Hämäläinen, Abdul Hussein, Edris Rafigh, Fernando Flores, Delshad Morad, Hamza Bougamza, Viktor Gustavsson, Christoffer Darre, Martin Fouda, Joel Moya, Kristian Skogmo
Inactive : Shamal Tashkilot, Emil Hartsnerm, David Haggstrom
Featherweight (145 lbs / 65.8 kg)
Makwan Amirkhani lost at the recent UFC in London in March ending his Octagon winning streak at three, but still holding on to the top spot.  Niklas Bäckström secured a solid win over Joni Salovaara back at Cage 37 and remains in the second spot.  Mads Burnell got his biggest win over TUF Fernando Duarte Bagordache in November and enters the rankings at number four.  Daniel Teymur is undefeated and should jump in the rankings with a quality win in 2017.  Frantz Slioa got back in action after his long layoff, and grabs the sixth ranking. Tom Niinimäki is now retired.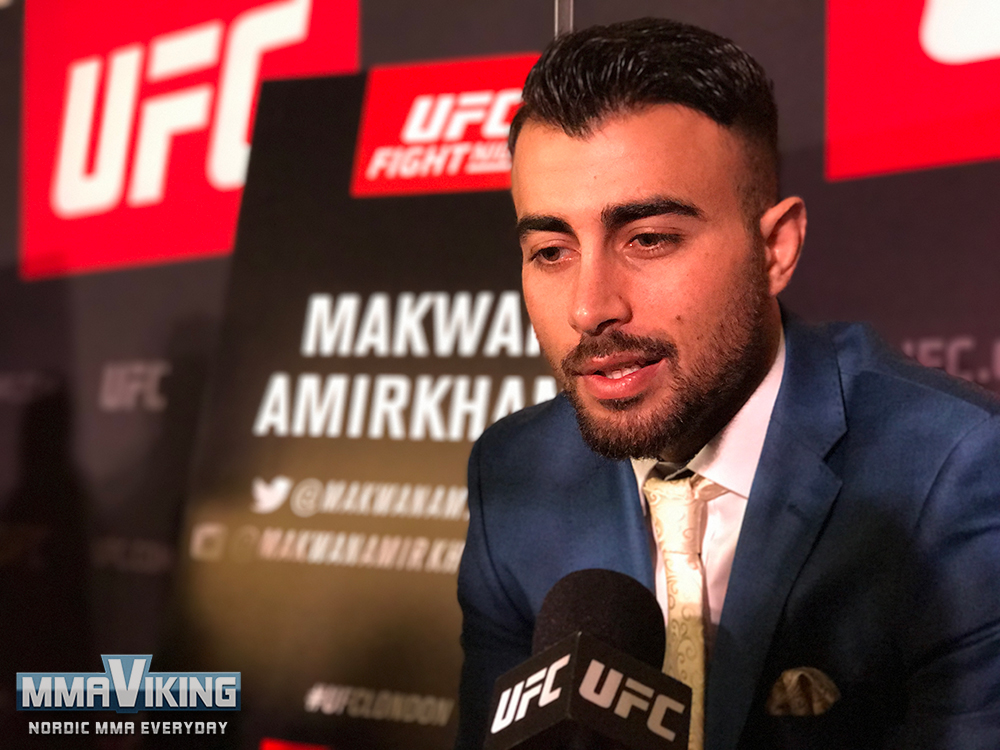 1 – Makwan Amirkhani, Finland, 13-4-0
2 – Niklas Bäckström, Sweden, 11-2-0-1
3 – Joni Salovaara, Finland, 16-9-0-2
4 – Mads Burnell, Denmark, 8-1-0 (+1)
5 – Daniel Teymur, Sweden, 6-0-0 (+1)
6 – Frantz Slioa, Sweden, 5-0-0 (new)
Contenders : Mathias Lodahl, Rafael Macedo, Mohammad Badadivand, Rasul Khataev, Michel Ersoy, Thomas Hytten, Arman Popal, Juuso Halme
Retired : Rami Aziz, Thomas Hytten, Tom Niinimäki
Lightweight (155 lbs / 70.3 kg)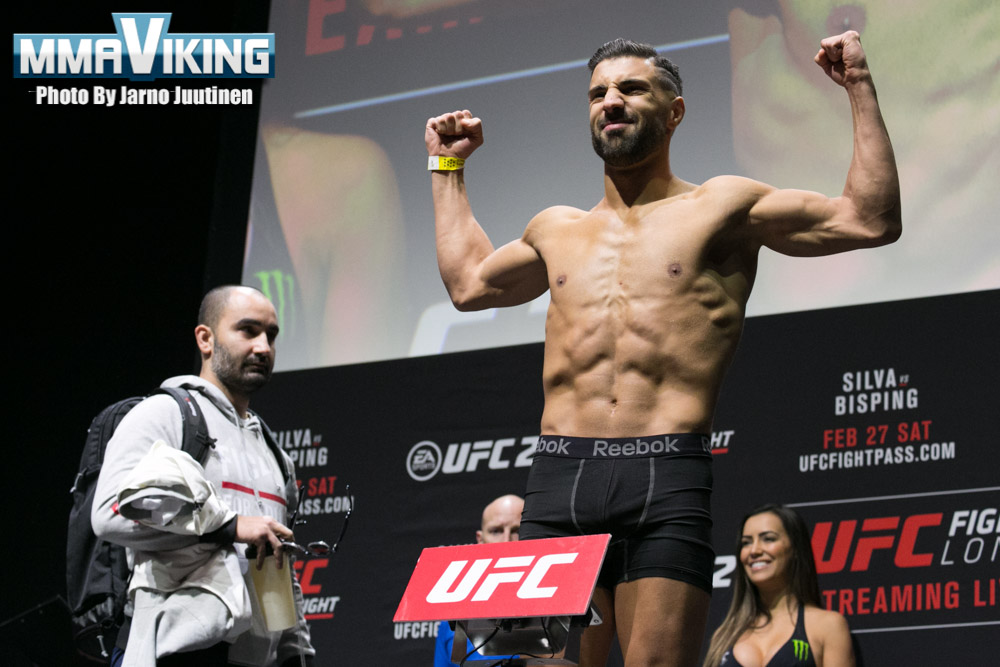 David Teymur had a breakthrough performance, beating Lando Vannata at UFC 209 giving him control of the top ranking.  Reza Madadi is in the second spot with his quality win over Yan Cabral in May, even though he lost in his last outing to Joe Duffy.  Teemu Packalen was KO'd by top prospect Marc Diakese in London.  Damir Hadzovic lost his UFC debut to Mairbek Taisumov but will have a chance to redeem himself on the UFC in Sweden card in May against Marcin Held. Anton Kuivanen rebounded from two straight stoppages with his win over Tetsuya Yamada in the main event of Cage 38.  Redline MMA's Guram Kutateladze is the 6th ranked fighter with four straight wins, including one over Norwegian Joachim Tollefsen.
1 – David Teymur, Sweden, 6-1 (+1)
2 – Reza Madadi, Sweden, 14-5 (-1)
4 – Damir Hadzovic, Denmark, 10-2-0 (+1)
3 – Teemu Packalen, Finland, 7-2-0 (-1)
5 – Anton Kuivanen, Finland, 24-10-0
6 – Guram Kutateladze, Sweden, 7-2
Contenders : Aleksi Mäntykivi, Soren Bak, Jani Salmi, Alexander Jacobsen, Joachim Tollefsen, Jani Ridasmaa, Niko Myllynen, Kennet Mattsson, Mikael Nyyssönen, Simon Skold, Kim Thinghaugen, Jonathan Svensson, Aleksi Savolainen, Patrik Pietila, Tuukka Repo, Patrik Kapanen, Dilmurod Movlonov, Birgir Tomasson
Inactive : Antti Virtanen, Aleksi Nurminen, Mattias Rosenlind
Retired : Martin Svensson
Welterweight (170 lbs / 77.1 kg)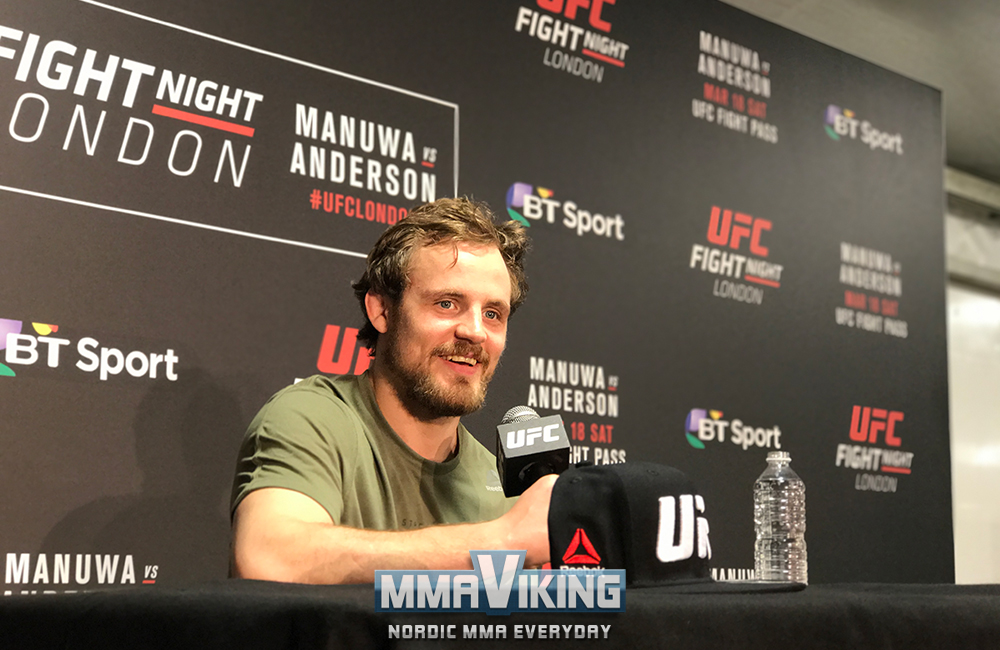 Gunnar Nelson remains in the top spot with his win dominant win over Alan Jouban at UFC FN London.  Emil Weber Meek is new to the rankings with a shocking win over Rousimar Palhares at Venator FC 3 and a UFC debut win over Jordan Mein last year.  Swede David Bielkheden has won seven straight bouts, including his recent belt-winning performance over Morten Djursaa at Superior Challenge 15.  Nicolas Dalby remains in the number four spot, and will look for his next outing outside the Octagon.  Jonathan Westin is ranked five, and Valamaa with a win at Superior Challenge 15 over Zebastian Kadestam is number six. Nico Musoke is finally back and will fight in May at the UFC in Sweden, so he will be back in the rankings shortly.
1 – Gunnar Nelson, Iceland, 16-2-1
2 – Emil Weber Meek, Norway, 9-2-1-1
3 – David Bielkheden, Sweden 24-12
4 – Nicolas Dalby, Denmark, 14-2-1
5 – Jonatan Westin, Sweden, 10-2
6 – Juho Valamaa, Finland, 13-4
Contenders : Andreas Stahl, Oliver Enkamp, Mohsen Bahari, Håkon Foss, Zebaztian Kadestam, Fernando Gonzalez, Morten Djursaa, Diego Gonzalez, Thomas Robertsen, Jussi Halonen, Thomas Jessing, Thor Palsson, Rostem Akman
Inactive : Nicholas Musoke, Niclas Danielsson, Mohammed Abdallah, Kai Puolakka, Simeon Thoresen, Niclas Danielsson
Middleweight (185 lbs / 83.9 kg)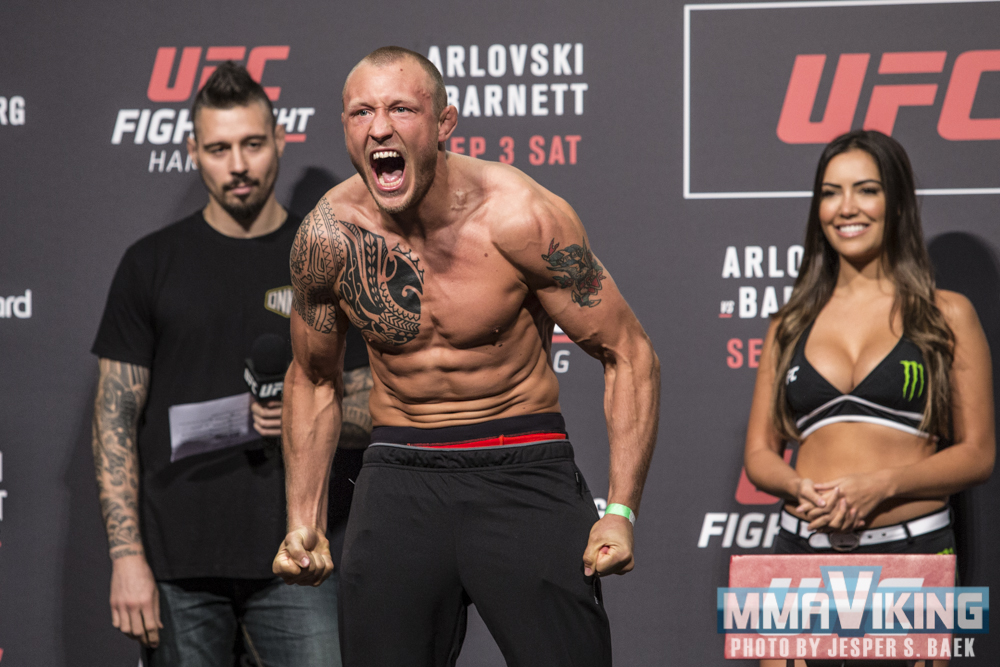 Jack Hermansson has won his last 9 out of 10 bouts, with his only loss in his last outing after getting caught by Cezar Ferreira in Brazil.  The Joker will be back at UFC in Sweden in May looking to get back in the winning column against Alex Nicholson.  Magnus Cedenblad is in the second spot, but Jycken has been dealing with a neck injury, and his return is uncertain.   Max Nunes lost by KO at ACB 54 last month, but still remains in the third spot.  Mikkel Parlo has been a staple of the middleweight division but inactive over the last few years with injuries, and only fight of 2016 was a loss to Chris Honeycutt.  Sadibou Sy has won his last four out of five, with his only loss coming from a one in a million spinning backfist at SFN 1.  Glenn Sparv will face Yuki Sasaki at Australian Fighting Championship in his next outing.
1 – Jack Hermansson, Sweden/Norway 14-3-0
2 – Magnus Cedenblad, Sweden 14-5-0
3 – Max Nunes, Sweden 17-4-0-0
4 – Mikkel Parlo, Denmark 13-3-0
5 – Sadibou Sy, Sweden 5-2-0
6 – Glenn Sparv, Finland 13-4-0
Contenders : Papy Abedi, Alan Carlos, Victor Cheng, Alexander Bergman, Andrius Ordoyan, Mikkel Kasper, Matias Rantala, Mika Kuronen
Light Heavyweight (205 lbs / 93 kg)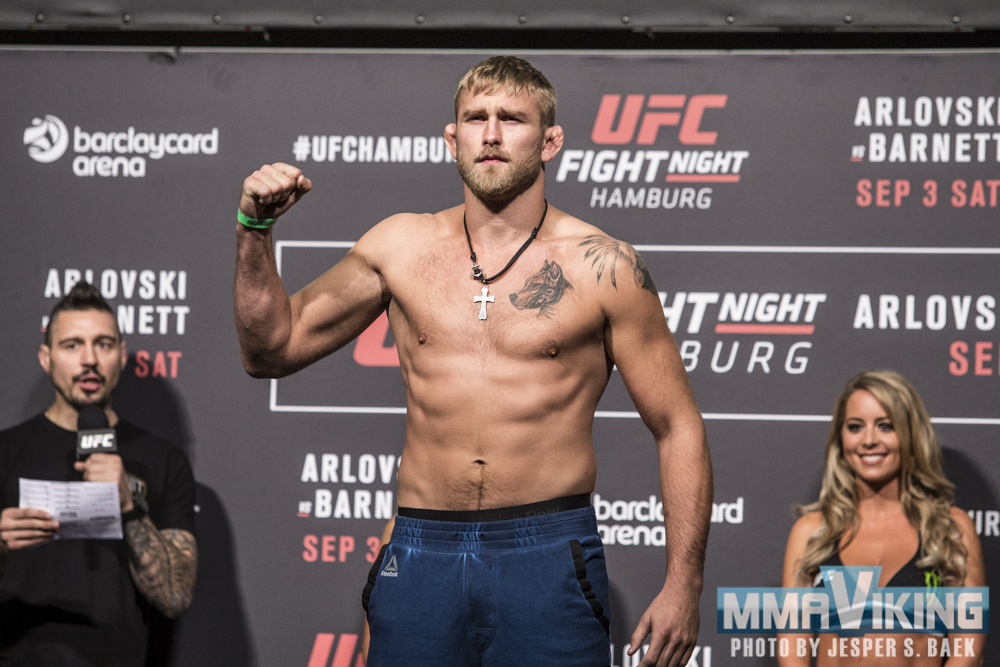 The light heavyweight king Alexander Gustafsson remains the number one ranked fighter and will take on Glover Teixeira in May in Stockholm.  Ilir Latifi had his three-fight winning streak stopped in an instant as a knee from Ryan Bader KO'd the sledgehammer. He will look to beat a living legend in Little Nog next.  Joachim Christensen has been impressive in his two fight UFC run so far, and uppercutted his way to his first Octagon win over Bojan Mihajlovic.  Kenneth Bergh got two wins in 2016 to improve to a 5 win and 0 loss record and will fight at CWFC 84, while Karl Albrektsson got his first loss as part of the Rizin World Grand Prix against Valentin Moldavsky.  Heikkola lost by decision at Cage 38. Look out for both Nielsen and Kralj that put on a fire-cracker of a bout at Superior Challenge 15.
1 – Alexander Gustafsson, Sweden, 17-3-0
2 – Ilir Latifi, Sweden 12-5-0-1
3 – Joachim Christensen, Denmark, 14-4-0
4 – Kenneth Bergh, Norway, 5-0-0
5 – Karl Albrektsson, Sweden, 5-1-0
6 – Saku Heikkola, Finland, 7-7-1
Contenders : Marthin Hamlet Nielsen, Zvonimir Kralj
Inactive : Herdem Alacabek
Heavyweight (265 lbs / 120.2 kg) +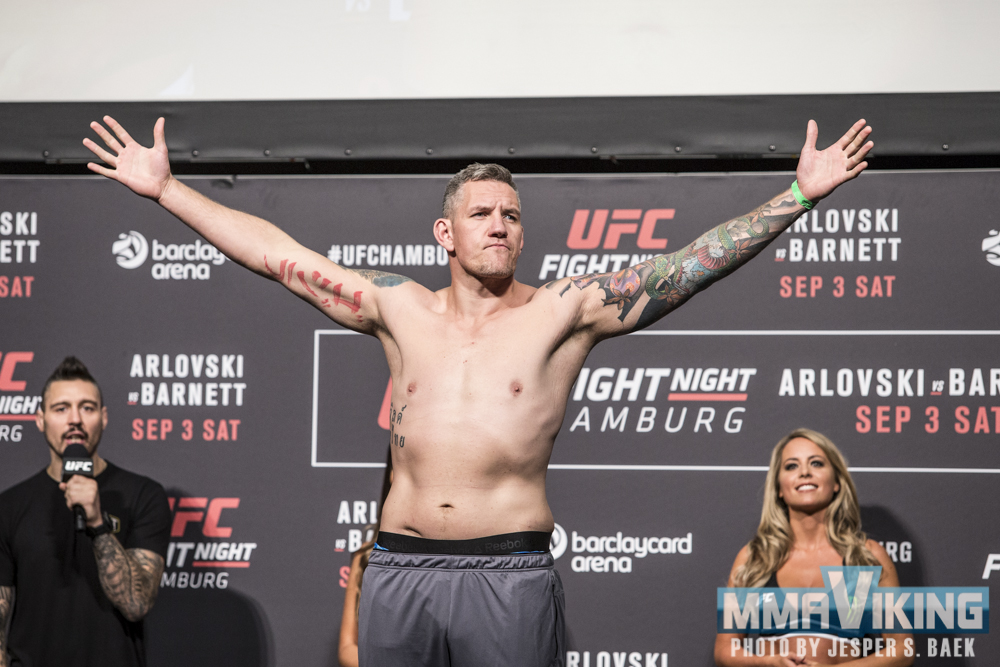 Christian Colombo has had mixed results in the UFC so far, with a draw in his debut and a submission loss back in November.  But Godzilla should have a good opportunity to win when he faces Damian Grabowski at UFC in Stockholm.  Yosef Ali Mohammad sits and number two with his KO over Nick Barno who is number three.  The True Dane did get back on track with a win at MMA GALLA 2.  Finn Toni Valtonen made a return to the cage and got himself a win at NFC 1 last May, while Miika Mehmet was unsuccessful in his return suffering  KO in the first round at FNF 12.  Frontline Academy's Andreas Lagaard lost his pro MMA debut by strikes.
1 – Christian Colombo, Denmark, 8-2-1
2 – Yosef Ali Mohammad, Sweden, 7-3-0
3 – Nick Barno, Denmark, 4-1-0
4 – Toni Valtonen, Finland, 27-15-0
5 – Miika Mehmet, Finland, 3-5-0
6 – Andreas Lagaard, Norway, 0-1-0
Inactive : Marcus Vanttinen
Women Rankings
Strawweight (115 lbs / 52.2 kg) or Lower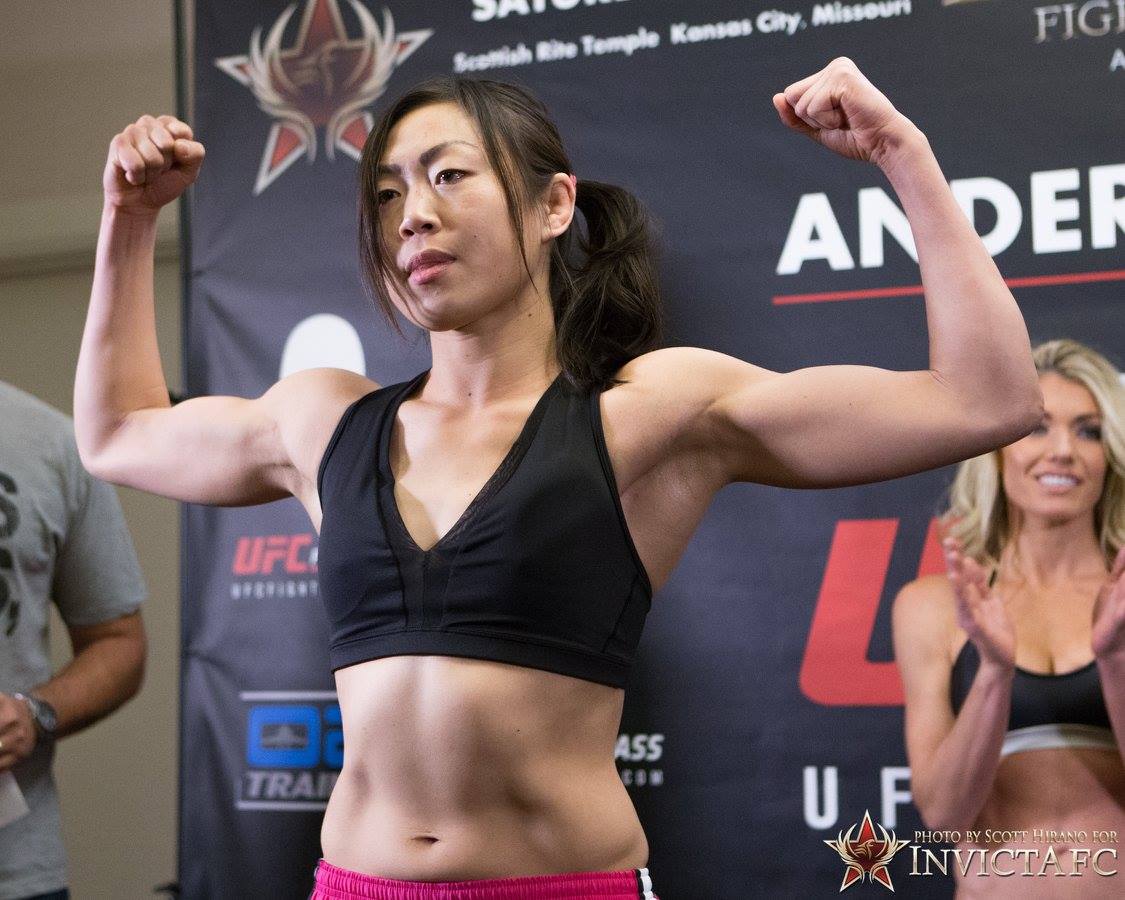 Time will tell if Celine Haga's latest bout in Invicta will result in a win or a loss over Amy Cadwll Montenegro, but it is a loss as it stands now, but nobody can take away the solid performance and her previous four fight winning streak.  Iceland's first pro female fighter Sunna Rannveig Davidsdottir got another solid win in Invicta to give her the second spot.  Minna Grusander fought a top ranked Syuri Kondo at Pancrase 284 and lost in a hard fought decision.  Iman Darabi got back on the winning track with a win this last September at BOB 2016.   Vuokko Katainen dropped to strawweight for her last outing, where she lost to Viviane Pereira in Brazil.
1 – Celine Haga, Norway, 10-14-0
2 – Sunna Rannveig Davidsdottir, Iceland, 2-0-0
3 – Minna Grusander, Finland, 2-1-0
4 – Iman Darabi, Sweden, 3-2-0
5 – Vuokko Katainen, Finland, 3-3-1
Retired : Anna Elmose
Inactive : Tina Lahdemaki, Veera Nykanen
Flyweights (125 lbs / 56.7 kg) & Bantamweight (135 lbs / 61.2 kg) +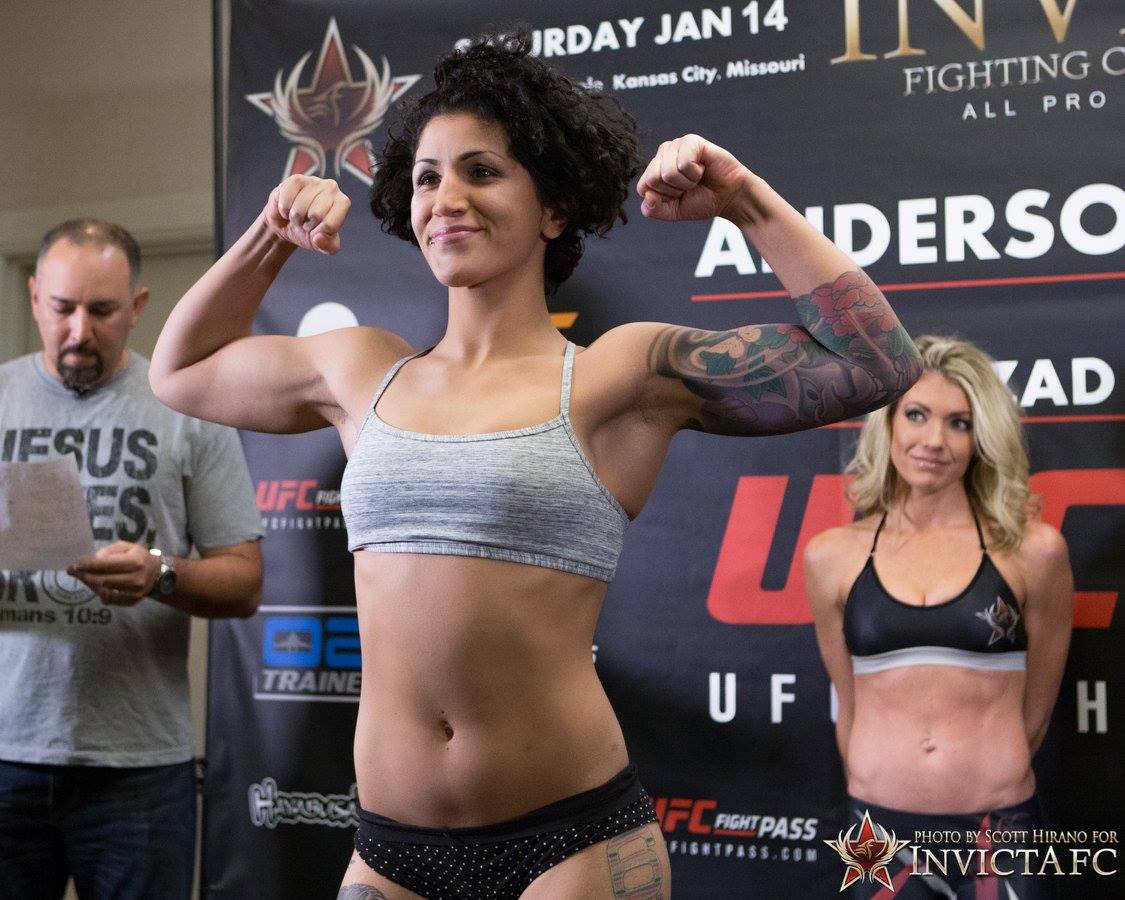 Pannie Kianzad has dropped two straight fights after starting off her career with 8 straight wins, but gets the top spot with her solid run to the Invicta title shot.  Sexy Scramble has wins over number two ranked Lina Lansberg and number four ranked and Maria Hougaard.  The Elbow Princess did get a big win at UFC in London, boosting her stock.  Suvi Salmimies has battle her way to three close wins to turn around her career, where she had three losses in a row.  Eeva Siiskonen looks to recovery from injury and get back into the cage in 2017.
1 – Pannie Kianzad, Sweden, 8-2-0
2 – Lina Lansberg, Sweden, 7-2-0
3 – Suvi Salmimies, Finland, 6-3-1
4 – Maria Hougaard, Denmark, 5-7-0
5 – Eeva Siiskonen, Finland, 5-4-2
6 – Camilla Hinze, Denmark, 1-2-0
Inactive :  Linn Wennergren
Criteria
A fighter can be ranked if he/she was raised in or is permanently living in one of the Nordic countries (Iceland, Denmark, Finland, Norway and Sweden).  Fighters are listed as inactive if they have not fought a professional MMA within a year or currently have a bout booked.  Quality of recent wins and not opinions regarding what fighter would win in a match-ups or an athlete's potential is the main criteria for the rankings.
For more information regarding MMA Viking's ranking criteria and full listing of previous rankings.