The biggest Danish MMA promotion, Royal Arena, is back. The upstart promotion is seeking to repeat the success from its debut, and has staged another solid card for Brøndby Hallen on August 31.
The main card will again be broadcasted live and free on one of Denmarks biggest television networks, Tv2 Sport.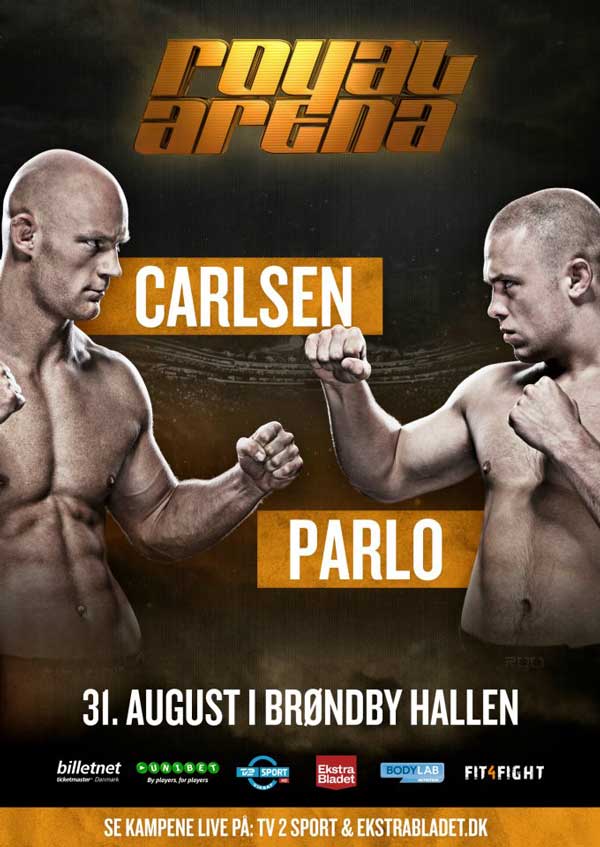 The event will showcase some of the biggest names in Denmark and headlining the card will be Mikkel Parlo in his fight against Simon Carlsen. The top prospect Mikkel Parlo (7-0) recently signed a contract with the American powerhouse Bellator and was supposed to debut there in his next fight. But as his debut has been pushed back, he will instead face Simon Carlsen on Danish soil.

Mikkel Parlo talks with MMAViking.com prior to Cage Fight Live II
Carlsen (7-3) is a dangerous opponent, who is coming into this fight very motivated and with a will to prove himself, and is currently viewed as one of the best middleweights in Denmark. Both are very hard hitters, both are coming off of KO wins and the matchup promises to be one of fireworks.
The main event is not the only thing to look forward to though. Also on the card is another one of Denmarks biggest talents; Nicolas Dalby (8-0), who will be facing the tough Croatian Ivica 'Terror' Truscek. Truscek (19-11) defeated the well known and respected Dane Kenneth Rosfort-Nees in his last outing at Royal Arena, and Dalby will look to avenge that loss, as him and Rosfort are fellow gym members. Dalby is a dynamic striker and a well rounded fighter and putting him up against a gritty guy like Truscek will be a great test for him.
The talented Joachim Christensen (7-2), who recently had a hard fought decision loss at M-1 Challenge 32, will be fighting against the Swedish Matti Mäkelä (10-10). The matchup between the crowd pleasing brawler Matti and the skilled submission artist with an improving standup game, Christensen, is one to look out for as well.
The card as a whole looks great from top to bottom and Royal Arena is steadily becoming a dominant force on the Danish scene. They are succeeding in closing the gap between hardcore fans and casuals and bringing Danish MMA closer to the mainstream. If it's anything like last time, the production will be of utmost quality and with this fight card, I am definitely excited to go. This is a very interesting time to be part of Danish MMA and right now it seems like the sky is the limit.
View Fight Card at http://royalarena.dk/fightcard_dk.html