Swede Elina Nilsson is one of the hottest MMA cards of the year, Invicta FC 2.  The unique all woman's promotion is bringing together top fighters from around the world to compete against each other at Memorial Hall in Kansas City, Kansas.  This second outing from Invicta will be shown live at  InvictaFC.com on Saturday night, and will feature Swedish Muay Thai champion Elina Nilsson, who is fighting out of Gladius MMA in Gothenburg.  The Swede is taking on a striker with a similar background in Julia Budd.   Nilsson is bringing a 2 win and 2 loss record into the fight, while Budd has the same record.  The Strikeforce veteran most recently lost to Ronda Rousey by submission in 39 seconds.  See the exclusive interview with Nilsson, who has traveled to Las Vegas for final training before heading out to the event, below :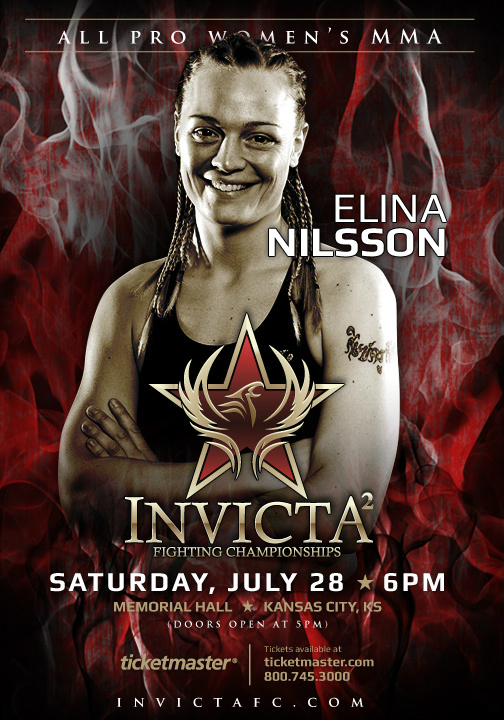 Exclusive Interview
Are you enjoying your time in Vegas?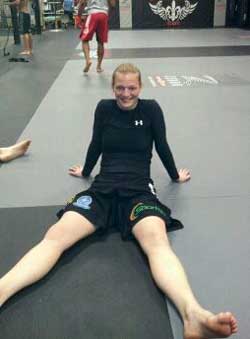 Nilsson : It's a spectacular place and it is cool to have been here, but to be honest I'm not much for party, gambling, or shows. I'm also very focused on my fight so I spend most time at Drysdale or Xtreme Couture, and in the house we are renting.
Can you tell us a little about the purpose of your final training there in the US before heading to Kansas?
Nilsson : One reason is the jetlag. It would have been very difficult to perform in the fight if I had arrived just a few days before the event. It took my 5-6 days to get rid of the jetlag.
Another reason is that Besam Yousef (UFC-fighter) and Mikael Knutsson are here training and that August Wallén has meetings regarding the International MMA Federation. It's more fun to be a bunch of people here together and it is also cheaper.
The training is also very good at both Drysdale Jiu Jitsu and Xtreme Couture!
Invicta is really making a big push for woman's MMA. What do you think bout being on the card? and such a high profile opponent like Julia Budd?
Nilsson : For me it is huge to be on the Invicta card. It is a great opportunity for me. I'll do my very best on Saturday and hopefully it will give me more opportunities in the future to get more fights on the international scene.
I am the underdog on paper but I think it is a great match-up. I'm expecting a tough fight.

Get more pictures like this from SHERDOG.COM
Nilsson Pictured at Sweden's MMA Academy Last Summer (Photo by Ryan O'Leary)
Both of you have a similar background, coming into MMA after success with striking and stand-up. Do you see this fight mostly on the feet?
Nilsson : I think it is difficult to predict if the fight will be stand-up or on the ground. I feel comfortable on the ground as well and I heard an interview with Julia Budd where she said the same thing so I guess we take it as it comes .
It's been over a year since you last fought at The Zone FC. Why has it been so long since your return to MMA?
Nilsson : It is not easy to get MMA-fights as a female fighter and I have also been focusing on Muay Thai, bringing home the gold medal from the World Championship last fall.
Another reason is that during almost two years I have been very busy studying and working fulltime and going back and forth between Stockholm and Gothenburg.
I have my last term in Stockholm coming up though, so from 2013 I'm looking forward to push both training and fighting to yet another level.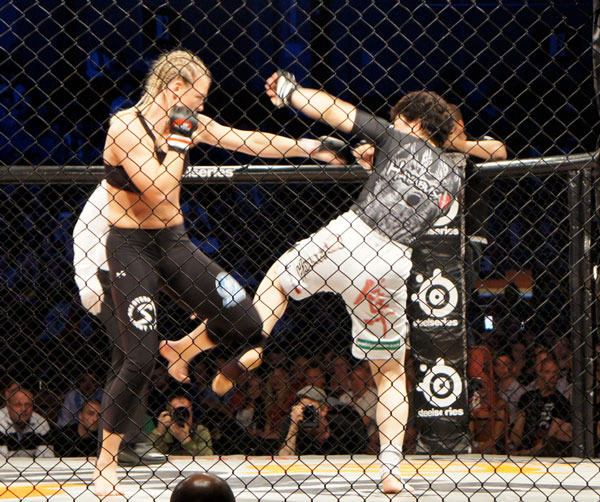 After Invicta I'll focus on thaiboxing again since the World Championship is coming up in September in Russia and I have a gold medal to defend.
Please list any sponsors or individuals you'd like to thank.
Nilsson : I would like to thank Invicta FC for the opportunity and my headtrainer August Wallén for all the time and effort he puts into my training and development. I have started to work with a new coach, Jonas Enqvist, regarding my physical training.  It has been great, I've never been this strong and it is only the beginning!
Special thanks to the pro-team at Gladius MMA for being there every session supporting and coaching and also thanks to Jens Fredholm, one of the headcoaches in Fighter Muay Thai (FMT).
Nilsson : My sponsors are very important to me and thanks to them I have been able to train full-time this summer and my preparations for Invicta has been a lot easier:
Fighter Centre Göteborg
Sportlife
Kenka
Under Armour
Note – Elina's bout, and all the fights will stream for FREE at InvictaFC.com on Saturday.  Stay tuned to MMAViking.com for live results and event coverage.