Today, organizers of The Zone FC announced that Eddy Bengtsson, Gladius MMA with a record of 4-2-0, will fight at The Zone FC – Demolition the 6th of May.  Read the press release below: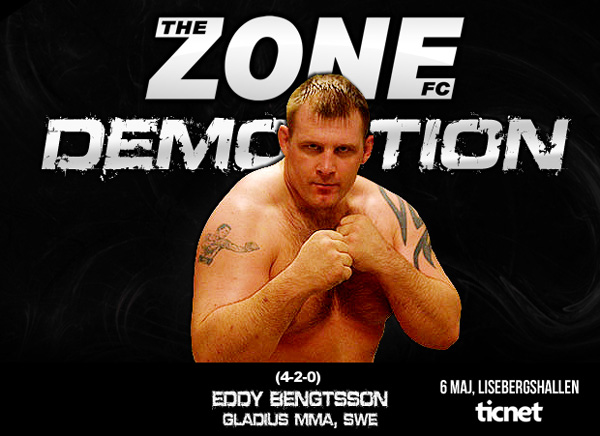 Press Release
Eddy Bengtsson, the popular heavy weight fighter from Gladius MMA, Gothenburg will fight in front of his homecrowd once again. This will be his fifth performance in The Zone cage. In the previous fights he has been victorious, all wins has come by submission or TKO in the first round.
Bengtsson has since the recent fight lost a lot of weight and is walking around at 120 kg, which makes him even faster and it also makes it easier to find him opponents.
Bengtsson is scheduled to fight at Cage Warriors 45 in London 18th of February. Bengtsson was supposed to fight Jay Mortimer, but he is injured and the organizor is working hard to find a replacement fighter. A new opponent should be announced in a day or two for Cage Warriors 45.
Bengtsson really loves to fight in front of his home crowd. He is also i big fan of the local football club IFK Göteborg. Most likely some football players will be in Lisebergshallen to cheer for one of their biggest fans the 6th of May.
Tickets can be bought at Ticnet: http://www.ticnet.se/event/The-Zone-FC-10-Demolition-biljetter/LIH1001
Markov vs Bengtsson at The Zone FC 5 – Bushido

Vladimir Kuchenko vs. Eddy Bengtsson at The Zone FC 4 – Dynamite
http://www.youtube.com/watch?v=NZfEuIF89Yg
Eddy Bengtsson vs. Andy Hillhouse at The Zone FC 3 – Shockwave
http://www.youtube.com/watch?v=7Lq5VjWi9Ag
Eddy Bengtsson at Sherdog: http://www.sherdog.com/fighter/Eddy-Bengtsson-40718
The Zone FC – Demolition Fight Card: http://www.thezonefc.com/fightcard.asp?CompetitionID=940
"Like" MMA Viking on Facebook and follow us on Twitter for updates on the UFC in Sweden and all things Nordic MMA.