The upcoming Cage 20 "Northern Storm 2" show has a Southern star on its card.  Brazilian Rafael "Rafi" Domingos is a Brazilian jiujitsu brown belt from UFC fighter Demian Maia's academy in Sao Paolo. Today he "feels at home in Finland", after his many travels to and stays in the Nordics country.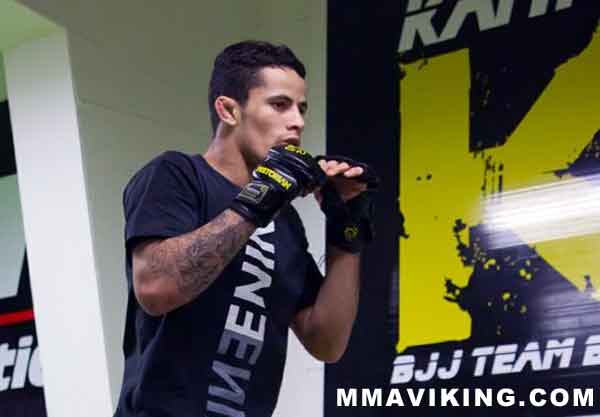 Domingos is known from his vicious and technical jiujitsu, good wrestling and GSP-like athletic abilities. He is currently sporting a 1-0 professional MMA record after a successful pro debut at the Cage 17 Northern Storm event in 2011. The young BJJ ace will fight against Estonian Henri Hiiemäe (3-0) in sparkling featherweight match-up at the Cage 20 on 17th of November in Oulu, Finland. MMA Viking sat down for a chat after a brutal training at Oulun Kamppailuklubi (Oulu Fight Club).
Interview
Rafi, what brings you to Finland?
– I'm here to do seminars, training for my fight in Cage, for vacation and to see my friends of course. I have been in Finland 9 times for the past 3 years.
How are you training currently? Are you focusing on BJJ or MMA?
– I'm training both of course. In Sao Paolo I am helping guys to prepare for fights, I am sparring guys like Demian and other guys…and teaching MMA too. But my training is 80% BJJ and 20% MMA.
What are your future plans as a fighter?
– In future I want to do MMA of course but first I want to make a career in BJJ, like I wanna win World Championship in black belt division. After that I will go just for MMA.
You said that you train with Demian Maia. What is Demian for you, is he your a coach, teacher or training partner?
– Everything, everything. He is teacher, coach, father…He is everything for me. He helped me in my life you know. Not only BJJ, whole life you know. He is very important for me, a nice guy.
How did you feel during Demian's latest fight in UFC against Rick Story?
– Really scared you know..Its like when your friend is fighting, you feel nervous. But Demian did good, I was happy after the fight.
How are you guys training when you are preparing Demian for a UFC fight?
– I do more like submission wrestling with gloves with him. He needs me because I'm little bit faster, this is good for him.
So do you have any chance against him?
– Yeah for sure. He is my teacher you know. I have to respect him for sure, but when I train with him off course I train like a fox, very focused. I want to help him for the fight.
Last year you fought triumphantly in "Cage 17 – Northern Storm" against Mouras Enasseri in Oulu. You are considered as a home boy among the locals. How are you feeling to fight again here in Oulu?
– I feel like my place you know, I feel like home. This is nice. Its good that I am not fighting a Finnish guy. In Finland I have many guys to help me, I have a good team here. I am feeling like fighting at home. When I hear people cheering my name it gives me confidence.
Rafael "Rafi" Domingos vs Mourad Enassari at Cage 17 "Northern Storm"

You are fighting Henri Hiiemäe from Estonia. Do you know anything about him and what is you strategy for the fight?
– I don't know much about him. I watched some of his Muay Thai and MMA fights. He has 2 pro MMA fights, I just have to do my best technique. I have to do everything, stand-up and in the ground, I will play my own game. I am ready to fight.
How has the preparation for the fight gone?
– Everything okay, I trained with Demian before I came to Finland, I am in good shape and I am feeling good.
What is your opinion on the level of Scandinavian MMA and BJJ?
– In European Championship I see Finnish guys winning many championships in many categories. The level of MMA and BJJ here has evolved too much (laughing), I have been here 9 times and first time guys don't have good technique but now the level of jiujitsu here has gone up.
Do you have any greetings for MMAViking.com readers?
– Hopefully as many as possible can come to see my fight. I am so happy to come to Finland again, I want to make more friends. So make friends, good energy and enjoy your life!