As previously reported by YourMMA, UK's James 'Scraps' Saville will head to Sweden to take on Martin Svensson for the title at The Zone FC on May 6. Today the bout was announced by the organization: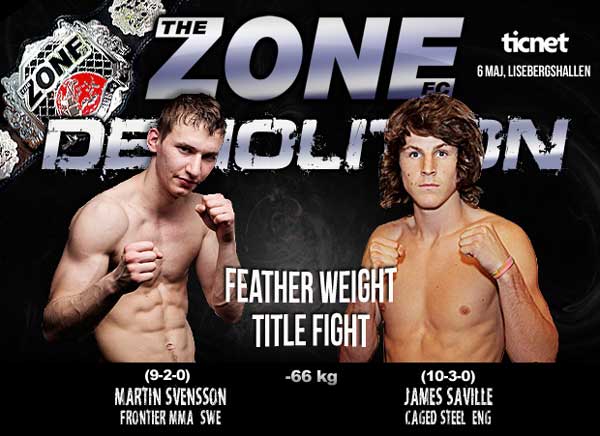 James Saville, the 21-year old fighter from Caged Steel, England with a fight record of 10-3 and a winning streak of six fights including victories over Leigh Remedios and Thomas Hytten will challenge Martin Svensson for the feather weight title at The Zone FC – Demolition, the 6th of May.
Although Saville is young he has a load of experience and he holds a amateur record of 13-1. Saville is well rounded with slick submissions and crisp boxing. In his last fight he fought Doug Higgins and won on TKO at ICNZ 16 in New Zealand.
Flashback Video with Dana White & Martin Svensson – March 2011
Martin Svensson is well known for the Swedish fans being the current title holder in feather weight at The Zone FC. His recent wins was against UK-fighters Paul Reed and John Cullen. He is also one of the tallest feather weights out there, even Dana White refused to believe that Svensson could make 145lbs.
Saville has fought in both bantam weight and feather weight before and now he is up for his biggest challenge, the title fight against Svensson at The Zone FC – Demolition, the 6th of May in Lisebergshallen, Gothenburg, Sweden.
James Saville at Sherdog: http://www.sherdog.com/fighter/James-Saville-20476
Martin Svensson at Sherdog: http://www.sherdog.com/fighter/Martin-Svensson-31065
Fight Card:
http://www.thezonefc.com/fightcard.asp?CompetitionID=940