Alexander Gustafsson will step into the cage at approximately 6:00 Sunday morning Stockholm time. The Mauler challenges for the light heavyweight title for the second time, facing current champion Daniel Cormier at UFC 192 in Houston. MMAViking.com is cageside to cover the action. Get your live play-by-play and results here.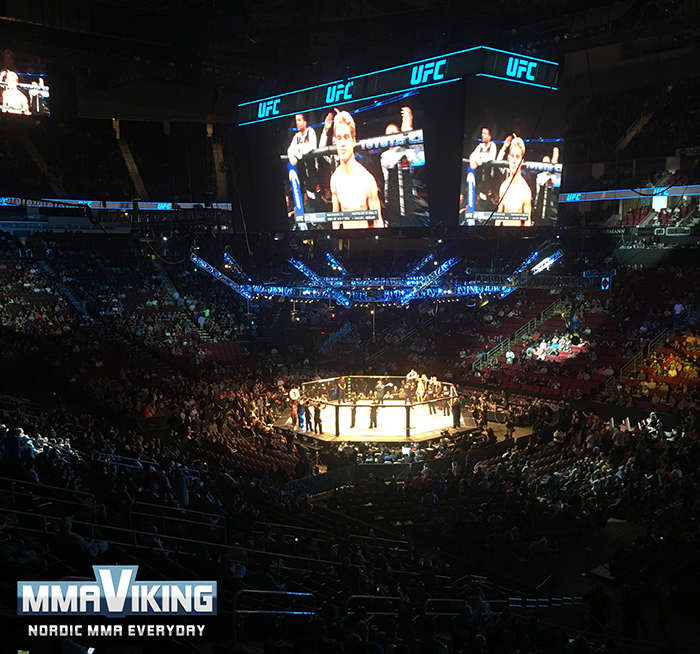 Live Play-by-Play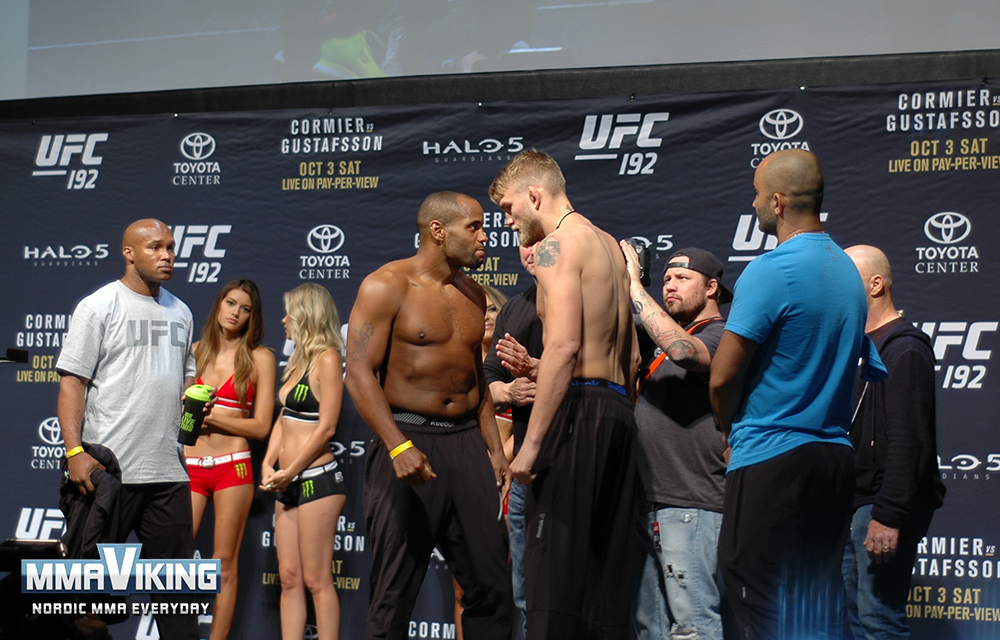 Round 1
The fight starts and Gustafsson and Cormier exchange kicks. Big takedown for Cormier, as he lifts Alexander over his head in a front flip to his back. He's in the Swede's guard.  The Swede tries to get up but is taken down again. Cormier is throwing elbows from on top. They get up. Gustafsson strikes but Cormier lands a heavy punch. The Swede knocks Cormier to the ground and the round ends.
That takedown tho! #UFC192 Presented by @Halo 5 #Halo http://t.co/uDTciB6b7G

— #UFC192 (@ufc) October 4, 2015
Round 2
Both fighters strike back and forth. Cormier lands a hook. Gustafsson almost gets a takedown. Cormier recovers and lands a few good punches. He pushes Gustafsson against the cage. They break away and trade strikes. Cormier lands uppercuts from the clinch. Both fighters land a few punches. The Swede gets a double-leg takedown against the Olympic wrestler! The bell rings.
And the challenger @AlexTheMauler w/ the takedown! Presented by @Halo 5 #Halo http://t.co/VfykChlDJM

— #UFC192 (@ufc) October 4, 2015
Round 3
They touch gloves. Gustafsson lands a good right. Cormier controls the octagon. He lands a big shot, in this stand up war. Cormier gets pushed against the cage but lands a hard uppercut and moves back to the center of the cage. They exchange jabs, with Gustafsson landing a few. In the clinch, Gustafsson eats a few more uppercuts. One minute left and Gustafsson rocks Cormier with a HUGE KNEE. Cormier drops and Gustafsson looking to finish, but the champ gets back up. The round is over, and this is turning into a classic.
Round 4
As this round begins, both fighters look tired. Gustafsson lands a couple of kicks. He lands a right and attempts a takedown but Cormier defends. Another nice right for the Swede. They exchange strikes, but Gustafsson lands more. He's connecting with his jab. Gustafsson continued to land strikes and they clinch. They break and strike, then the round comes to an end that has a slowed pace.
Round 5
The final round starts, and the winner here will likely take the belt home. The two fighters exchange. Gustafsson lands a hard right. Nice hook for Cormier. They continue to strike. Gustafsson attempts a takedown but fails. They clinch in the center of the cage. Nice elbow by Cormier from the clinch. Gustafsson still is fighting back. Cormier does more damage from the clinch and the fight ends.
Winner by split decision (47-48, 48-47, 49-46) Daniel Cormier.
#Respect @AlexTheMauler is game as they come! Presented by @Halo 5 #Halo http://t.co/rvmfDpavDY

— #UFC192 (@ufc) October 4, 2015