Swede Jack Hermansson (14-2) will do battle against Brazilian Cezar Ferreira (10-5) in a middleweight showdown tonight in Brazil. It is the fifth fight on the prelim card.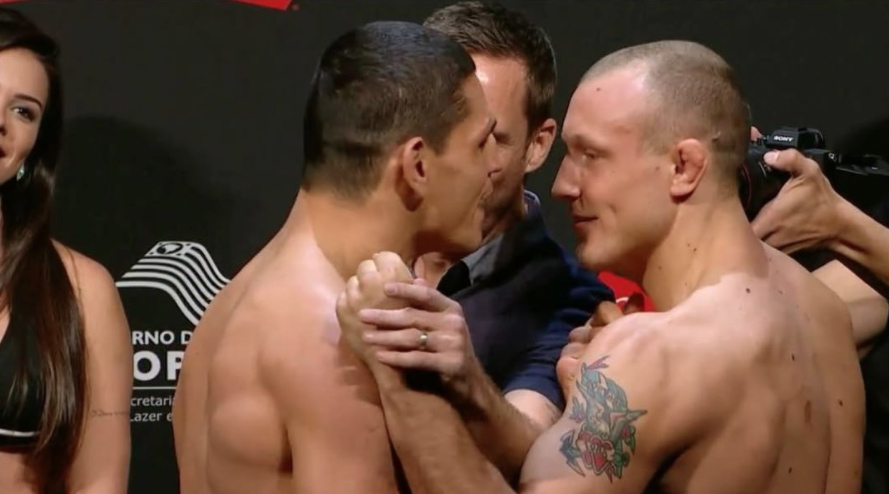 Play-by-Play
Jack enters the cage first and he is all smiles. Kenneth Bergh and Mohsen Bahari are at his side. The TUF winner Ferreira looks all business as he enters the Octagon.
Luta que fecha o card preliminar do #UFCSP. Acompanhe em tempo real > https://t.co/Klvh2orVw7 pic.twitter.com/KCXOlKAYbR

— UFC BRASIL (@ufc_brasil) November 20, 2016
Round 1
Hermansson light on his feet as he backpedals and side-pedals around the Octagon. Ferreira is a southpaw, and the left hand lands crisp on Jacks face early. Another power left shot from Ferreira.
Hermansson seems to be waiting for his opportunity as he also has to defend some leg kicks. A brief clinch. The pace is picking up, but nobody has landed anything significant. Jack with a right kick, and Ferreira shakes his head. Another straight left from Ferreira lands flush on the face.
MMAViking.com Score : Ferreira 10-9
Round 2
Jack is controlling the Octagon now, giving no space. Out of nowhere it is Ferreira that shoots for a double-leg takedown and he finishes it. Jack is in trouble as Ferreira moves out for a side choke. Hermansson tries to defend, but he is in big trouble. Jack is fighting and fighting and fighting… in pain, and it is so so tight. And now a tap from a disappointed Swede.
https://www.instagram.com/p/BNA-SzcBUR4
Ferreira wins by submission in round 2.