The 2017 IMMAF Asian Open came to a conclusion today with four Swedes capturing gold. Gabriella Ringblom, Tobias Harila, Heytham Rabhi, and Irman Smajic stood at the top of the podium at the Marina Bay Sand Expo & Convention Centre in Singapore. Anja Saxmark got silver in her all-Swede matchup with Ringblom in the flyweight division. Renato Vidovic and Anton Turkalj also lost in the finals to earn silver medals.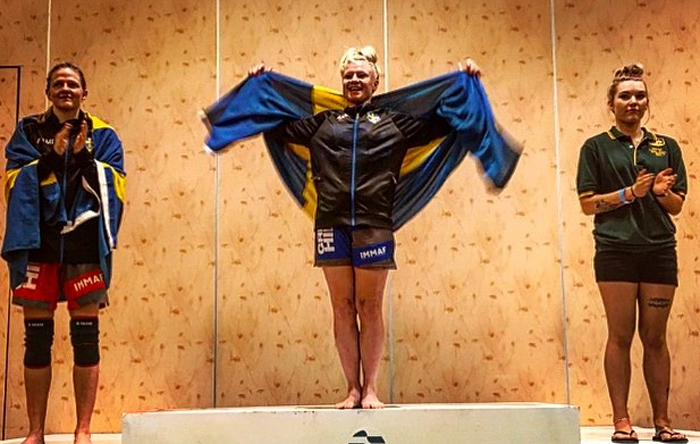 Results
Women's Flyweight Final (125lbs): Gabriella Ringblom (Sweden) vs. Anja Saxmark (Sweden)
Ringblom won by unanimous decision over fellow Swede Saxmark.
Ringblom also won the IMMAF World Championships in 2016. She was coming off of a loss in the IMMAF European Open final loss.
Bantamweight Final (135lbs): Renato Vidovic (Sweden) vs. Olzhas Moldagaliyev (Kazakhstan)
Swede Vidovic lost by unanimous decision to Moldagaliyev.
Lightweight Final (155lbs): Tobias Harila (Sweden) vs. Benjamin Charles Robson (Great Britain)
Swede Harila won by TKO over UK's Robson.
Harila is coming off a silver medal at the 2017 IMMAF European Open.
Middleweight Final (185lbs): Heytham Rabhi (Sweden) vs. Joseph Luciano (Australia) 
Swede Rabhi won by TKO over Australian Luciano.
Rabhi is coming off of a semifinal loss at the 2017 IMMAF European Open.
Light Heavyweight Final (205lbs): Anton Turkalj (Sweden) vs. Imad Hoayek (Lebanon)
Swede Turkalj lost by split decision to Lebanon's Hoayek.
Heavyweight Final (265lbs): Irman Smajic (Sweden) vs. Chaddad Alexandre (Lebanon)
Swede Smajic won by TKO over Lebanon's Alexandre.
Smajic won the super heavyweight division at the 2017 IMMAF European Open. He also won the 2016 IMMAF World Championships at heavyweight.
Sweden was the only Nordic country to send fighters to the tournament.