Swede Andreas Ståhl will meet Dane David Rosmon at European MMA 6 on September 26th. "Swedish Steel" will travel south to face Rosmon on his home turf in the fantastic card developing for the promotions 6th event.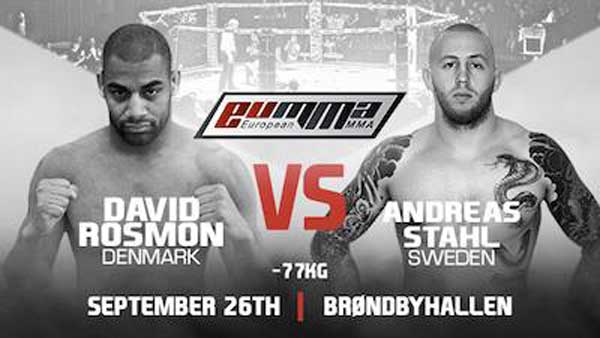 MMAViking.com earlier reported that Ståhl was in talks to face Mikkel Guldbaek, but now the Renyi fighter's opportunity comes with the unfortunate injury of Cole Lauritsen. Lauritsen was supposed to be facing Rosmon, until a knee injury took him out of the bout.
Ståhl last won at Heroes FC in March against German Abus Magomedov. After over a year lay-off, Ståhl proved he is a top Nordic fighter by beating the previously undefeated opponent with a submission in the second round. The Swede, who is now in a training camp at Alliance in San Diego, is undefeated at 8 wins and 0 losses.
Rosmon has fought on European MMA 1 – 4 cards, winning his last three bouts. He most recently won in March at European MMA 4 with a TKO in round 1. He has an overall record of 10 wins and 7 losses.
The European MMA 6 card is a stacked card that takes place on September 26. It is headlined by Morten Djursaa versus Nicolas Dalby.