Sten Saaremäe (5-1) is in a familiar position, facing a Finn in Finland. The Estonian looks for his fourth such win in a main event matchup with Ville Yrjölä (7-3-0) at today's West Coast Rumble in Pori, Finland. "Headlining the card have been my dream since I started my professional career and now we are here, so it's sweet! It's again great opportunity for me to showcase my skills against a tough Finnish veteran." says Saaremäe to MMA Viking.
"His coming down on weight to challenge me and thats nice and he is fighting for the good cause also, he is donating his match fee to children's hospital. What a legend!" says the Estonian amateur champion in the featherweight division.
Long time Finnish MMA veteran in his home city of Pori. "Everything just went like it should. Work gave me the opportunity to train at many different gyms because my work takes me to many different cities. I also thought why not. I like fighting." says the truck driver that turned pro back in 2008.
"I'm going in and want to win this fight badly, so I have to beat him unfortunately. It doesn't matter that I'm fighting in his backyard, it's not gonna affect the result. I'm gonna win!"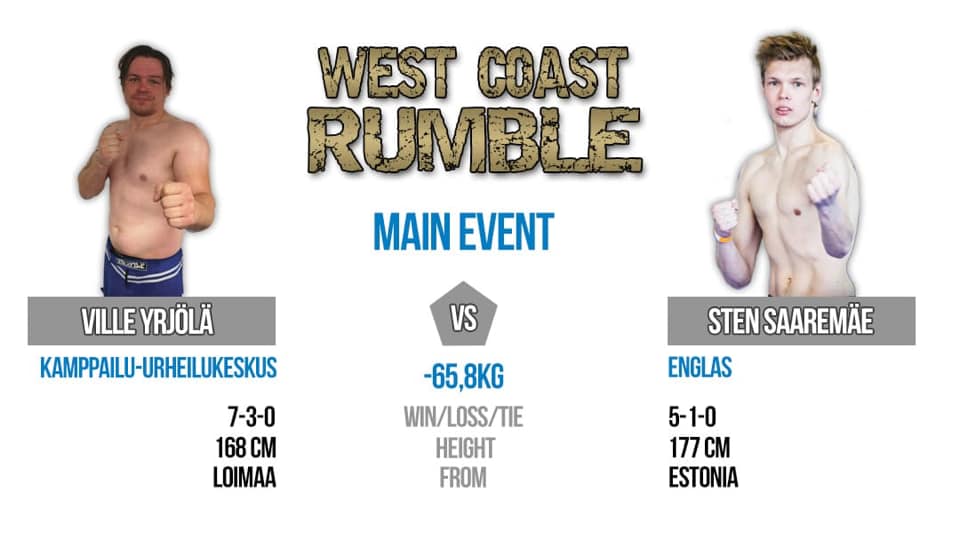 While Sten turned pro in 2016, it is 8 years after long-time Finnish vet Ville stepped into the cage.  The success so far has been impressive for Saaremäe that has won three in a row over Jani Hägg, then Ville Mankinen, and most recently Markus Rytohonka.