Sunna Davidsdottir (2-0) won an amazing 15 minute battle against American Mallory Martin (1-1). In the end, it was the Mjolnir fighter getting the nod from the judges with crisp striking and key take-downs in Kansas City at Invicta 22. Read your live play-by-play below.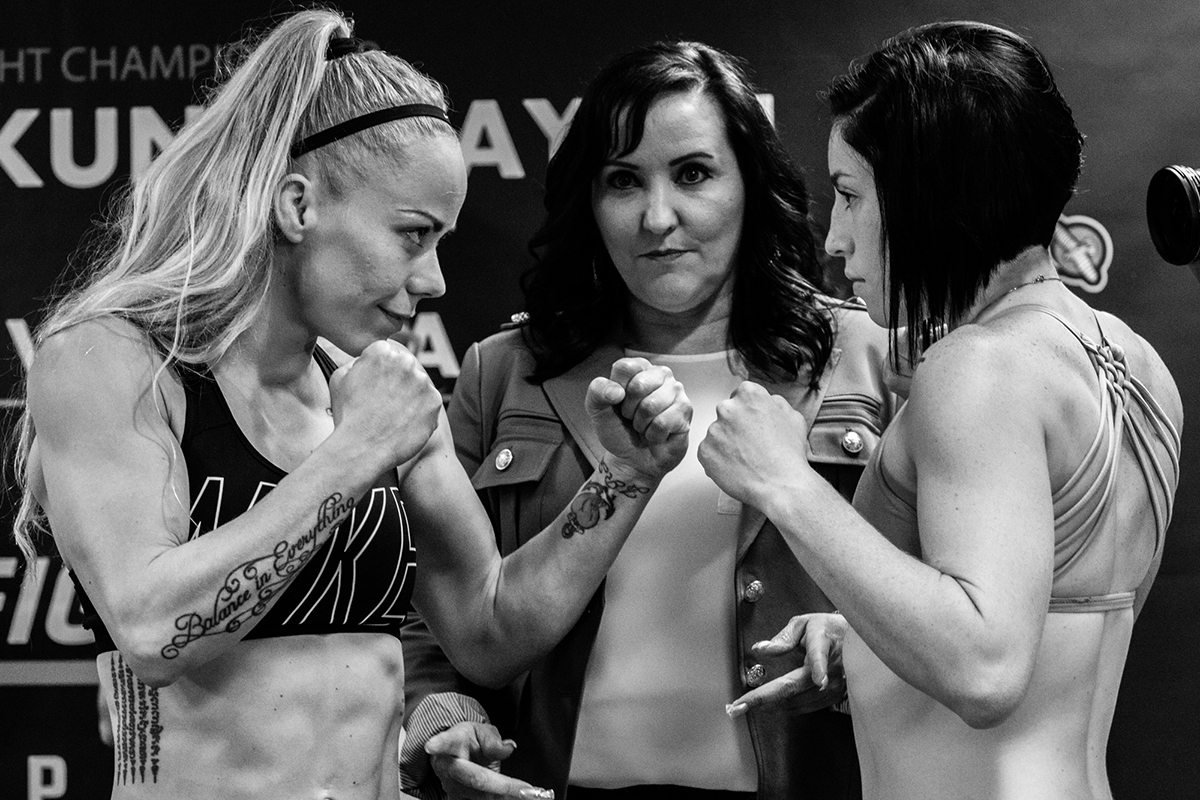 Round 1
No touch of gloves. Davidsdottir lands nice combinations early, and Martin rushes in to clinch. The American gets in a nice double-leg shot, but countered nicely by the Icelandic fighter with a sprawl and pushes Martin to the cage. The referee breaks the action for a low knee, and the fighters move to the center, but eventually find the clinch again.
Davíðsdóttir welcomes Martin to Invicta with the friendly gift of two HUGE shots! #UFCFIGHTPASS pic.twitter.com/8BwqZlzMtI

— UFC Fight Pass (@UFCFightPass) March 26, 2017
Martin with a head and arm throw attempt but Davidsdottir postures up and throws the American on her back. The fight goes back to the feet after Mallory tries to finish the takedown. Punishing punches by Sunna that is finding her power and reach here. A hard left hand lands flush! Martin is rocked, and Sunna rushes in and lands a few more punches and knees against the cage. Now it is Martin moving forward and she lands a punch as she moves the Mjolnir fighter backward. Good kick and punch as the round comes to the end. What a pace in the first five minutes. Some deep breathes from Sunna, and she is standing between rounds with coach Jón Viðar Arnþórsson and Arni Isaksson.
Round 2
The left eye of the American is swollen. Another left hand from Sunna as she moves forward. Neither girl is backing down here and the power in the clinch is still there from both fighters. Martin is hunting down Sunna, as she tries to fire back with punches. Good power punches from Sunna here two minutes in. Now using a jab.
This fight, tho. #InvictaFC22 pic.twitter.com/NIdpTnSfpX

— Invicta FC (@InvictaFights) March 26, 2017
Half way through this fight. Right, then a big left from Martin and it buckles the knees of Sunna. The American moves forward to the clinch, Sunna goes on offense with a body lock, but Martin lands a good left elbow. Davidsdottir seems recovered, but takes a left hand from Martin that rocks here. A knee from Mallory to the face of Sunna, and she is in trouble again. Sunna in trouble against the cage with 30 seconds left, but Davidsdottir is fighting back. Martin gets that take-down she wanted and the Mjolnir fighter is on her back to end the round. What a round!
Round 3
The last round should settle the score here. Sunna lands another quick left hand, and Sunna is looking for a power shot and loops punches. Martin gets the fight to the ground with a double-leg takedown a minute in, but Sunna is showing her desire to win and gets to her feet. Intense action here… and Sunna drives forward with some punches. Three minutes left. The two exchange nice left hands. Take-down from Sunna as she defends another throw. Davidsdottir lands punches, then takes back quickly and gets two underhooks, but Sunna is too high and falls over and now back to the feet. 80 seconds left. Sunna with a left and right hand. Another left hand. Martin tries for a take-down, but Sunna defends. Time running out, and Davidsdottir defends a takedown and lands a solid knee to the body. I'd give the edge to Sunna in the final round, and it looks like both Arni and Jon are proud of their fighter's performance. Let's see what the judges have to say.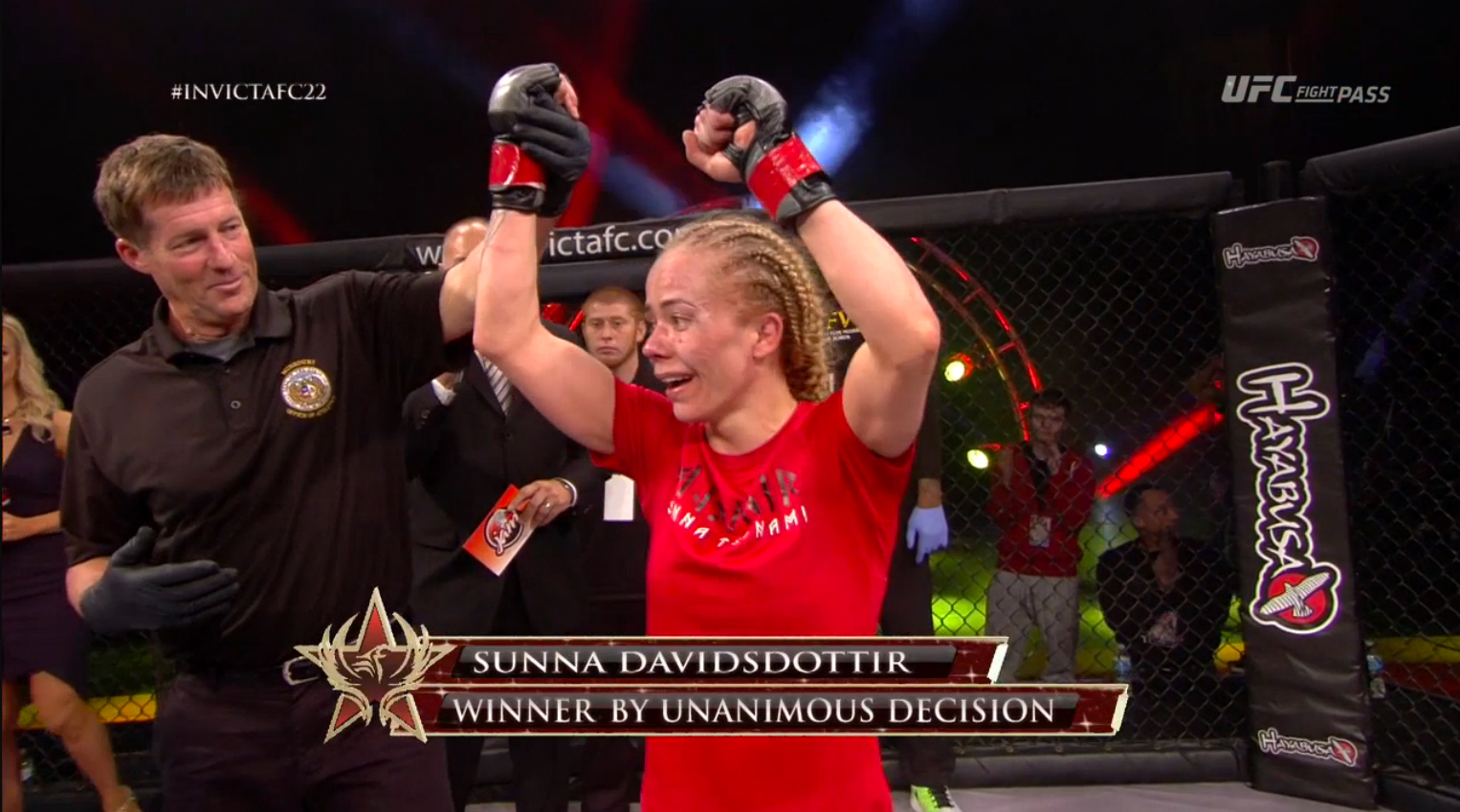 Decision : 30-27, 29-28, and 29-28 unanimous decision for Davidsdottir
"I know how to break and get back up. That's what life has taught me" says Davidsdottir in the post-fight interview.