One of the seven Facebook prelim fights on the UFC Sweden II card is Australia's Benny Alloway versus USA's Ryan LaFlare. Here's our preview of the welterweight bout.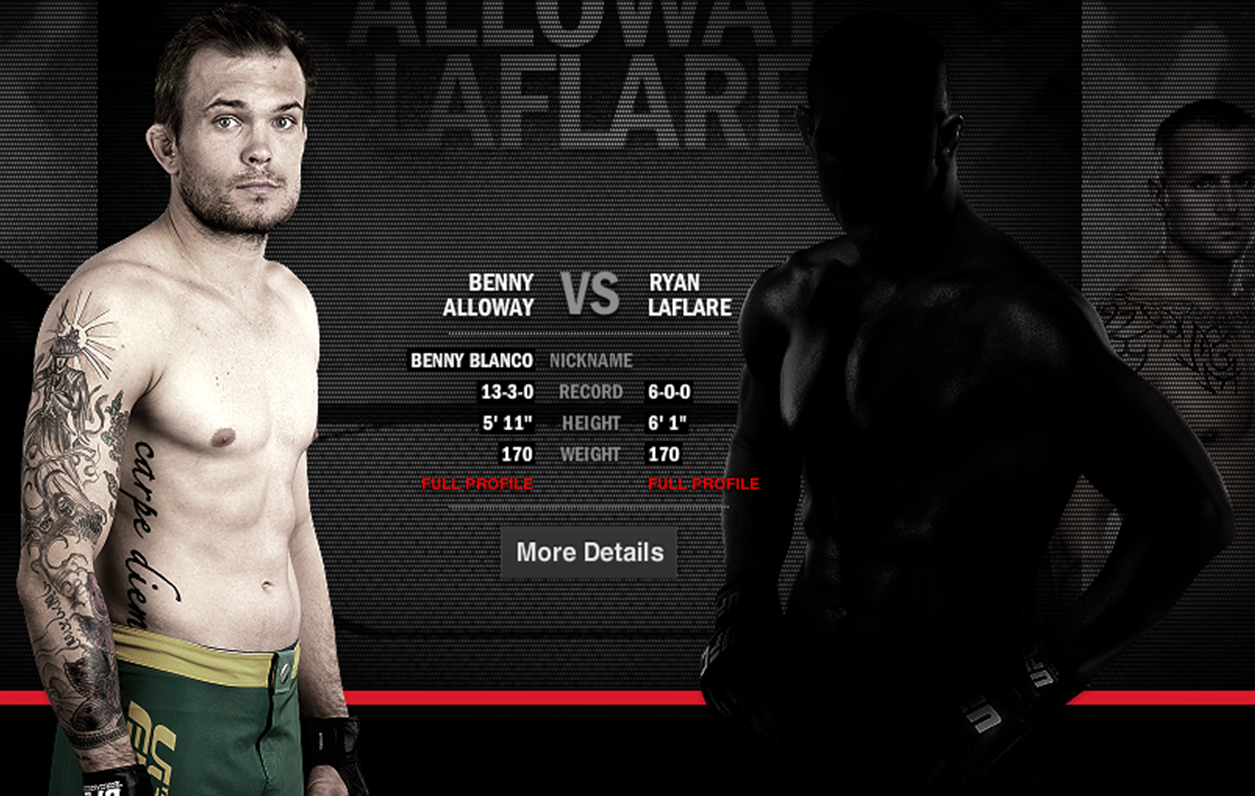 Benny Alloway (13-3, 1-0 UFC): UFC fans should remember Alloway from TUF Smashes and from his fight at the UFC on FX 6 card that also had the TUF Smashes finale bouts on it. The Aussie won his first fight  in the TUF Smashes show when he scored a TKO win over England Valentino Petrescu in the second round. Alloway was eliminated from the competition at the quarterfinals where he dropped a split decision loss to England's Brad Scott after a hard fought battle. Alloway's gutsy fighting style earned him a spot on the UFC on FX 6 card and a match up with fellow countryman Manuel Rodriguez. After being outgrappled for most of the first round, Alloway suddenly blasted Rodriguez face with a stiff front kick and put him away with a combo of strikes.
Ryan LaFlare (7-0, 0-0 UFC): UFC newcomer Ryan LaFlare was actually signed to StrikeForce before he got call to make his UFC debut in Sweden. LaFlare didn't ever get to fight in StrikeForce due to a hand injury. LaFlare has fought his entire pro career in New Jersey based Ring of Combat promotion that has served as a launching pad for such UFC stars as Jim Miller, Frankie Edgar, Chris Weidman and Costa Philippou to name a few. LaFlare has been among the top East Coast prospect for years but injuries have slowed his way to the big leagues. The American has finished all of his opponents so far and now has three submission and four knock out wins under his belt. In his latest fight at ROC 43 in January 2013 LaFlare submitted Andrew Osborne in the third round with an armbar after a dominant performance.
Ryan LaFlare Highlight

Match up: Both guys are allrounder type fighters. Alloway is a natural fighter but he has trained and fought in MMA only since 2010 without any background in combat sports. His inexperience shows in that his technique isn't very polished and his wrestling needs a lot of work as was seen in the Rodriguez fight. LaFlare hails from extensive wrestling background so Alloway's mediocre wrestling might the key point in this match up. On the ground LaFlare's grappling strength and submission skills should be superior to Alloway's solid but still basic level BJJ.
Summary: Alloway is a tough guy who is constantly improving and never gives up. However athletic LaFlare is a significant step up in competition for the Aussie and it might be a step up he is not ready for yet. Stylistically this is a difficult match up for Alloway. Aggressive LaFlare will decide where the fight takes place and on the ground he should hold a definitive advantage over the Aussie.
Bet on UFC in Sweden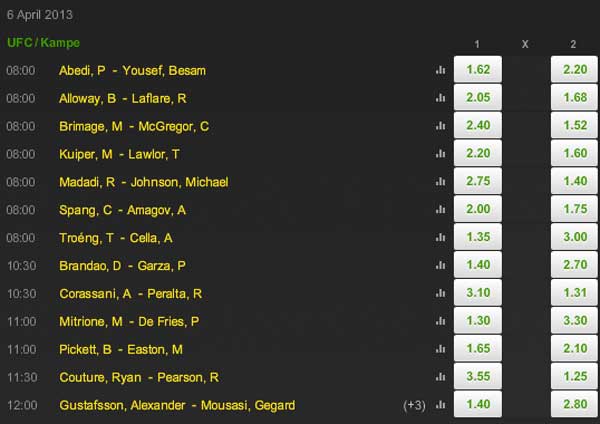 Get Big Bonus for MMA Viking Fans in Finland – Denmark – Norway – Sweden