The Amateur Swedish Championships take place before Battle of Botnia 2016 in Umeå, Sweden. There are two categories of fights including MMA Class-A, which is the former amateur MMA IMMAF rule set, and MMA Class-B, which is the former shootfighting rule set, meaning no punches when a figter is considered grounded. All of the bouts are scheduled for 3×3 minutes and all rounds are scored individually.
https://www.instagram.com/p/BNyX3nvg9m-/
Cristiane Nascimento, Kaisho Kampsportsklubb vs. Malin Hermansson, Akademi Nord. Ladies Flyweight bout MMA Class B 56,7kg
Strong first round for Nascimento with a takedown and top position with mount and also some submission attempt. Malin Hermansson weathered the storm though and comes out strong in the second round landing good shots to the Kaisho fighter. This seems to be shaping up as a classic striker vs. grappler bout. In the second round Hermansson is reallu putting the pressure on with a sprawl and brawl tactic that Nascimento isn't prepared for. After a series of connecting punches the referee steps in for and eight count and thereafter he stops the fight. Winner Malin Hermansson by TKO/RSC.
Eva-My Persson, Nacka Dojo vs. Caroline Edlund, Renyi. Ladies Bantamweight MMA Class B 61.2kg
Close first round between the two with standing action. Both we're feeling each other out it seems and we are likely to see te pace pick up in the second round. Eva-My might have stolen the first with pressure towards the end. Second round is also even with a slight possible edge going to the Nacka Dojo fighter. In the final round Caroline takes Eva-My down and advances to mount. Eva-My reverses though but gets stuck in an armbar from Carolines guard. She powers through though and manages to survive until the end of the round. Winner Eva-My Persson by decision.
Mago Uzarov, Epic Fight Club Mölndal vs. Nicholas Bryant, Fit4Fight Gym. Bantamweight MMA Class B 61.2kg
Intense first round with both fighters coming out swinging. Bryant then looking for a takedown but Mago defending it well against the cage. Mago counters with a beautiful hip throw but Nicholas scrambles to stand up, Mago sinks in a modified guillotine choke and it looks deep, Bryant figths it though and gets saved by the bell. Now intense second round too, both fighter throwing combos and head kicks. Mago with a nice single leg takedown but Nicholas is able to stand up. In the third round Nicholas takes control and secures back mount on Uzarov, looking for the choke but Mago is defending well. The round ends and we go to a decision. The winner is Mago Uzarov by decision.
Kevin Osorio, Nacka Dojo vs. Jimmie Nilsson, Coloseum Fightcenter. Featherweight MMA Class B 65.8kg.
An high tempo back and forth battle on the feet between these two fighter. A lot of give and take. Strong finish fron Jimmie Nilsson with a lot of heavy kicks but Kevin has been the one pushing the pace throughout the fight. The winner by decision is Jimmie Nilsson
Navid Badi, Gladius MMA vs. Alireza Sarabi GBG MMA & BJJ IF, Lightweight MMA Class B 70.3kg
Navid starts out landing a hard straight. He has the height advantage so Alireza will need to work hos footwork to close the distance. Alireza now gets a takedown and establishes top guard position. But now the ref steps in, it looks like Alireza has gotten a cut in one of the exchanges. The doctor is called in but clears it, the bout continues. Navid performs a beautiful sweep right into mount. Alireza now reverses back but Navid ends strong with submission attempts and aggression on the feet. Coming out in the second round Navid is landing some power shots, but Alireza catches a kick and gets the takedown. He keeps the pressure and stays on top. Third round starts and this time it's more even on the feet, Navid seems to be fading but Alireza fails with a takedown attempt and ends up on the bottom with 10 seconds left in the round. The decision goes to Navid Badi.
Vincent Olofsson, GBG MMA &BJJ IF vs. Tobias Söderberg, Mjölby Fight Gym. MMA Class B 77.1kg
Vincent has the edge on the feet landing some crisp shots. Tobias gets a nice throw takedown but Vincent is quickly back up on the feet. Vincent then gets one of his own and finishes the round on top. Vincent opens the second with a takedwon but gets reversed by Tobias who now has advanced to side mount. Vincent retains guard and works for the armbar. Tobias defends and the round ends. Tobias again with the takedown and sidemount in the third. Vincent is active form the bottom but so far Tobias has been able to stay out of trouble. The winner by decision is Vincent Olofsson!
Alexander Lindgren, Samurang Fightcenter IF vs. John Odenqvist, Icon MMA. Middleweight MMA Class B 83.9kg
Back and forth battle between the two, I give the slight edge to Alexander who is utilizing his reach very well against the southpaw figher.John lands a single towards the end of the round though but Alexander gets up straight away. At the start of round two it is Alexander who gets the takedown, he's in Johns half guard but John manages to get the sweep and is now on top. Alexander now reverses back though, very important as he now has secured the second round. Alexander keeps up the pressure. John needs to finish this round to win. Both fighters scramble back and forth to end the round, but this should be a decision to the Samurang fighter. And it's official, Alexander Lindgren wins by UD.
Wasim Elkassem, Kaisho Kampsportsklubb vs. Edik Kochoyoan, Västerås Fight Club. MMA Class B 93.0kg
Edik goes for the takedown and gets it. Wasim however works in an armbar, Edik defends but there's too much time left in the round and Wasim is able to get the arm and it's over. Wasim Elkassem wins by armbar.
Fannie Redman, Pancrase Gym vs. Anna Astvik, Pancrase Gym. MMA Class A Womens Strawweight 52.2kg
Fannie opens up with two takedowns of her own and now gains a strong top position before settling on the back with both hooks in. Anna tries to sneak out from begins and now manages to get on top. And now both are up trading blows as the round ends. Second round was all stand up. The edge goes to Fannie with more activity and clean shots. Astvik needs to finish in this round to claim the gold. Fannie with a takedown and she has the back again! Fannie wins via decision.
Dennis Rydén Coloseum Fightcenter Skövde vs. Serdar Altas, Hilti Fightcenter/Fightzone. MMA Class A Flyweight.
Fast fight between both national team fighters. Serdar gets the better of the takedown and ground fighting and between the second and third Dennis retires form a rib injury who whe contracted two weeks ago at the european championships. Kudos to Dennis who took this fight with his injury.
Renato Vidovic, Gladius MMA vs. Temur Malick, Perrys Gym. Bantamweight MMA Class A 61.2kg
First round is a close one, not too much action as both fighter search for their distance. Slight advantage to Temur. Second round Renato gets the takedown early and takes the back and lands big shots. Temur survives the round though. Third round is even until Renato gets a swift takedown and again gets the heavy ground and pound. Renato wins by decision.
Moein Ahmadi, Stockholm MMA vs. Oskar Karlström Biller, Nova MMA MMA Class A 77.1kg
Even first on the feet and then Moe goes for a guillotine to end the round. Second round starts with Moe going for the guillotine again, Oskar remains calm though and "Killer Biller" passes guard. Moe scrambles and gives up the neck, Biller grabs the RNC with no hooks, but it is tight and it is over. Oskar "Killer" Biller wins by rear naked choke.
Aaron Kennedy, Pancrase Gym vs. Khaled Laallam, Concrete JiuJitsu Tyresö MMA Class A 83.9kg
Khaled opens up rushing into Kennedy. Aaron defends the initial takedown but then a kick from Kennedy gets caught and both fighters go down. Kennedy gets up though and now he's starting to find his rhythm. Now Kennedy goes for the takedown and gets it, advances to side! Kennedy goes for a kimura lock but Laallam escapes and takes Kennedy down briefly. Slight advantage to Kennedy this round, but it could've gone either way. Khaled moving around and shoots in for another takedown, it's stuffed though and now Kennedy has the pressure against the cage and searches the back of Khaled, he gets it and also a takedown briefly. But now Khaled is back up looking for one of his own. Kennedy lands a shot when the two are separated but Khaled lunges forward to initiate the clinch, he doesn't want anything to do with Kennedys stand up. Khaled reverses a takedwon to end the round. Slight advantage to Khaled in this, but again very even and could've gone either way. Third round is more of the same, Khaled with more pressure against the cage and gets a takedown, Kennedy is good at not getting stuck on the floor and gets up once more. Khaled with a good combo as they separate and Aaron retaliates but Khaled puts the pressure back on and takes Kennedy down again, and once more Kennedy gets up. But he is not able to create the distance to utilize his striking. It goes to a decision and the winner is Khaled Laallam by split decision.
Jonnie Andersson, Kampsportscentret LSS vs. Anton Andersson, Gladius MMA. MMA Class A Heavyweight 120.2kg
The heavyweights start out the bout clinching, Jonnie has the pressure and tries to get the takedown but Anton defends well. Jonnie keeps the pressure on though. Clinch-fest in the first with Jonnie having the pressure. In the second round Anton takes over and dictates the pace and placement of the fight but Jonnie is working his takedowns, not sure if it will be able to win him the round though. In the third Anton takes control once more and finds himself working his ground and pound in Jonnies guard as the round ends. We have a winner and it is Anton Andersson from Gladius by decision.
70.3 kg Tobias Harila vs. Axel Gruvaeus
Round 1 – Harila takes command and drops bombs, a hard strike sends Axel to ground where he taps out at 2.27 in the first round. Winner by TKO Tobias Harila
65.8 kg Daniel Schälander vs. Hoger Salih
Round 1 These to guys have some history and they both charge in, Daniel lands a good bodykick but Hoger scores a takedown. Daniel gets back up and they exchange punches, Hoger clips Daniel with a hook that sends him down and they scramble. Daniel ends up on top and works with punches trying to advance his position. Time runs out.
Round 2 Daniel takes center control and they exchange strikes, Daniel shoots for a double leg and lands it. From the halfguard of Salih Daniel works his way to an omoplata attempt. Hoger defends well but Daniel scores another takedown and tries to work. Hoger pushes Daniel to the cage and they strike, DAniel scores another takedown in last seconds of the round.
Round 3 This one comes down to the final round, some smaller punches are thrown and Schälander lands a nice overhand left. Two solid strikes from Daniel but the takedown is easily defended by Salih. Daniel scores a good takedown against the cage and works with hard punches but Hoger works well on the ground to improve his bottom position. The final seconds Schälander lets a few good strikes go as the time runs out, leaving this one to the judges.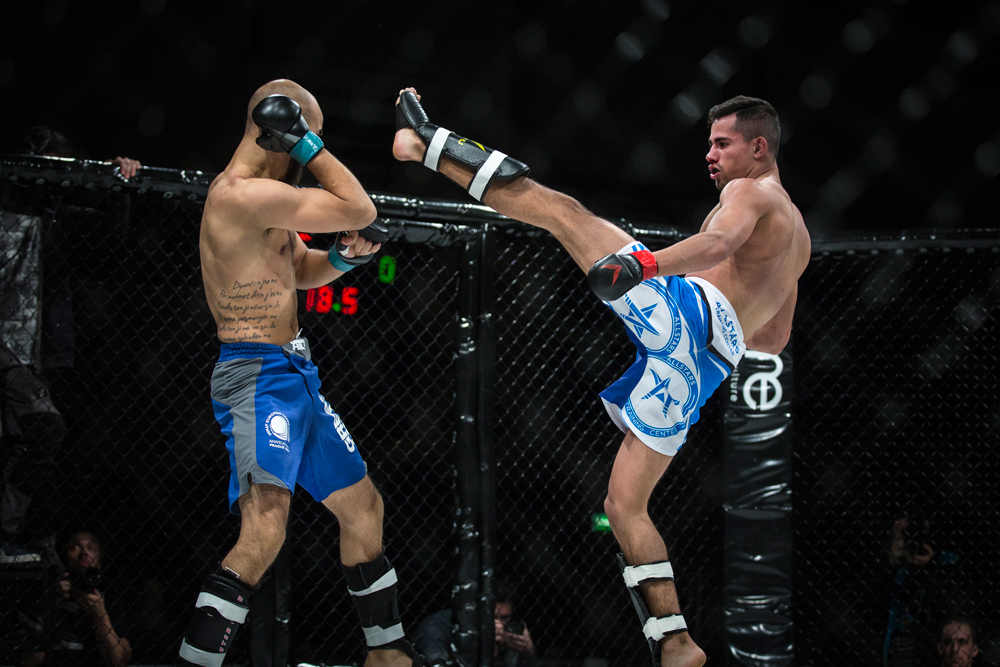 Winner by decision, Daniel Schälander!
61.2 kg Cornelia Holm vs. Jenny Lundberg
Round 1 Both fighters go fot it and Holm lands some good strikes, Holm score a takedown and as they get back up she lands a good knee to the mid section of Lundberg. A takedown defence for Lundberg lets her push Holm up against the cage where she tries for a guillotine. Holm lands a takedown from that position and she ends the round on top landing some strikes.
Round 2 Both fighters look fresh and lands their fair share of strikes, much movement and looking for the right time to strike form both of them. Some struggle against the cage and looking for positions, in the final seconds Holm lands a nice headkick but time runs out.
Round 3 Fats pace and Lundberg lands some jabs and a push kick, Holm lands some nice jabs and scores a takedown. Lundberg looks very calm on her back with Holm in her full guard, they get back up and they exchange, Holm scores a double leg in the final seconds but the time is up.
Winner by decision, Cornelia Holm.
(Linda Wering contributed to this report.  Per Karlsson wrote play-by-play for the final three bouts.)