Gothenburg based MMA promotion The Zone Fighting Championship has been releasing fighter names to participate on the October 12th card at Lisebergshallen.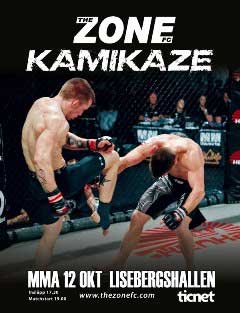 Officials say "Building on the huge success of previous The Zone FC events "Kamikaze" will will continue in that same tradition. Expect spectacular fights as top Swedish fighters face competition from Europe and beyond."
The Zone FC 12 fighters announced so far include :
Per Franklin
Gladius MMA's powerhouse Per Franklin (5-2-0) returns to The Zone a third time for a match in -77,1 kg. Franklin's impressive five victories include no less than four submission wins and one TKO, and he has only went the distance one in his seven fights. Be sure to expect some action on October 12th!
Rami Aziz
Popular featherweight Rami Aziz (GBGMMA) makes his fourth appearance in The Zone FC when he returns for Kamikaze on October 12th. Aziz is currently 3-2-0 but has two straight wins in his last fights.
Amin Afsan
Lightweight fighter Amin Afsan (Gladius MMA) will make his Pro-MMA debut at The Zone FC 12 – Kamikaze. Afsan has a solid 7-2-0 Amateur MMA and Shootfighting record and is the current Swedish Lightweight Shootfighting Champion.
Robin Gidlöv
Featherweight Robin Gidlöv representing Gladius MMA is next up on the fightcard. In his debut Gidlöv finished his opponent with a guilloutine choke submission, can he do it again come October 12th when The Zone FC returns to Gothenburg and Lisebergshallen?
Erik Carlsson
Next up on The Zone FC 12 – Kamikaze fightcard is Erik Carlsson, Frölunda Kampsportcenter. Carlsson made his debut at last years The Zone FC 11 and is now 2-0-0 with one submission and one TKO victory.
Christopher Wassbergs
On October 12th Cristopher Wassberg, Gladius MMA, returns for the fifth time to The Zone for a lightweight bout. Wassbergs comes from two straight first round submission wins.