The first UFC event in Sweden never had a name or number, but the date was November 5. It was highlighted in every Nordic MMA fan's calendar and on MMA website's around the world.  Today, however, U.K. Vice President Marshall Zelaznik announced the location of the European event on November 5 as Birmingham, England, not Stockholm or Malmö… and it's name is UFC 138.
The UFC Event Sweden Never Had

While the UFC has recently addressed the UFC not coming to Sweden this year, it hit me a bit harder than I thought hearing the recent announcement of a UFC event on November 5 –a numbered event (not a Fight Night), in Europe albiet.  It could have been the Swedish flag, and the blue and gold behind the UFC logo above.
Below is a quick look back at how November 5th became the monumental MMA date I once held so close.  Light your candles, and let's say a little prayer (or whatever you do to morne) as we officially say goodbye to the Sweden's lost UFC.  So in a nutshell, here is how I got to this deep reflection and sorrow for losing what can now be called "UFC 138" :
December 2010 : Unified Rules Approved!

In a surprise announcement, The Martial Arts Delegation (Kampsportsdelegationen) gave permission to the Swedish MMA Federation (Svenska MMA Förbundet) for organization and oversight of "International Pro MMA" in Sweden.  Without any public warning, the use of elbows, foot stomps, upkicks to the head from the ground, and 60 minute rest between rounds was now an option in Sweden.  In short, the UFC could finally come to Sweden and compete under unified rules. Christmas came a little early in 2010.
MMA fans in Sweden, Finland, and Norway went crazy on-line, trying to figure out when the UFC would be coming to Sweden. Forums had posts about the best ways to secure a ticket. Would the UFC come in the spring? summer? fall? winter? 2012? 2013? Where? The approval of Unified Rules signalled that the UFC was coming, but we all needed to know more.
February 2011 : MMANytt's with Dana White
The first real "UFC in Sweden" frenzy started in February. In an interview at UFC 126, MMANytt interviewed Dana White and got him to state "It's true, we're coming to Sweden".  Dana followed-up with "We'll be there this year." Wow. To hear it directly from Dana White, made it all so unreal.  The timeframe excited us all.  The UFC was actually coming!
March 2011 : Kimura with Marshall Zelaznik
Kimura.se snuck up on Marshall Zelaznik, and dropped the bomb, that they knew of Zuffa's planned event in Sweden on November 5.  While Zelaznik danced around it for a bit, he did say that the event was "very likely" and that they were "holding dates" in both Stockholm and Malmö.  The inside information that Kimura had, and putting Zelaznik on the spot at the UFC 127 seemed to squeeze the confirmation out that we needed of Zuffa's plan.

March 2011 : FightPlay Confirms Event
Next came Keyvan Zare-Ganji's report on FightPlay.tv, saying (translated to English) – I have now been confirmed that the UFC will host a Fight Night-fight card, that is the Ultimate Fight Night and this will take place in Malmö on November 5. Although the source was listed as "Tapout headquarters in Las Vegas", it was never confirmed by a Zuffa source.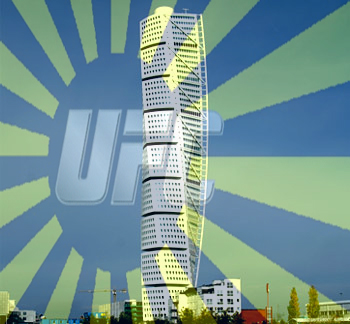 April 2011 : Lorenzo Fertitta Tweets
CEO Lorenzo Fertitta responded "next year" to a tweet from an inquiring MMA fan.  For the first time, the November 5 date seemed in jeopardy.  Was it official?  Was November 5 dead?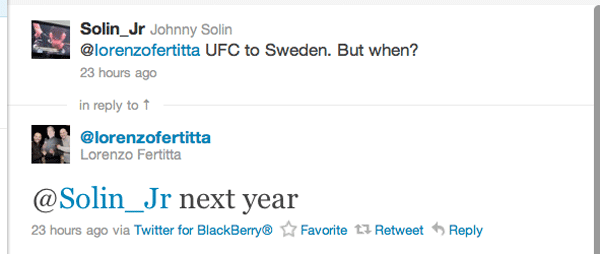 June 2011 : The UFC in Sweden "Fell Through"
At the UFC 131 press conference for UFC 131, Dana White say's "yes, we're going there…. Soon, I hope." Go to 22:30 mark to hear response that the UFC in Sweden "fell through".  
July 2011 : November 5th is Sweden's England's UFC
Today the announcements came from all the major websites.  Leben would be facing Munoz to headline UFC 138 on November 5, not in Sweden, but in England.  Wow, it has a name, UFC 138 and it stings.  The big event originally destined for Sweden has been officially derailed.  Only Joey Ramone can lift my spirits now.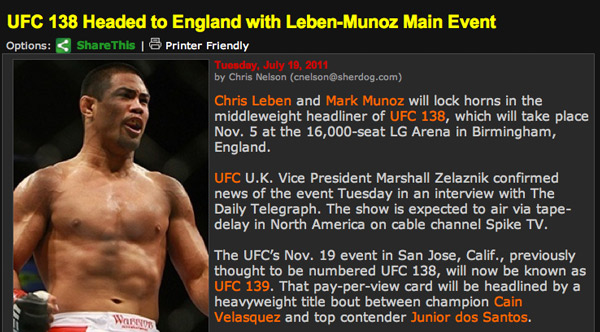 "Like" MMA Viking on Facebook for updates on the UFC's plan to come to Sweden and other Nordic MMA news.  Become a fan here.