MMA Viking's wide-ranging UFC Sweden II pre-fight package proceeds with a preview of match up between super exciting featherweight up-n-comers Diego Brandao and Pablo Garza.
Diego Brandao (20-8, 2-1 UFC): Brazilian born Brandao, who nowdays lives in Albuquerque, USA and trains at the famed Jackson's MMA, grew up fighting. After his father passed away Brandao channelled his anger to learning BJJ at the tender age of 14. By the time he was sixteen he was already taking professional MMA fights to bring food to the family's table. Now almost ten years later the 25 year old is a BJJ blackbelt and a highly regarded prospect in the UFC featherweight division. Like half of the guys on this card also Brandao battles his way through the Ultimate Fighter. In TUF Brandao quickly gathered massive amount of hype with three devastating first round knockout victories over guys like Steven Siler and Bryan Caraway who have both fought successfully in the UFC since leaving the show. In the TUF finale Brandao met powerful wrestler Denis Bermudez who floored and almost finished Brandao with heavy strikes in the first round. The Brazilian however didn't give up but showed off his excellent BJJ game by submitting Bermudez with a slick armbar with nine seconds left of the first round. Explosive Brandao faced scrappy wrestler Darren Elkins next at UFC 146. Once again Brandao came out like a thunder storm and put the hurting on Elkins in the first round but the blue collar wrestler didn't give in an inch. In second round Brandao's gas tank was empty and Elkins took over with his relentless wrestling and took home the decision win. Brandao learned his lesson and won his last fight by decision against Joey Gambino after three rounds of controlled aggression. As a fighter Brandao is a strong package of high quality BJJ skills, diverse and powerful striking and explosive athleticism. Outside of the Octagon he can be a bit of a loose cannon but inside the cage he is all business with a strong will to win.
Diego Brandao Highlight

Pablo "Scarecrow" Garza (12-3, 3-2 UFC):  Garza became a UFC fighter when he was under contract with WEC and the promotion was merged to the UFC. The American really kickstarted his UFC career with two outstanding first round finishes that earned him two Of the Night bonuses in a row. In his UFC debut Garza flew across the cage and landed a vicious knee strike to Fredson Paixao's head, leaving the Brazilian unconscious on the mat for minutes. In his second fight Garza made good use of his freakishly long limbs when he wrapped Yves Jabouin to a flying triangle choke. The level of competition was much tougher in his next two bouts that he ended up losing to Dustin Poirier by Darce choke and to Denis Bermudez by decision. Garza returned to win column in his last fight where he met veteran Mark Hominick at UFC 154. After a rocky start Garza took over the fight with effective striking and superior grappling that got him the decision win. Garza's offensive striking and grappling are his best qualities while his defensive wrestling and striking could use improvement.
Pablo Garza's Flying Knee Knockout
Match up: This is an exciting match up for number of reasons. First of all both guys fight with bad intentions and have a high finishing rate. Secondly both of them can finish the fight on the feet and on the ground. Thirdly their height difference will make the stand up portion of the fight a bit unpredictable and even risky. Long limbed Garza is one of the tallest featherweights at 185 cm while stocky Brandao is just 170 cm.
Summary: If the fight stays on the feet, it's anybody's game. Brandao hits like a ten ton hammer but he also leaves himself open for counters when he swings his clubs around like a raging barbarian. Garza should come to the fight with a game plan that makes good use of his reach advantage over Brandao. Garza's fight with Bermudez showed that his takedown defense has holes in it which could spell trouble for him against a skilled grappler in Brandao.
Bet on UFC in Sweden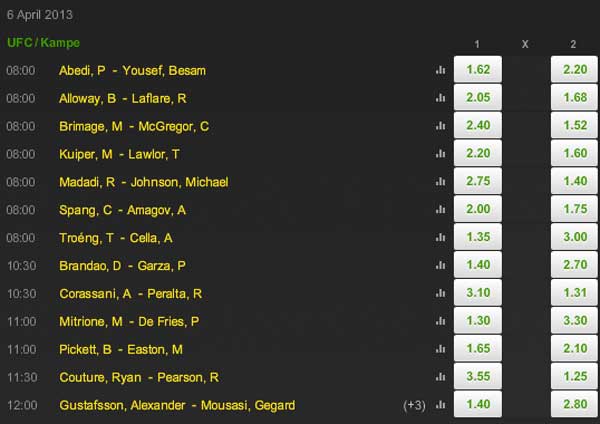 Get Big Bonus for MMA Viking Fans in Finland – Denmark – Norway – Sweden