MMA Viking's extensive UFC Sweden II pre-fight package marches forward with the preview of match up between hometown hero Reza Madadi and American challenger Michael Johnson.
Reza "Mad Dog" Madadi (12-3, 1-1 UFC): Iranian born Stockholmer Reza Madadi is one of the most popular fighters in his home country of Sweden. Madadi's colorful and chatty personality sits well the Swedish fans who gave him deafening applause a year ago in UFC Sweden I. 32 year old Swede hails from an extensive background in wrestling and has fought in pro MMA since 2006. Madadi fought his way to the UFC by racking up a six fight win streak with most of the fights taking place in the Superior Challenge promotion in Sweden. In his last three fights before he got signed by the UFC, Madadi beat TUF loose cannon Junie Browning, Brazilian veteran Carlo Prater (who came in way overweight) and lastly UFC veteran Rich Clementi. Madadi made his UFC debut at UFC Sweden I where after a rocky first round he choked out Cuban Yoislandy Izquierdo with a guillotine choke in the second round. His second bout took him to Brazil where he battle three rounds with Cristiano Marcello. Majority of MMA media saw Madadi as the winner by winning the first two rounds but two of judges had different views and gave the decision to Marcello. Grappling is definitely Madadi's strong suite but against Marcello his boxing looked much improved. The Swede is a relentless competitor with a big heart: he has never been finished in his fifteen pro fights.
Reza Madadi interview by MMA Viking
Michael "the Menace" Johnson (12-7, 4-3 UFC): Blackzillian Johnson is a 27 year old fighter who has been fighting professional bouts since 2008. Like half of the guys on the UFC Sweden II card also Johnson found his way to the UFC through the Ultimate Fighter reality show. In TUF Johnson did a marvelous job by really fighting his way to the finale with wins over current UFC featherweights Pablo Garza and Nam Phan, UFC bantamweight standout Alex Cacares and a tough Englishman in Aaron Wilkinson. In the TUF finale Johnson started off strong against Jonathan Brookins and took the first round but was outwrestled by Brookins for the next two rounds and lost the fight by decision. Since the TUF fights Johnson has gone 4-2 in the UFC with notable wins over Danny Gastillo and TUF 13 winner Tony Ferguson. Blackzillians camp has been criticized for being "all hype" but with Johnson the coaches have done a great job. Johnson has improved all the time and his striking style has now good amount of Dutch flavor in it, thanks to coach Henry Hoeft . Especially the bout with Ferguson, who is a competent striker himself, Johnson showed excellent timing and diverse striking skills when he punished Ferguson for three rounds on the feet. In the Castillo fight Johnson displayed strong will and gameness when he was very close to being finished in the first round but came back with a vengeance in the second round knocking Castillo out cold. In his last fight Johnson didn't get to use his striking arsenal against Myles Jury who outgrappled Johnson throughout the three round bout.
Michael Johnson Highlight
Match up: Style wise this is pretty much a classic striker versus grappler match up. It's not that they would have big weaknesses in some area of the game but it's just that their strengths over the opponent are obvious. Johnson has a broad selection of weapons to choose from on the feet while Madadi usually sticks to basic boxing. Johnson is also quicker on the feet and has better footwork. While Johnson can wrestle and isn't clueless on the ground either, grappling still isn't his best qualities. Madadi on the other hand is a very experienced grappler with excellent single leg takedowns and powerful chokes.
Summary: The winner of this fight will be the one who can dictate where the fight takes place. Johnson should hold the advantage on the feet while Madadi should be in charge if the fight hits the floor. The Jury bout showed again that Johnson's takedown defense is still average but it's hard to predict if Madadi can really threaten Johnson with his grappling and push the pace for three long rounds. Madadi is still hittable on the feet and Johnson has been submitted many times before so the safest bet with this fight is to say that it will not go full rounds.
Bet on UFC in Sweden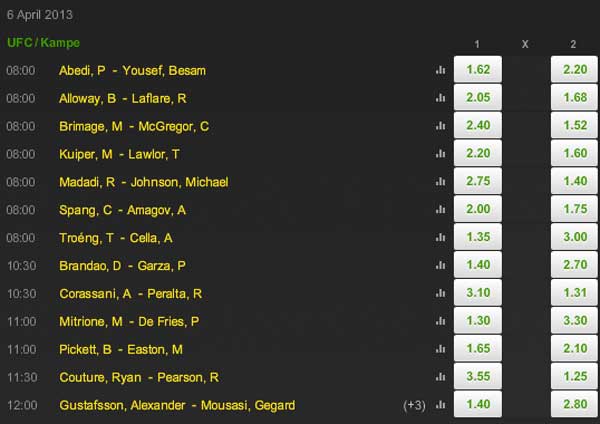 Get Big Bonus for MMA Viking Fans in Finland – Denmark – Norway – Sweden