Union Fight Night (UFN) Tampere will take place this Saturday.  The card will bring a blend of everything, including Thaiboxing, boxing, amateur MMA, and pro MMA.  The most notable MMA fighters on the card will follow in Timo 'Tipi" Juhani Hirvikangas's steps last week in Karkkila, and will take part in boxing matches.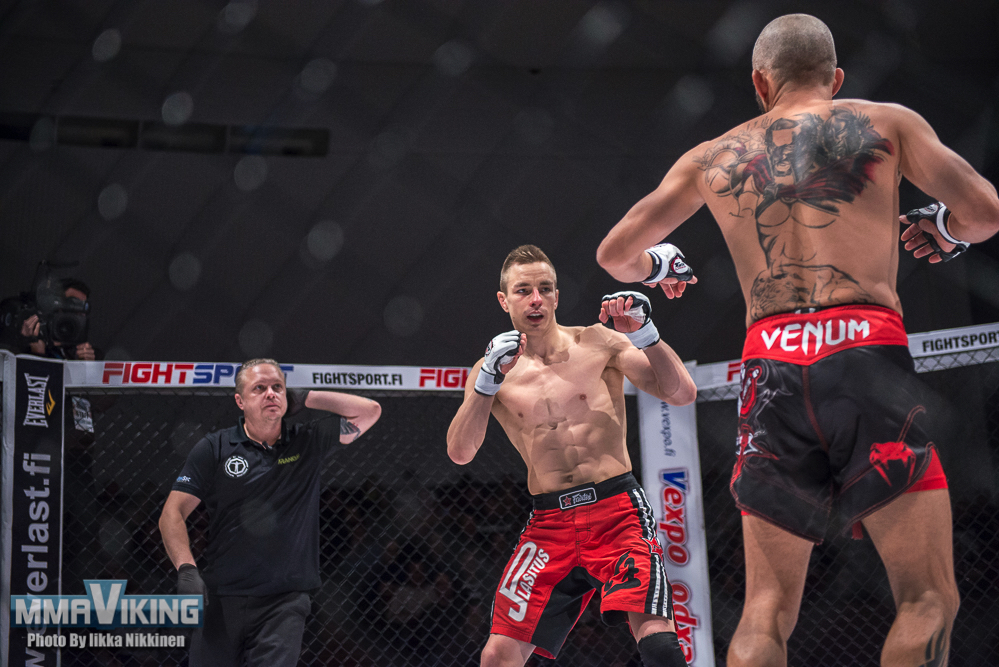 Experienced featherweight MMA fighter Joni Salovaara (14-7-4 – MMA), EKH Espoo, will face Ville Piispanen (19-6-3 – boxing), Tampere in a boxing match.  Salovaara has fight MMA at almost all the prominent Finnish promotions, and was last in the cage last November, where a knee to his opponent's groin stopped the action resulting in a no contest. This boxing match will be a new venture.
"Sampo (the event organizer) asked if I wanted to make a show with Piispanen for the fans, so of course. Since I havent competed for awhile it is good to have some competition feelings again and anyways this kind of happenings are fun. I am training with boxers now and then but nobody has been so high level than Piispanen is, so that is a nice thing also." says Salovaara to MMAViking.com about the bout and matchup.
Another veteran MMA welterweight Juho Valamaa (8-3 – MMA), FFG Turku, will battle Jani Kokko from RNC sport club in a boxing match.  Valamaa is on a two fight winning streak in MMA, with his only blemish of 2014 being the memorable battle with Johan Vanttinen at Fight Night Helsinki in June.
The action takes place at the UNION – Work and Leisure Club in Tampere, Finland. The only pro mama bout will be between Finn Janne Rantanen and visiting fighter Sergey Drob from Lithuania.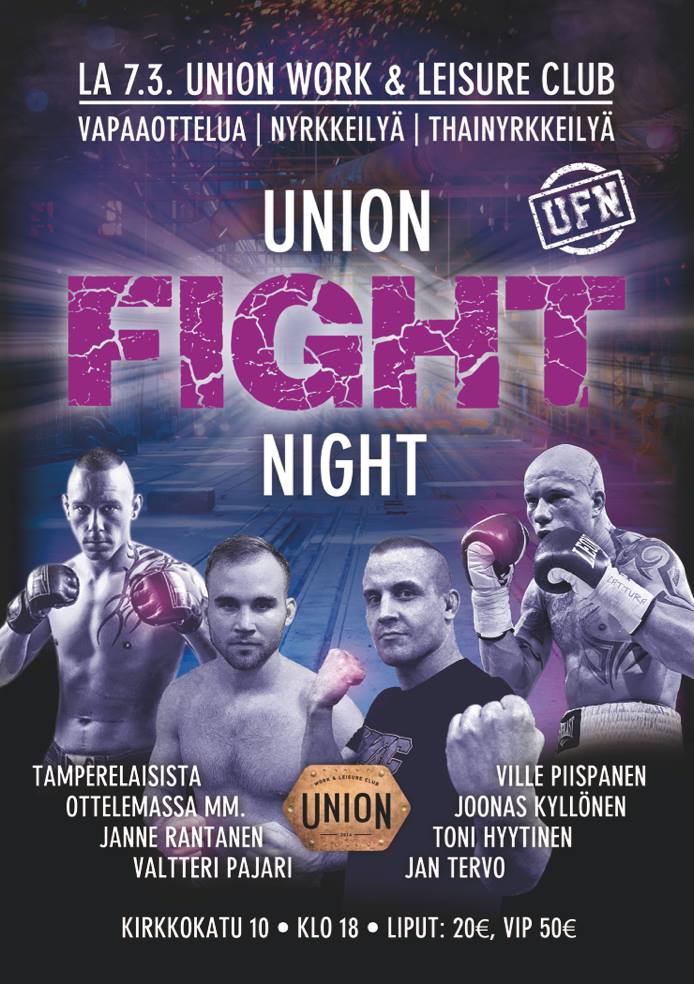 Fight Card
MMA pro:
Janne Rantanen, Fightfarm Tampere vs. Sergey Drob, Knight of Plunge, Lithuania -70,2kg
MMA IMMAF:
Joonas Kyllönen, WFC Tampere vs. Sebastian Nybom, GF Kuopio -70,3kg
Toni Hyytinen, WFC Tampere vs. Otto Pekonen, Mäntän Sutemi -77,1kg
Boxing:
Ville Piispanen, Tampere vs. Joni Salovaara, EKH Espoo -70kg
Juho Valamaa, FFG Turku vs. Jani Kokko from RNC sport club -85kg
Thaiboxing:
Jan Tervo, Fightfarm Tampere vs. Antti Lesonen, Oulun kamppailuklubi -67kg
Valtteri Pajari, Fightfarm Tampere vs. Joel Willberg, King of the ring, Helsinki -73kg