"I don't give up, that's why I won today" said Katja Kankaanpää last September after she captured Invicta's strawweight title in an incredible win. Invicta just released a video highlighting the battle, which can be seen below.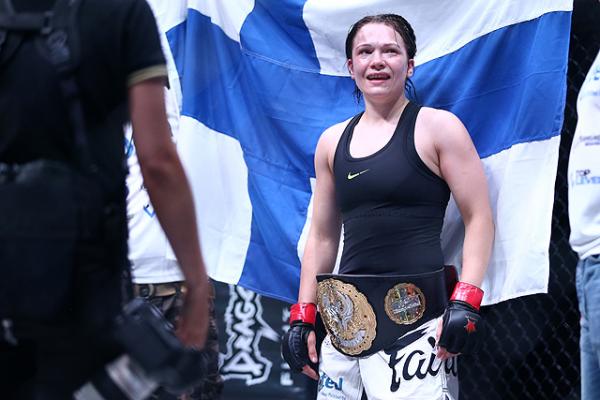 Killer Bunny (10-1-1) showed Finnish 'sisu' in a battle with a tough and gritty Stephanie Eggink (4-2), where the American won rounds early and came close to finishing the Finn with submissions. But Kankaanpää showed no quit, as she came out in the fifth round aggressive as always. While having trouble with takedowns that left her on top in full guard, open to triangles and arm bars, Kankaanpää last takedown was different and with urgency for the belt. The Finn got on top after 20 minutes of and went straight to a D'arce and with a killer instinct tightened until Eggink was forced to tap and give up all hopes of hanging on to a decision victory.
This Friday, April 24th, Killer Bunny will defend her title versus Livia Renata Souza (7-0) in the main event of Invicta 12 at the Municipal Auditorium in Kansas City, where she captured the title last year.
All Angles Video