Antti Virtanen (9-5) from MMA Imatra is looking to continue on his three fight winning streak at Fight Night 12 in Lappeenranta, Finland at the Kisapuiston Jäähalli. Virtanen will be a featured fighter on the upcoming April 25th card.  Team East Front will also line up its roster on the card in what should be an exciting 13 fight card.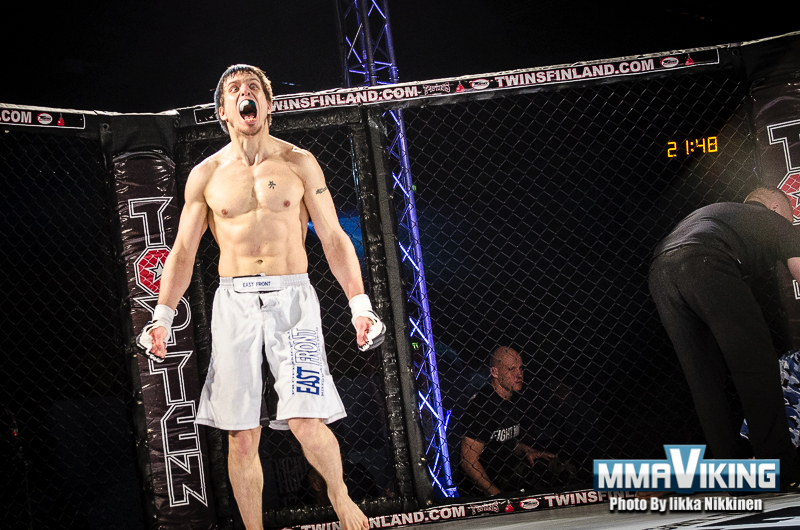 Jani Ridasmaa (5-3) will look to rebound from last September's Carelia Fight 10, where he lost to Daguir Imanov. Teammate Tommi Marttinen is also coming off a loss, as he was TKO's by Mikael Nyyssonen at Cage 27 in November.
Eeva Siiskonen has more than a week's notice for this bout, which will be different from her bantamweight title shot against Swede Pannie Kianzad. The Finn now representing Team East Front battled for 25 minutes after taking the last minute bout. Before this fight, she had won three out of four bouts.
Latest Fight Card
Below is the developing card as announced by the promotion.
Tuomo Turkia Team East Front/MMA Lappeenranta vs Ville Yrjölä Pori Grappling.
Janne Häkkinen Team East Front/MMA Utti vs Aleksi Savolainen MMA Imatra
Miikka Kauppinen Team East Front/NHB Iisalmi vs Juuso Halme MMA Imatra
Janne Sinersaari Team East Front/MMA Lappeenranta vs Hannu Nylund, Barreto Lahti
Teemu Matilainen Team East Front/MFC vs Patrik Pietilä Primus Fight Team/GB Gym
Aleksi Mäntykivi Team East Front/MMA Lappeenranta vs Ville Vanhanen Primus Fight Team/JKL Fight Club
Fredrik Gynnestam Team East Front/ GBG MMA vs Kaj Karar MMA Team 300
Eero Kosamo, Team East Front/Gladiator Factory vs TBA
Eeva Siiskonen, Team East Front/MMA Imatra vs TBA
Tommi Marttinen, Team East Front/MFC vs TBA
Jani Ridasmaa, Team East Front/ MMA Lappeenranta vs TBA
Antti Virtanen, MMA Imatra vs TBA