Yusuke Kawaguchi comes to Sweden on late notice replacing Ray Sefo, who pulled out of the bout, in a 105 kilo MMA bout at tonights Rumble of the Kings in Stockholm. The Judo black belt and former DEEP Heavyweight Champion Yusuke Kawaguchi of Japan sites down with MMA Viking to talk about his bout with former Muay Thai World Champion Jörgen Kruth.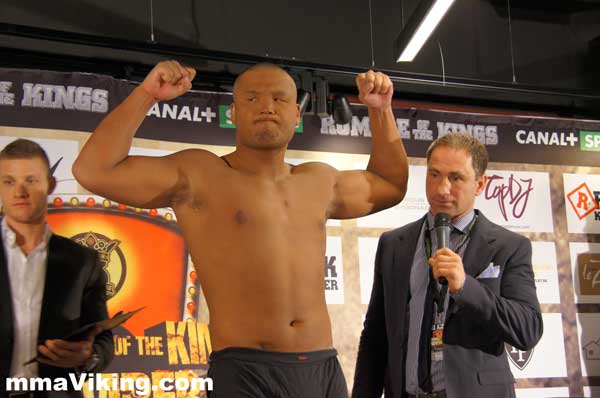 Enjoy the exclusive interview taken immediately after weigh-ins.
MMA Viking : How do you feel about coming to Sweden?
I have jet lag and I'm hungry and tired. I usually weight 120 – 130 KG. When I left japan I was 108.9 kilograms. My scale was a bit broken in Japan, and I suffered to cut down with no food and sauna every day. This is my lowest weight I've ever for a pro fight.
MMA Viking : Did you study Kruth?
Kruth is famous! I saw him fight MMA against Bob Sapp, but you don't see much of Jorgen. I trained with K1 Seido Amada, he fought Kruth.
MMA Viking : People believe you would take the fight to the ground. What are your thoughts on this?
I have no information on Jorgen's ground technique. I want to surprise Swedish MMA fans with explosive power, which is my style.
We want to thank Kawaguchi for his time shortly after making the weight cut. "Like" us on Facebook for updates on Nordic MMA news.