Latest News, Interviews, and Results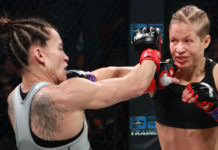 Minna Grusander (6-3) lost to Jinh Yu Frey (8-3) at Invicta FC 33 by split decision 48-47, 48-47, and 47-48.  The main event for atomweight strap...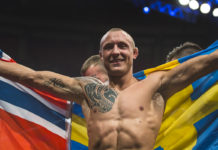 Jack Hermansson (18-4, #1 Nordic MW) beat Gerald Meerschaert (28-10) at UFC on FOX 31 bout in Milwaukee in dominant fashion. The Swede got on top...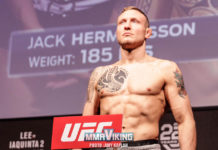 Jack Hermansson (17-4, #1 Nordic MW) made weight against Gerald Meerschaert for the middleweight bout on UFC on FOX 31 in Milwaukee. MMA Viking...
CWA Denmark 2 goes down tonight in Frederikshavn, Denmark.  Undefeated Mark O. Madsen (5-0, #8 WW) continues his quest to make it to the UFC in record time...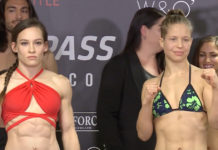 Finnish challenger Minna Grusander (104.8 lbs) and title holder Jinh Yu Frey (104.5 lbs) maid their main event bout for the belt official. ...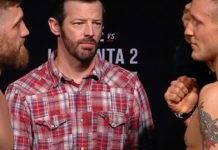 Jack Hermansson (17-4, #1 Nordic MW) was 185 lbs and Gerald Meerschaert 186 lbs to make the fight official at the weigh-ins today for...
Upcoming Nordic Action
Dec
29
Sat
Ilir Latifi (14-5-1) will face American Corey Anderson (11-4) at UFC 232 on December 29th in Las Vegas.
Random Posts From the Last 10 Years