Latest News, Interviews, and Results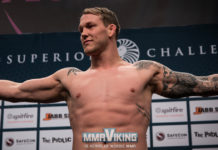 Undefeated Marthin Hamlet (3-0) was set to face veteran Saku Heikkola (7-8) at the newly launched Cage Warriors Academy Denmark, but the Finn has pulled...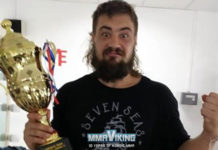 Glenn Sparv (18-5) won by submission over Gulbidin Ziyobekov from Tajikistan at WLF WARS, MMA China's Leading MMA Promotion.  "I got a fight offer last...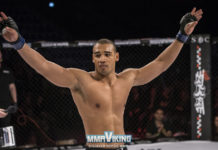 Max Nunes (17-5) will face Wagner Prado on the upcoming KSW 45: The Return to Wembley card in London England. MMA Viking is announcing...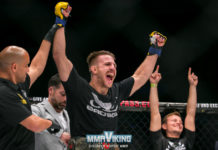 Aleksi Mantykivi, Soren Bak, and Nicolas Dalby led the Nordic viking raid on Liverpool. However, there was plenty of other action on the card....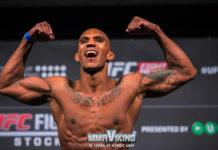 Nico Musoke (13-5-1) will finally make his return to the cage.  The UFC veteran will now continue his career with Superior Challenge after a 4-year...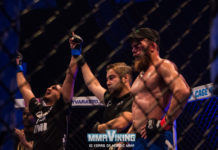 Niko Myllynen lost a decision to Amin Ayoub at Cage 44 last Saturday. Voikukka Photography's Mirva Vainio was cageside to capture the French fighter get the...
Upcoming Nordic Action
Sep
21
Fri
Kutateladze and Homjakovs at Brave 16
Brave Combat Federation announced the full fight card for Brave 16. Brave 16 will take place at the Mubadala Arena in Abu Dhabi, UAE on 21st September, 2018 under the patronage of His Highness Sheikh Khalid bin Hamad Al Khalifa. The fight card features two major championship title fights. The main event features the Welterweight champion, Carlston Harris from Guyana defending his championship against Jarrah Al Selawe from Jordan. In the co-main event, reigning featherweight champion, Elias Boudegzdame from Algeria will defend his title for the second time against the 2011 NCAA division champion, Bubba Jenkins from the United States of America.
The main card features some of the most awaited fights, including 10 time IBJJF World Champion from Brazil, Bruno Malfacine facing Cristian Rodriguez Jr from USA in the flyweight division. Mohammad Fakhreddine from Lebanon will make his most awaited return to face the formidable Gadzhimusa Gaziev from Dagestan, Russia. The undefeated Mounir Lazzez from Tunisia will make his much anticipated promotional debut at Brave Combat Federation facing the undefeated Dmitrijs Homjakovs from Sweden in a catchweight bout.
The undercard features Chad Hanekom from South Africa facing the undefeated Leon Aliu from Albania. Hamza Kooheji from Bahrain will return to face Crisanto Pitpitunge from Philippines in a bantamweight matchup. Guram Kutateladze from Georgia will be making his promotional debut at Brave Combat Federation against an opponent who is yet to be announced. In yet another catchweight bout, Flavio Seraphim from Brazil will face the recently signed Vaughn Donayre from Philippines. Louis Sanoukidakis from Canada who is also the training partner of Georges St Pierre at Tristar Gym, will make his debut in Brave Combat Federation against Nawras Abzakh from Jordan who is returning after a dominant victory at Brave 10.
The opening fight will showcase the IMMAF medalist from Bahrain, Hussain Ayyad facing Jonathan Corton from Philippines in a flyweight matchup. The massive fight card will feature representation from 17 nations including USA, Russia, Bahrain, Brazil, Jordan, Canada, Philippines, Guyana, Algeria, Lebanon, Georgia, Sweden, Tunisia, South Africa, Albania, Italy and Palestine. Brave 16 will be broadcasted live through Abu Dhabi Sports, Brave TV, Combate, StarSat, VodaCom and Fite TV. The Kingdom of Bahrain will be hosting the 2018 Brave International Combat Week during 11-18 November which will feature a premium edition of Brave Combat Federation alongside the 2018 IMMAF World Championships.
Main card
Carlston Harris vs. Jarrah Al Selawe – Welterweight bout
Elias Boudegzdame vs. Bubba Jenkins – Featherweight bout
Bruno Malfacine vs. Cristian Rodriguez Jr – Flyweight bout
Mohammad Fakhreddine vs. Gadzhimusa Gaziev – Welterweight bout
Mounir Lazzez vs. Dmitrijs Homjakovs – Catchweight bout
Under card
Chad Hanekom vs. Leon Aliu – Middleweight bout
Hamza Kooheji vs. Crisanto Pitpitunge – Bantamweight bout
Guram Kutateladze vs. TBD – Lightweight bout
Flavio Seraphim vs. Vaughn Donayre – Catchweight bout
Louis Sanoukidakis vs. Nawras Abzakh – Bantamweight bout
Hussain Ayyad vs. Jonathan Corton – Flyweight bout
Sep
22
Sat
Madsen at Cage Warriors Academy Denmark
Cage Warriors Academy Denmark
Nykøbing F. Hallen · Nykøbing, Denmark
Random Posts From the Last 10 Years