Swede August Wallén was set to make his comeback at The Zone FC 11 on the November 10, but today officials have announced that he is injured.  The former president of the Swedish MMA Federation, and current president of the International MMA Federation, was looking to continue his fighting career after a 2 year layoff due to injury.  August Wallén has amassed a professional MMA record of 6-1-0 and fights out of Gladius MMA.  Read the interview sent by The Zone officials below.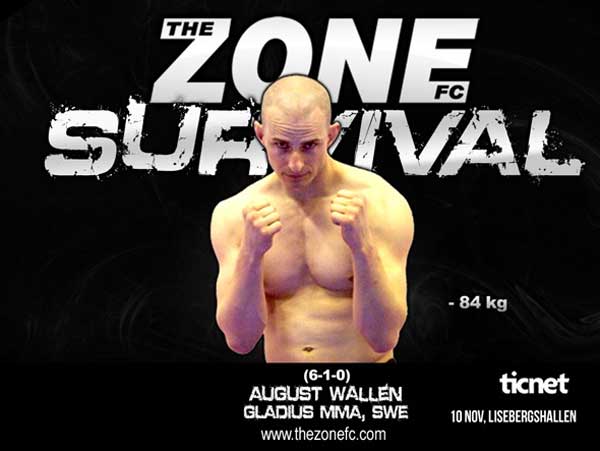 Press Release
(Translated from Swedish)
We regret to inform that August Wallen injured and unable to compete at The Zone FC – Survival as planned. Here he says about the injury and what happened. The organizer will shortly present a new opponent who replaces Wallen.
Tell us about your injury!
– Classic sciatica originating from herniated discs. I am not aware of the herniated disc, but pinch nerve. I cannot stand, walk or lie straight.
When was that?
– It came during the weekend at night. Woke up and had terrible pain and could not move. Gave it a few days but had to consult a specialist.
How did the injury, it was in any exercise?
– Likely is that I had a damaged disk because I've had some problems with my right side for a while, but now apparently gave up the disk. Did not do any specific exercise without it came, as I said it came during the night time.
How does it feel to miss the game?
– Feels really bad. Had really been looking forward to this and managed to get in really good physical shape, better than I thought possible.
What will you miss the most?
– Going up for the home crowd, it's a special feeling.
Will you go on the upcoming The Zone FC Gala?
– If it is possible, that if I am fully recovered, I will go to 100%.
When will it be in that case?
– Guess the next gala in spring 2013 sometime
Anything else you want to say?
– Would like to thank you all for the wonderful support I have received during charging and a special thanks to Gladius pro team!