Max Nunes was born and raised in Stockholm, but made his way to London three years ago. Since that time, "Power" has quickly made a name for himself by quickly running-up an 8 win and 0 loss record. The tall and athletic light heavyweight with good hands, have some saying he could be the next Alexander Gustafsson. BAMMA has recently announced that he will return to face another undefeated fighter in Anth Taylor at BAMMA 11 on December 1. Read the press release below.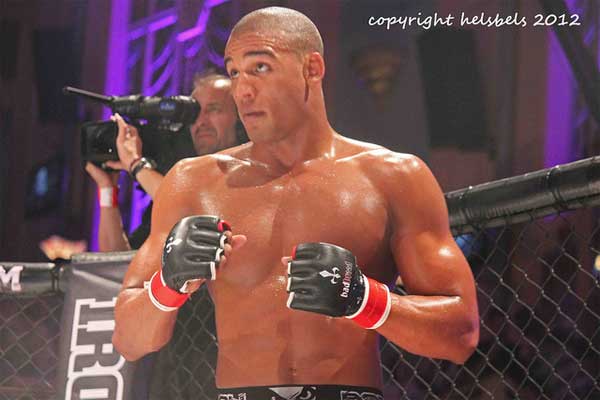 Press Release
BAMMA is proud to announce a Light Heavyweight Mixed Martial Arts bout to the BAMMA 11 card, as Anth Taylor clashes with Max Nunes at Birmingham's National Indoor Arena on 1st December.
Anth Taylor stands undefeated with a record of 5-0-0, in which none of his fights have gone the distance and he has scored four of his wins in the first round. Taylor's last outing saw him triumph over Mark Godbeer via TKO, just 1 minute and 22 seconds into round 2. Three of Taylor's wins have come by TKO, two by KO & one by submission.
Undefeated Max 'Power' Nunes has clocked up an impressive record of 8-0-0 over the past two years. The London based Swede has stopped all of his opponents in the 1st round, with the exception of the hitherto undefeated Iain Martell, whom he finished in round 2. With successes via TKO and submission, Nunes' last fight saw him submit the doubly experienced Tony Moran at BAMMA 10. Nunes fights out of Nick Osipczak's New Wave Academy and holds the Fury MMA Light Heavyweight title.
Max 'Power' Nunes said:
"I am really looking forward to fighting on BAMMA again. This will be my second appearance and I am hoping to put on a good show for all the UK MMA fans."
BAMMA's Head of Talent Relations, Jude Samuel, said:
"Taylor vs. Nunes is going to be a blistering battle as both guys are heavy hitters who have so far proved invincible. Nunes has a real buzz around him right now; while Taylor is a fan favourite in the North East. I've had my eye on Anth for a while and he was due to fight Opie at BAMMA 9, but the fight fell through when Opie got injured. I'm really excited about this fight and it's certainly one the fans will be looking forward to. Taylor and Nunes represent what makes the Light Heavyweight division so exciting at its best: These two inextinguishable athletes bring all the Herculean Knock Out power of the Heavyweights, but at a faster and explosive pace. "
Follow @maxpowernunes on Twitter