Today Finland's Botnia Punishment promotion released it's recent card "X" on YouTube. The exciting eight-fight card took place in Seinäjoki on Friday, September 23. The sold out event was held at the cozy Rytmikorjaamo, and brought talented local Finnish fighters, plus athletes from France, Norway, and the Czech Republic. The card opened with two amateur bouts. See all the fights here.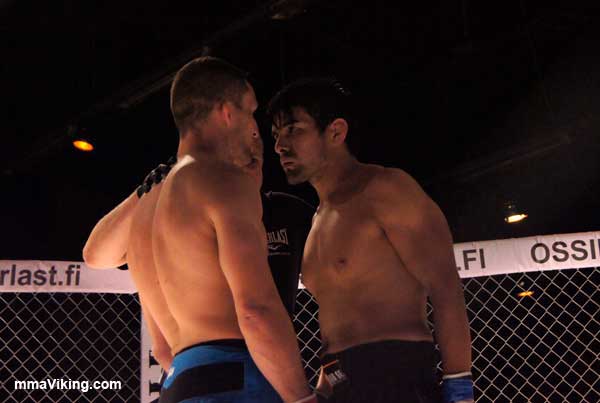 The event was set to stream live, but due to technical difficulties, both the live stream and attempt to stream the following day failed.
MAIN CARD
Jarkko Latomäki (Team BP/ Shooters MMA) vs Diego Gonzalez (Hilti BJJ)

Thomas Moon Lee (Team Hell Boy) vs James " Scraps " Saville (Caged Steel)

Olli-Jaakko Uitto (BP / Shooters MMA) vs Manuel Sully (Parabellun Combat Club)

Glenn Sparv (Team BP) vs Jan Doskocil (GCF Team / UFC Hradek Kralove)

Johnny Isaksson (Team BP) vs Filip Macek (GCF Team)

Juhani Aho (Team BP/Shooters MMA) vs Tommi Marttinen (Mikkeli Full Contact)

AMATEUR BOUTS
Daniel Winiarzuck (KKU) vs Samuel Muuronen (Edge Vantaa)

Timo Suihkonen (KKU) vs Tuomas Grönvall (GB GYM)

Post-Fight Interview (Swedish)
More Botnia Punishment
• • Exclusive Interview with Botnia Punishment Promotion
• • Weigh-in Photos on kulmassa.fi
• • Event Results on Sherdog.com
• • Gonzalez Rebounds with Submission of Latomaki in Finland on Sherdog.com
"Like" MMA Viking on Facebook and follow us on Twitter for updates on Nordic MMA news.