Mads Burnell (8-2) won against Michael Santiago (21-10) in the first bout of the night at UFC St. Louis.  The Arte Suave fighter won by unanimous decision 29-28 on all scorecards after 15 minutes in the cage.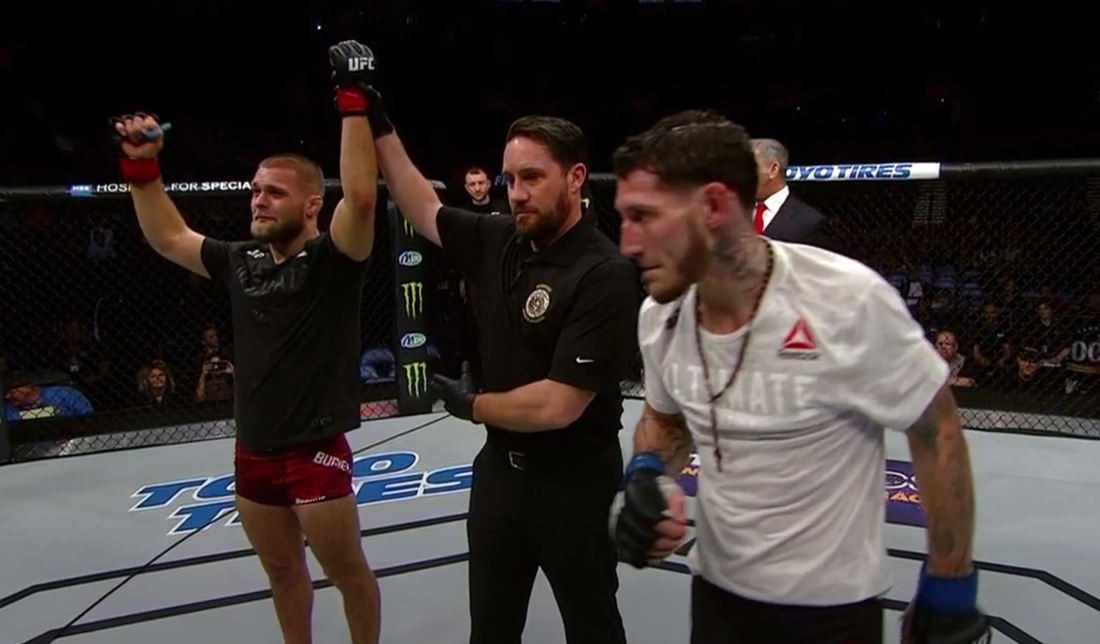 It was a takedown immediately from the the Dane to start the bout.  Santiago reversed the position and went for a standing guillotine and landed a knee before Burnell reversed the position against the cage.  Burnell was put on his back, then again Santiago went for a guillotine, but the Arte Suave fighter defended.  A near knee bar attempt late from the "Sub Machine", but Santiago landed solid punches to work his way out and remain on top to win the first round.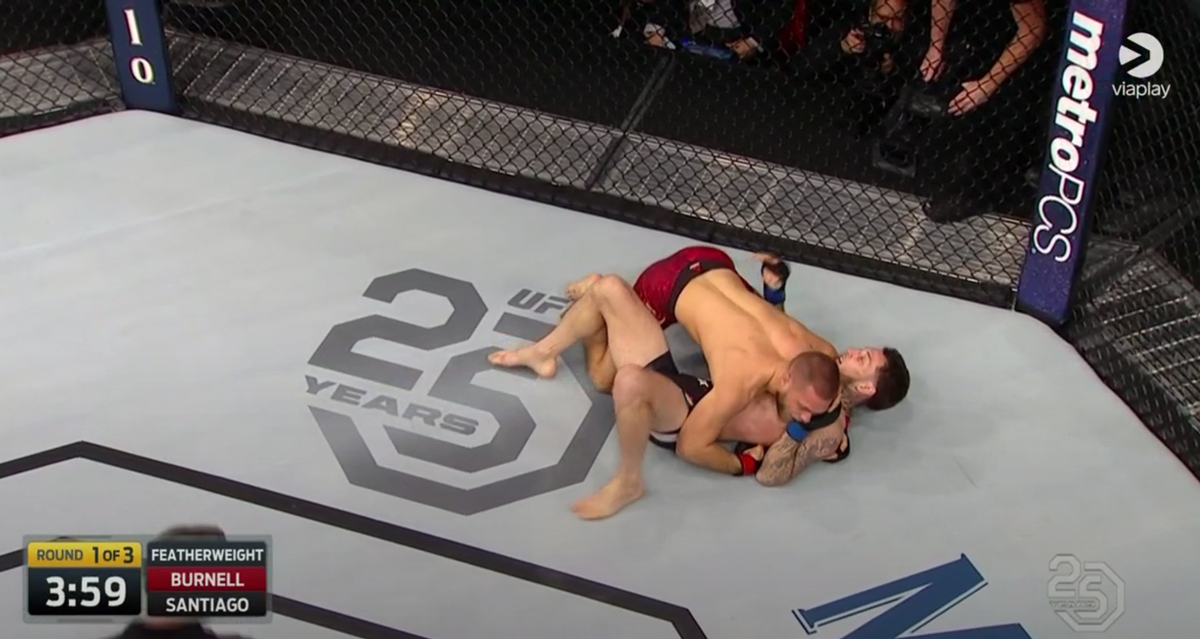 The American with nice inside left kick chopped down Burnell's leg to start the second round, and after Mads landed a nice left hook was taken down.  Santiago stayed top position, but Mads looking for another knee-bar and scrambled up and got the fight to the ground while taking a knee to the body while finishing.
Burnell was on top and after punches, found his way to take back and was looking for a rear-naked choke.  Mads turned around the fight and rallied late in the round.  Elbows from Burnell on top were impressive, and the Dane took back again and was in full control.  The rear naked choke was locked as time ran out in the second.
This third round decided the bout.  A body kick from Santiago started the last 5 minutes, but Burnell got into the clinch and tried to fight back to the ground.  Burnell in good position and finished the doube-leg takedown.  Three minutes left, and the BJJ black belt is active enough to stay on top and in control.  Side mount from Mads that lands a few punches, and now takes back again late!  One minute left, and the American found a way to his feet.  However, Mads pushed and pushed for another take-down took control of the third round and the last two rounds.
Denmark's @BurnellMMA gets the win to kick us off at #UFCSTL! pic.twitter.com/gX1ecDnVVL

— UFC Europe (@UFCEurope) January 15, 2018
"Thanks to Mike for a good scrap." says Burnell after the bout.  "Sorry Mike for not making the weight."
It was the first UFC win for Burnell that lost to an overweight Michel Prazeres (23-2) at UFC Fight Night 115 in September at lightweight.  Santiago has dropped two in the UFC after a win on Dana White Tuesday Night Contender Series show.