MMA Viking is once again reporting LIVE from the northern city of Oulu as the Cage 20 "Northern Storm 2" show goes down tonight at the Oulu Hall.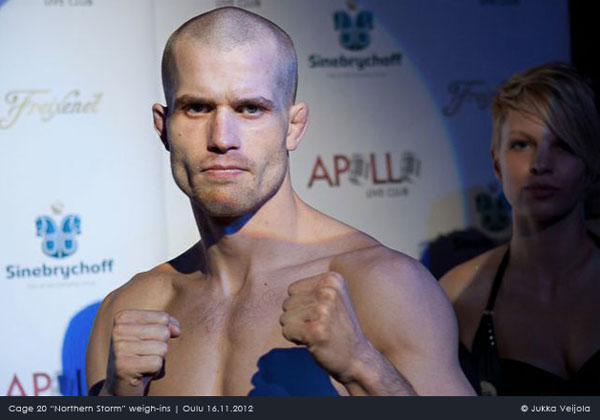 Play-by-Play & Results
If you missed the preview of the event, see it here.
Cage: 20 "Northern Storm 2"
Cage Featherweight title fight:
Tom "Stoneface" Niinimäki (17-5) vs Vladimir Karasiov (7-4), Russia
Niinimäki looks calm. Really calm.
1. Round
Stoneface controls the cage. Niinimäki shoots for a  single leg takedown but misses. Fight goes against the cage where Niinimaki locks up a standing guillotine. Soon Niinimäki drops on his back and guillotine tightens…Russian taps out.
Winner: Niinimäki by Guillotine 1. round 1:31.
WW: Olli Jaakko Uitto (9-2) vs Tahar Hadbi (8-6). France
1.Round
Hadbi starts with a low kicks but Uitto contras with a high kick. Uitto shoots for a takedown, Hadbi defends. Uittos rushes and Hadbi switches it into a clinch, fighters end up against the cage where Hadbi delivers a solid elbow. Fight continues standing up, both fighters throwing punch combinations. Hadbi controlling the center of the cage.
2. Round
Uitto starts with a right high kick. Fighters cross punch, both connect. Hadbi lands a combination on Uitto's head. Frenchman is getting more punches to right address, ie. Uitto's head. Uitto with a beautiful spinning kick, but Hadbi follows with a knee to the body. Uitto shoots, but Hadbi sprawls. Frenchman hitting jabs and continues to control the cage. Blood is bleeding from Uitto's nose. Fighters trading punches without significant damage.
3. Round
Hadbi starts with a low kick and straight punch combination. Soon after Hadbi defends Uittos takedown attempt. Uitto's nose is bleeding heavily. Frenchman is light on his feet throwing low kicks. Uitto's corner shouting for a takedown. Uitto tries to shoot, but Hadbi defends it. Bout continues on feet, Hadbi kicking Uitto on the inner front leg. Hadbi controls the fight to the end of the round, nothing game changing happens.
Winner: Hadbi by UD.
(Hadbi broke his hand at the first round.)
BW: Toni Tauru (4-1-1) vs Lauri Ülenurm (3-2), Estonia
1. Round
Ulernum hits with straight punch and Tauru answers with an uppercut. Fighters clinch. Tauru delivers a knee against the fence. Tauru tries a takedown but Ulernum defends. Tauru pushing against the fence and gets a standing back. Fighters continue to ground, Tauru on back. Tauru finishes with RNC.
Winner: Tauru by RNC in 1. Round 2:46.
FW: Rafael Domingos (1-0-0), Brazil vs Henri Hiiemäe (2-0-0), Estonia
Half brazilian – "half ouluan" guy Domingos getting a standing and loud welcome from the Oulu crowd for his entrance.
1. Round
Fighters feeling each others out. Domingos with a takedown and advances to mount. Domingos switches to back control where he digs into a beautiful RNC submission.
Winner: Domingos by RNC in 1. Round
FLW: Harri Määttä (0-0) vs Dimitri Goette (3-0-0), Germany
Crowd is going nuts for the hometown hero!
1. Round
Määttä giving knees. Goette tries a takedown, but Määttä defends. German giving knees and continues with a takedown, knee on belly and then mount for Goette. Määttä gets up, german tries a takedown, but finn sprawls.  Määttä hitting on ground and continues to pressure. Goette in trouble. Määttä on top and continues hitting. Fighters stand up. Goette trying to get a finishing blow with NHB-hook but arms seem to be out. Määttä continues to pressure and tries to score a takedown with no luck. Finn pressures with punches. Very fast paced and exciting round.
2. Round
German kicks Määttä to the balls. Ref stops the fight. After a pause german looking for a takedown, but Määttä ends up on top.  Goette  looks and gets a heel hook, it is very deep. Määttä defends calmly and punches Goette in the face, german turns the heel hook to the other leg. Määttä hitting from top, nice GnP from the finn. Fighters stand up. German is exhausted, tries for a takedown, Määttä defends and follows with GnP. Again fighters stand up. Määttä punishing with punches and knees. German looking for takedowns but Määttä defends and defends and lets Goette to stand up. Määttä punishing Goette against the cage in the end of the round. Crowd is going insane!
Winner: Määttä, by UD.
LW: Jani Ridasmaa (2-1-0) vs Ali Ameziane (1-2-0), Sweden
1.Round
Ridasmaa hits huge right hand right at the beginning! Finn follows stackered swede with army of punches and ref steps in.
Winner: Ridasmaa by TKO. 24s in 1.Round
MW: Jussi Halonen (2-1-0) vs Matias Rantala (0-0-1)
1. Round
Fighters feeling each other out. Rantala kicking to the body. Halonen staggered  by bouts. Halonen gets a takedown. Rantala looks for a triangle, chages to armbar. Halonen defends and gets the back. Halonen locks down a RNC and gets a tapout.
Winner: Halonen by RNC. 1:28 1. round.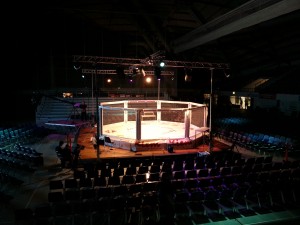 MW: Vyacheslav Andreev (0-0) vs Jani Myllynen (2-1-0)
1. Round
Myllynen shoots for a doubleleg, Andreev defends. Fighters clinch up against the cage. Myllynen working for a takedown. Andreev delivers punches, Myllynen in trouble.  Myllynen scrambles and gets the back, hooks inside. Myllynen works from the back. Andreev changes the position and gets on top. Illegal knee to the head by Andreev. Ref stops. fight continues. Andreev on Myllynen's guard. Nice sweep by Myllynen and sametime Andreev upkicks to head from the ground. Andreev gets a warning. Myllynen gets a 5min breather. Fight continues: Few low kicks by Andreev in the end of the round.
2. Round
Low kicks by Andreev. Myllynen pressures Andreev against the cage. Looking for takedown, Andreev grabs to the cage's fence while defending. Nice takedown by Myllynen, advances to half guard.  Myllynen goes to sidemount, Andreev working to standup and Myllynen gets the back. Andreev switches the postion and ends up to Myllynen's guard. Andreev working from top, delivers few punches to the head. Myllynen hits from bottom. Both working in guard position.
Winner: Draw
FW: Jaakko Dahlbacka (0-0) vs Martin Fouda ( 1-3-0 ), Sweden
1. Round
Low kicks by Fouda, Dahlbacka on defence. Finn deliveres a low kick. Both are kicking hard. Fouda scores couple of hits and gets a doubleleg takedown. Fouda in Dahlbacka's guard. Fouda working against the cage and Dahlbacka working to get up. Dahlbacka is looking for a guillotine from the bottom but fails. Fouda defence nicely. Ref stands the fighters up. Fouda punches a good left hand to the head. Dahlbacka sprawls the takedown attempt. Initially Fouda takes the back but finn excapes. Two good low kicks by Dahlbacka.
2. Round
Both smiling in the beginning. Low kick by Dahlbacka. Fouda tries to flurry, no score. Finn kicks to the body and to the legs. More low kicks by Dahlbacka. Big hits to the head by Fouda. Finn clinches and goes  for a takedown, but ends up on his back. Dahlbacka freezes the game on the ground. Fouda hits to the ribs. Fouda hits to head but Dahlbacka defends. Ref stands the fighters up. Fouda pressures. Fouda gets a takedown at the end of the round.
Winner: Fouda by split decision.
Women 65kg: Eeva Siiskonen (1-0-0) vs Helin Paara (1-1-0), Estonia
First fight underway!
1. Round
Low kicks by Siiskonen. Siiskonen controls the cage. Fighters trading punches equally, Siiskonen getting more kicks in. Paara punching, not kicking. Siiskonen gets couple of good hits to the head. Paara clinches Siiskonen against the cage, fighters separate. Nice head kick by Siiskonen and a nice head punch at the end of the round by Siiskonen.
2. Round
Paara hits good combination to Siiskonen's head. Both fighters trading knees and Siskonen clinches. Siiskonen gets a takedown from doubleleg against the cage, but estonian advances to side control. Fighters in north-south position, estonian on top. Ref stands the fighters up. Paara tries to takedown, fails. Good hook by finn, gets estonian on the ground but she stands up.
Winner: Siiskonen by UD