Cage Warriors has announced that Diego Gonzalez will be fighting on the May 4th card in Cardiff. The Swede returns to action after a loss at CWFC just under a year ago. The revitalized fighter has been training at the new Allstars Training Center, and is now ready for action. Gonzalez will be fighting Danny Roberts on the main card. Read the announcement from Cage Warriors officials.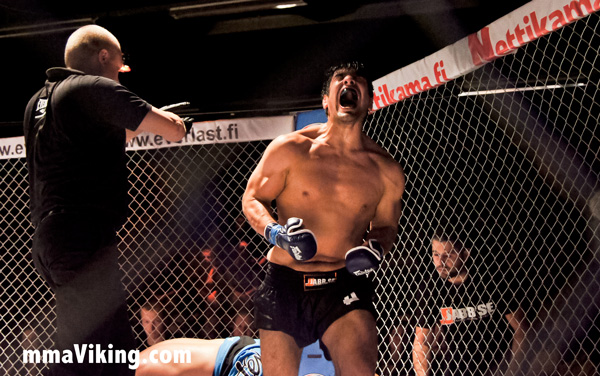 Cage Warriors Announcement
Hailing from Liverpool, 25-year-old Danny Roberts (7-1) will be returning to action for the first time since his win over Jack Mason at Cage Warriors 48 last July.
Roberts, who's currently ranked 12th in the UK, said: "Diego Gonzalez is a very experienced fighter with a good grappling game. I've had a hard few months but I'm excited about coming back and getting another win."
Gonzalez (15-7-0-1nc) returns to welterweight after a stint at 155lbs ended with a TKO loss at the hands of Ivan Buchinger at CWFC Fight Night 6 in May of last year.
"I've had a long lay-off but I've switched coach and team in the meantime. It's a new start for me so I'm really looking forward to my return," said Gonzalez, a 28-year-old Swede who already has five Cage Warriors bouts under his belt.
The latest Cage Warriors 54 card now includes:
MAIN CARD
Champ Jesse Taylor vs. John Phillips – for middleweight title
Ivan Buchinger vs. opponent TBA
Diego Gonzalez vs. Danny Roberts
Mark Glover vs. Lewis Long
Ashley Beaumont vs. Matt Inman
Kris Edwards vs. opponent TBA
PRELIMINARY CARD
Jamie Rogers vs. Brad Wheeler
Brett Johns vs. James MacAlister
Davey Grant vs. Joe Orrey