Emil Weber Meek had a wild week prior to his bout on European MMA 5. After Meek's original opponent Manuel Garcia pulled out of the fight just a few days before the bout, his American replacement Nick Laney was stuck in Dublin without a way to get to Denmark to keep a bout in jeopardy. However a very, very late replacement in Dutchman Raymond Jarman (15 wins & 22 losses) came to the rescue taking the bout the night before the event.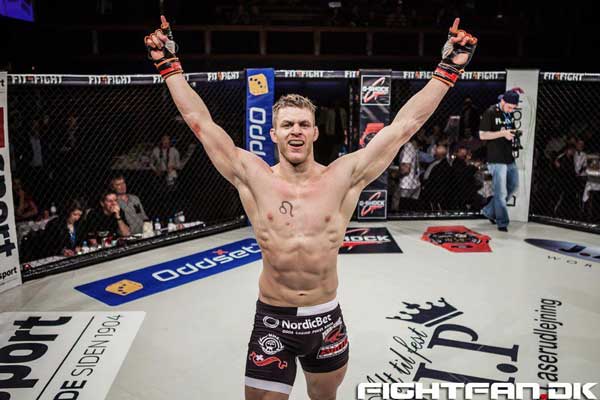 In the cage however, it was the Norwegian's night in Copenhagen, as he dominated Jarman with viscous striking. The MMA Trondheim welterweight added another win to his record, moving his pro record to 3 wins and 1 loss in his short career.
MMA Viking talks to "hulk" shortly after his second first round stoppage this year. See the interview below.
Interview
Did you know anything about your late replacement opponent Raymond Jarman?
At first when Manuel pulled out I joked to my training partner/coach Thomas Formo and said, "I'm probably gonna get that Jarman Guy", since he had fought David Rosmond earlier on 1 day notice. And then i did! haha…
So i knew his name, and I have seen him fight live when I was a amateur and again at the last Eumma in Copenhagen when I was coaching Thomas Formo.
Were you able to watch any tape before the fight?
I saw some of his fights against Kuvianen and some other good fighters, and he NEVER gives up, I also talked to Rosmond since he had fought him three times already. And he said he was really durable and composed.
What did you think of your performance?
I'm very happy with my performance, I have been working a lot on my boxing, and it showed. He did not land one single shot. And I dominated from the beginning and of course finishing of a really stubborn guy! I expected three rounds!
Will you be back at the next EuroMMA card?
Probably not, I have to rest after, I've been in training camp putting in 2-3 hard sessions a day since January. My body need some rest and my mind to recuperate.
Will you try and fight before then… maybe in the sometime in the summer?
I'm looking to get back in the cage during the fall:)
Follow Meek via Twitter at @WebahMMA or visit his website at http://emilwebermeek.com